What Is The Significance Of Saint Monica Weeping In Catholicism?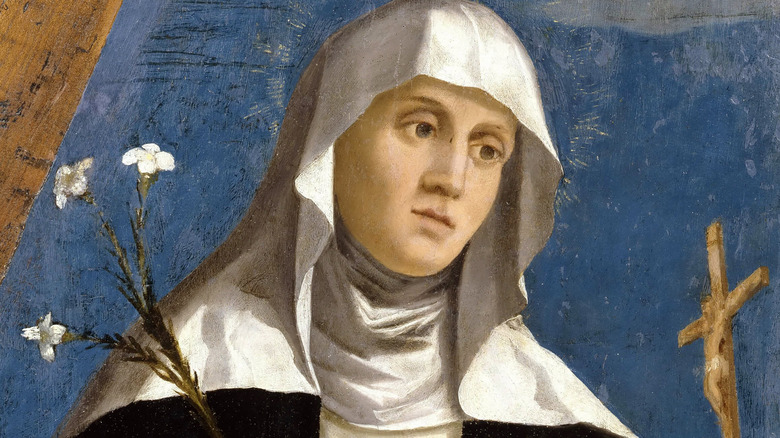 Heritage Images/Getty Images
In the vast annals of the Catholic Church's history, there is seemingly a boundless array of colorful characters who have been canonized as saints. One doesn't have to look far to find vivid histories of individuals who dedicated (and occasionally sacrificed) their lives to demonstrate their unwavering loyalty to God. While many saints' unflinching faith led to personal suffering, other individuals became revered for their piety, humility, and grace, making them worthy of respect. One such figure is that of St. Monica of Hippo. Born into an affluent family in North Africa in the year 332, St. Monica is celebrated in the Catholic Church for epitomizing patience, discipline, and integrity in the face of moral failings among loved ones (via Ascension Press).
Following her privileged upbringing, Monica would go on to marry Patricius. Throughout their marriage, Monica was subjected to Patricius' frequent outbursts of rage and his serial infidelities. Not only was Patricius violent towards Monica, but he was also a pagan who would not allow her to baptize their three children as Christians, much to Monica's chagrin (per Franciscan Media).
As such, St. Monica is the patron saint of married women and worried mothers, in particular those who have to deal with abusive relationships and alcoholism. If the road to hell is paved with good intentions, then one route to sainthood is certainly paved with suffering. Like many saints before her, St. Monica's path wasn't without its fair share of sorrows.
If you or anyone you know needs help with addiction issues, help is available. Visit the Substance Abuse and Mental Health Services Administration website or contact SAMHSA's National Helpline at 1-800-662-HELP (4357).
A mother's tears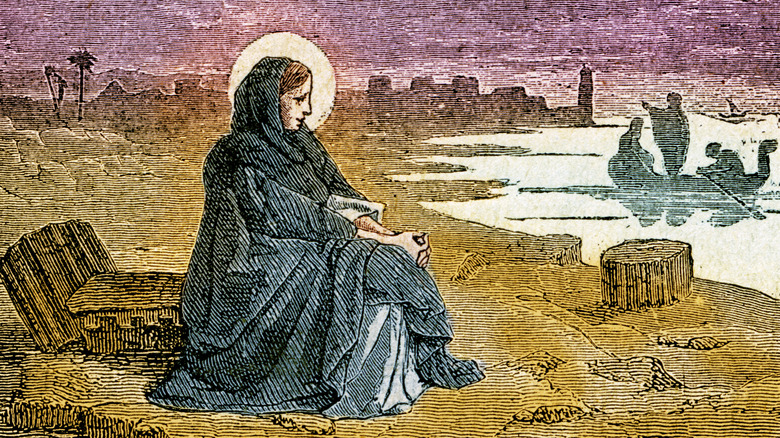 Fototeca Storica Nazionale./Getty Images
While a mother's love can be an endless source of hope, it can also bring pain when children fail. Monica's eldest son, Augustine, born in A.D. 354, would be the centerpiece of Monica's worries. After Patricius died in 371, Augustine rejected his mother's Christian beliefs in favor of sensual pleasures (via Dominicana). Augustine had multiple romances with married women and even sired a son outside of wedlock, whereas his widowed mother had renounced all earthly pleasures and regularly aided the needy. Augustine's infidelities would make Monica's heartache and sorrow even more intense. Yet in a dream, Monica foresaw her wayward son returning to God. With unwavering faith, she prayed for her eldest son's return to the faith for 17 long years. Augustine would later reflect, "Monica shed more tears for my spiritual death, than others mothers shed for the bodily death of a son" (via "Confessions" by St. Augustine, posted at the Internet Archive).
Eventually, Augustine would forsake his frivolous ways and moved to Milan to study rhetoric, accompanied by Monica. Many accounts depict the two becoming close while intensely studying scripture and philosophy. However, Augustine would still be tempted by "desires of the flesh" and struggled to change. 
Later, Augustine claimed to have heard a voice telling him to check the holy text he had taken with him after seeking solace in a garden. In it, Augustine found a passage from St. Paul illustrating how carnal desires work against one's faith. Augustine, now a reformed man, returned to his mother and told her about his revelations. Monica praised God for bringing her son back to a pious path (per "Confessions").
Road to sainthood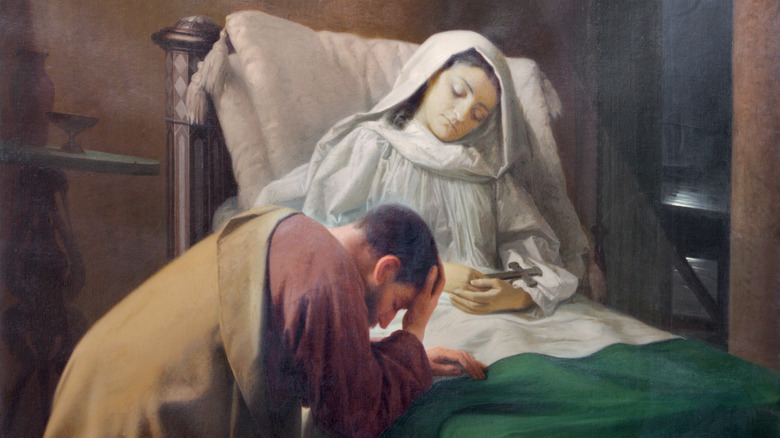 Renata Sedmakova/Shutterstock
Augustine would later become a saint in his own right, and one of the most famous theologians since St. Paul. Augustine's perspectives on Christianity would create the groundwork for centuries of medieval Christian thinking, an impact still felt today (via Britannica). However, behind every great man is a great woman, and none of this would have been possible without his mother's devotion. Despite her eventual recognition, Monica's legacy remained in relative obscurity until Pope Martin IV ordered her remains to be interred in Rome in 1430. On the road to Rome, many miracles were believed to occur around her coffin, qualifying her for later canonization. Several of these miracles depict anxious mothers placing their sick children at Monica's coffin, and becoming miraculously cured (via ''History of Saint Monica'' by Emile Bougaud, posted at the Internet Archive).
St. Monica's remains are in Rome's Basilica di Sant'Agostino (per The Catholic Travel Guide), where many devout Catholics pay their respects annually. Additionally, St. Monica's tears inspired the naming of Santa Monica, California. Folklore has it that on St. Monica's name day, Father Juan Crespi was exploring the town's Kuruvungna springs when he was struck by how much they resembled St. Monica's unceasing tears for her "lost" son. When the town's founders heard Father Crepsi's story, they were moved to name their blossoming community after her (via Santa Monica Conservancy).
St. Monica's tears, prayers, sacrifices, and persistence ultimately succeeded in bringing a lost sheep back to the flock, giving her efforts a lasting symbolic significance. Even today, countless Catholics throughout the world continue to draw strength from St. Monica's example of selfless love and motherly devotion.