The Tragic 2012 Death Of A Floridian Cockroach-Eating Competitor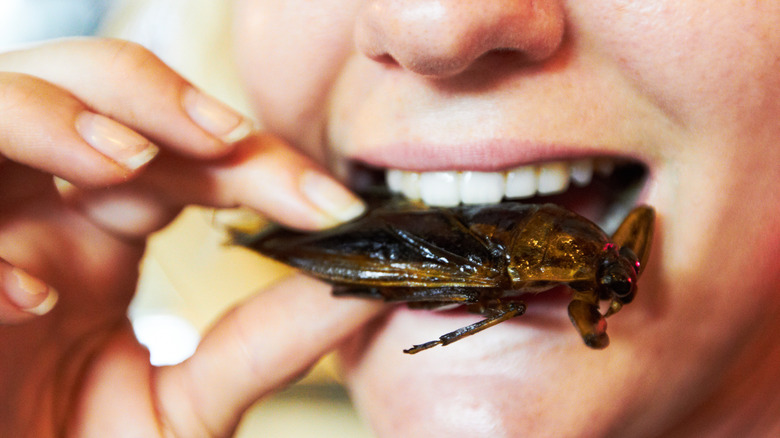 Urilux/Getty Images
In the United States, competitive eating is a unique form of entertainment (via WLTX). Notably, Nathan's Famous Hot Dogs in Coney Island has an annual hot dog eating contest every Fourth of July. Major League Eating reports that various other eating contests are held year-round across the country, with winners raking in thousands of dollars. That said, The Daytona Beach News-Journal notes that individuals participate in these competitions not for prizes but for notoriety. However, USA Today explains that competitive eating can have adverse health effects including gastric ruptures and seizures. For 32-year-old Edward Archbold, competitive eating led to his premature death.
In October 2012, Archbold participated in a bug-eating contest at Ben Siegel Reptiles in Deerfield Beach, Florida (per NBC News). According to CNN, the pet store held a "Midnight Madness" event where the winner of the competition would be awarded an $850 python. The Daytona Beach News-Journal writes that Archbold, who had eaten bugs before, wanted to gift the python to a friend. Another participant, Pharaoh Gayles, had a similar reason for taking part in the competition. He said, "Some of the snakes were pretty expensive." Gayles added. "I thought if I could eat the bugs to get one, it'd be a good idea."
Edward Archbold won the contest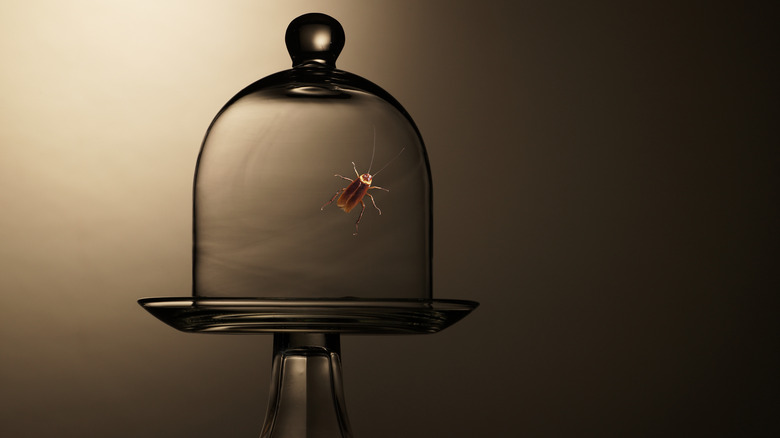 Ryan Mcvay/Getty Images
Before they could participate in the competition, the store's attorney revealed that the 20-30 individuals involved "signed thorough waivers accepting responsibility for their participation in this unique and unorthodox contest" (per CNN). The Daytona Beach News-Journal reports that everything went smoothly at first. Sarah Bernard, an entomology student at the University of Florida, witnessed the competition and recorded Archbold. She stated, "I saw that he [Archbold] had a clear strategy. He would push everything into his mouth and try to swallow it with water. He figured out what worked and he did it." Bernard explained that the participants ate both worms and cockroaches.
According to NBC News, Archbold won the competition after eating 60 grams of mealworms, 35 worms, and almost a bucket full of cockroaches. Siegel, the store's owner, later recounted (via CNN) that Archbold was "the life of the party" and that "He really made our night more fun." Shortly after his victory, Archbold became sick and vomited. Per The Florida-Times Union, he subsequently collapsed and was taken to a hospital, where he was pronounced dead.
CNN writes that Siegel stated that he was "[v]ery saddened by this. I mean, it was a shock." He added, "Eddie was a very nice guy. We just met him that night, but everybody that works here was very fond of him." The Florida-Times Union notes that he was the only participant who became sick.
What killed Edward Archbold?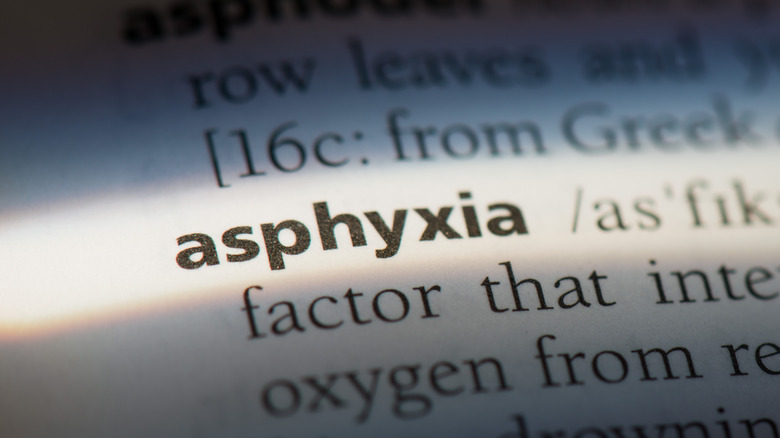 Casimiro PT/Shutterstock
The Daytona Beach News-Journal writes that Archbold's death caused confusion and raised questions. Entomology experts theorized that allergies or even asthma triggered by the cockroaches, who are known to carry dust, could have led to his death. Per NBC News, Mike Tringale from the Asthma and Allergy Foundation of America seemed to agree with this idea and noted that it was likely that Archbold "hit his tolerance level to cockroach allergens" and died from anaphylactic shock. Others blamed bacteria from the roaches. However, CNN reported that this was unlikely; the store's attorney said that they were "safely and domestically raised."
Entomologist Coby Schal also discredited this argument and told NBC News, "It would take time for bacteria to be a problem." Weeks after Archbold's death, an autopsy revealed the truth (per BBC News). His death was the result of "asphyxia due to choking and aspiration of gastric contents." In addition, "arthropod body parts" obstructed his airway. In other words, Archbold was unable to breathe. 
Medical examiner Craig T. Mallak explained further (via The Florida-Times Union). He said, "There is a flap called the epiglottis that is supposed to stop objects from going into the lungs." Mallak added, "Unfortunately, it doesn't always work. In the video you could see him trying to swallow and breathe at the same time. We can't do both simultaneously." Archbold's death was ruled an accident and NBC News notes that his estate kept the python he won. Kim Crawford, Archbold's former boss, described him (via The Florida-Times Union) as a "smart, good guy."  "It's just a tragedy," she said.