A Mutual Friend Brought Bruce Springsteen And Lou Reed Together On A Memorable Track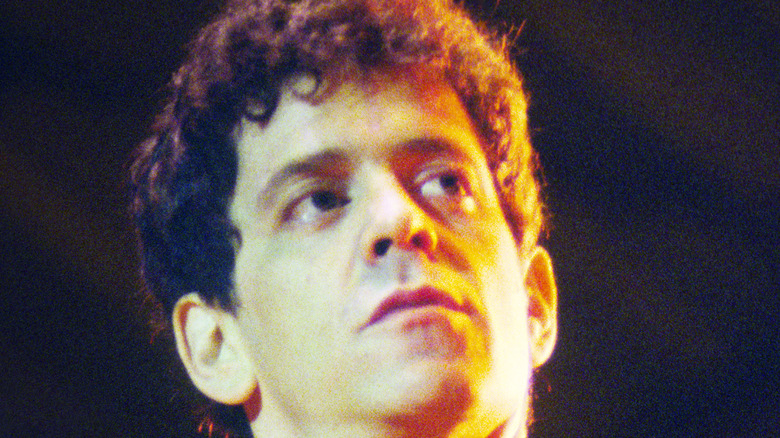 Gie Knaeps/Getty Images
Lou Reed is today considered one of the most important figures of 20th century popular music. As leader of the iconic 1960s group The Velvet Underground, Reed and his collaborators like John Cale almost singlehandedly introduced avant-garde techniques into rock and roll, while his renegade outsider persona has remained hugely influential on rockstars ever since.
Nevertheless, Reed's career was hugely unstable, even in his heyday, with the musician enjoying some critical and commercial success before his self-destructive tendencies propelled him to make a potentially disruptive left turn. The most notorious of these incidents was the release of his album "Metal Machine Music" in 1975, the record that tanked Reed's solo career in the aftermath of his leaving The Velvet Underground, as discussed by Pitchfork.
However, two years later in the midst of the punk explosion Reed was back in critical favor, with young practitioners of the new genre looking toward Reed and The Velvet Underground as elder statesmen of acerbic rock. As Mick Wall describes in "Lou Reed: The Life," by 1978 Reed was looking to capitalize on his newfound recognition among the punks and hit the studio with the intention of cutting a record that would lean into his claim to be a punk pioneer. The resulting album, "Street Hassle," would be his most acclaimed work for a while and would feature an unexpected guest appearance from Bruce Springsteen, who appeared uncredited on the title track, thanks to a connection between Springsteen and Reed established by a mutual friend: Steve Van Zandt.
Securing Springsteen for Street Hassle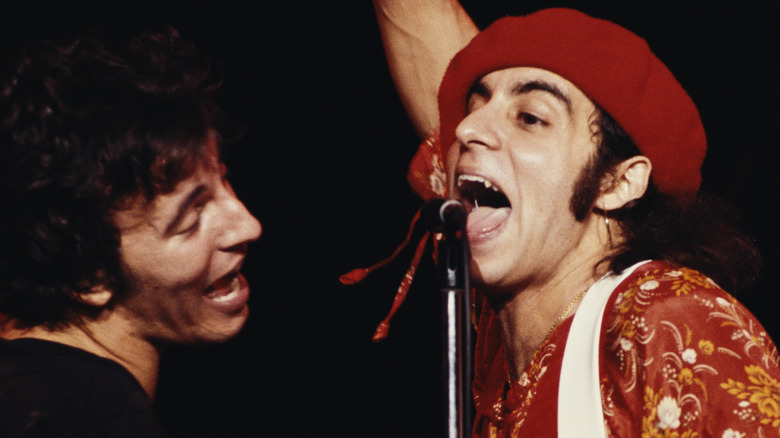 Michael Putland/Getty Images
Steve Van Zandt was just at the start of his career playing for Bruce Springsteen at the time Lou Reed was recording "Street Hassle," though by now he has been The Boss' go-to guitarist for the best part of half a century. Though Van Zandt was relatively inexperienced in the mid-'70s, he was nevertheless in an ideal position to use his famous charm — to which fans of his "Sopranos" character Silvio Dante can attest — to bring together two of the decade's most iconic rockers.
As Lou Reed himself recalled in an interview published by Sony Music's Legacy Recordings: "'Street Hassle' was recorded at the old Record Plant. I was there, Patti Smith was there, Bruce Springsteen was there. Everyone was in a different studio. I knew Steve Van Zandt and we asked Steve, would Bruce do this monologue? And Bruce said sure, and that was that ... but don't use my name."
The reason for Springsteen's reticence in revealing his involvement in the project was reportedly that he was involved in an ongoing legal dispute with his own record label (via "Lou Reed: The Life"). So though Springsteen undoubtedly sounds like Springsteen on the record, his involvement was never communicated to fans, a fact that Reed regretted. "I wish all of Bruce's fans would have gone out and bought it, but since we couldn't use his name, they think it's me imitating him," he said, per Legacy Recordings.
The reaction to Street Hassle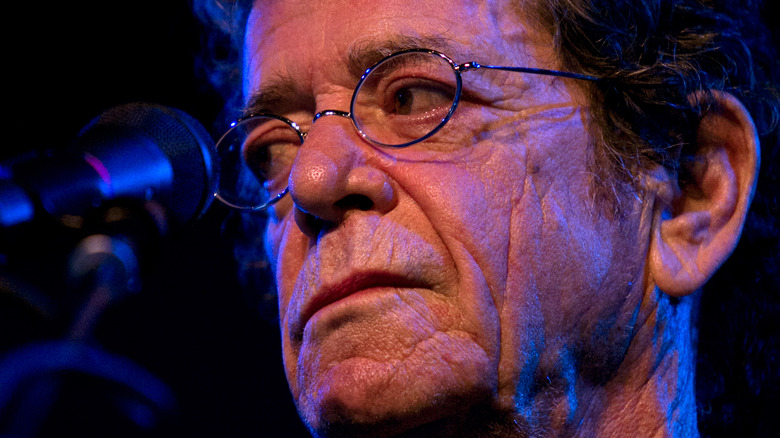 J Morc/Shutterstock
Like "Walk on the Wild Side," "Street Hassle" is a song containing several narratives and characters, but according to Lou Reed himself, with the latter track he was attempting to push the boundaries of rock music through dense narrative lyricism: "'Street Hassle' is divided into three movements and had different characters talking whereas in 'Walk on the Wild Side' ... it's a take on four or five different people, vignettes reduced to four or eight lines. Here you have a lot of words. The very end speech the character gives in 'Street Hassle' is like a Tennessee Williams monologue" (via Legacy Recordings).
Bruce Springsteen's contribution is slight, barely 30 seconds long, but contributes to the sense of novelistic storytelling by providing the final movement with a different voice. Though famous for his powerful and dramatic vocal style, on "Street Hassle" Reed employs Springsteen to deliver a melancholic piece of spoken word, which hints at his involvement by alluding to his greatest hit with the line: "Tramps like us, we were born to pay."
Though the album the song featured on was somewhat patchy, the epic "Street Hassle" was warmly received by both fans and critics, according to Mick Wall in "Lou Reed: The Life," reminding those who had derided him that he was still a force to be reckoned with. He later repaid Steve Van Zandt for making the connection with Springsteen by appearing on the guitarist's 1985 charity album, "Sun City," a protest album against South African apartheid, per Rolling Stone.