The Weird Story Behind Solitary Toilets Found In The Middle Of Basements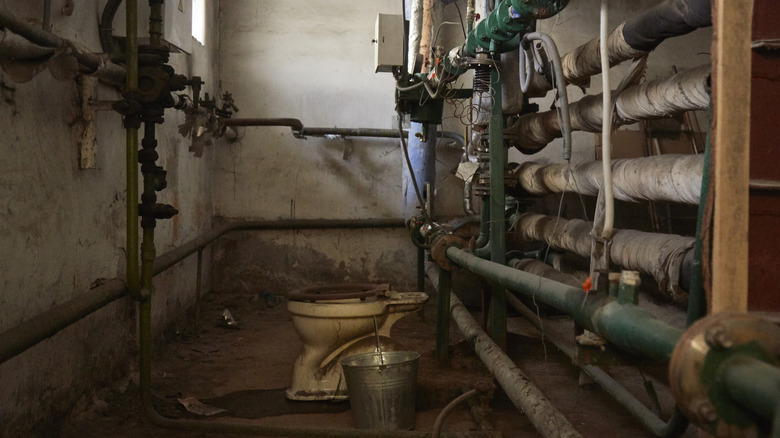 Pierre Crom/Getty Images
Sports fans know that the city of Pittsburgh is home to several legendary teams, including the Steelers, the Penguins, and the Pirates. Visit Pittsburgh reports that the city is also known for its deep ties to the mining and coal industry. However, PennLive adds that Pittsburgh has another claim to fame that has gained notoriety in recent years: the Pittsburgh potty.
What exactly is the Pittsburgh potty? "Today" explains that it's a singular toilet that can be found in many Pittsburgh basements. Unlike a regular bathroom, restroom, or powder room, the Pittsburgh potty has neither walls nor door, neither shower nor sink. It's just a toilet and nothing else.
According to WESA, Pittsburgh potties are commonplace in homes built between 1880 and 1910 and are a distinct attribute of pre-World War I homes. Furthermore, "Today" writes, the Pittsburgh potty can also be found in other states, including New York, New Jersey, and Oklahoma. Architect William J. Martin described the Pittsburgh potty as "mysterious" and disclosed why he believes it's synonymous with the city (via "Today"). He stated, "I think it may just be that the mythology in Pittsburgh is so strong that it made its way into the lexicon." Although the Pittsburgh potties might seem random, Mental Floss reports that they do have a purpose.
Plumbings problems might have led to the Pittsburgh potty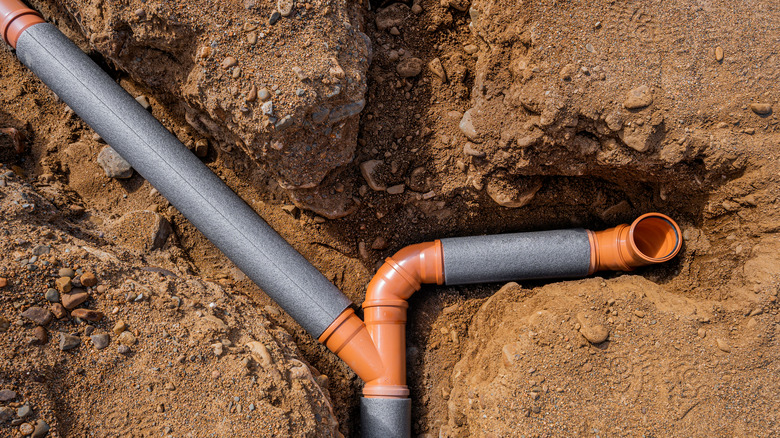 Bekker24/Shutterstock
Fox News reports that the Pittsburgh potty was invented for pure convenience and that its origins lie in the city's mining industry. Per "Today," real estate agent Jackie Konopka likened the Pittsburgh potty to a "historical mudroom." Ted Zellers, who is working on a photography book of Pittsburgh potties explained, "Steel workers would come home. They would clean up down in the basement before they came upstairs." Stephen Cummings, a Pittsburgh realtor, told WESA that he believed that in some cases, a Pittsburgh potty may have been installed for the servants who used the basement as a "living quarters." Although these theories have endured, it's widely believed that the Pittsburgh potty was the result of bad plumbing.
In an interview with WESA, Martin divulged that the Pittsburgh potty was placed in the basement because it was never supposed to be used. He noted that the sewage system in the late 1800s and early 1900s was rudimentary. The city became heavily populated and the sewage pipes were not designed to support the amount of fluid passing through. Thus, the sewer would get backed up and the Pittsburgh potty was the solution. 
Martin explained (via "Today"), "When a sewer backs up, it backs up into buildings. So the idea was to put a fixture in the basement where the line came into the street, so if there was a sewer backup, it would go there instead of the main house." Simply put, the Pittsburgh potty was designed to avert disaster.
The Pittsburgh potty endures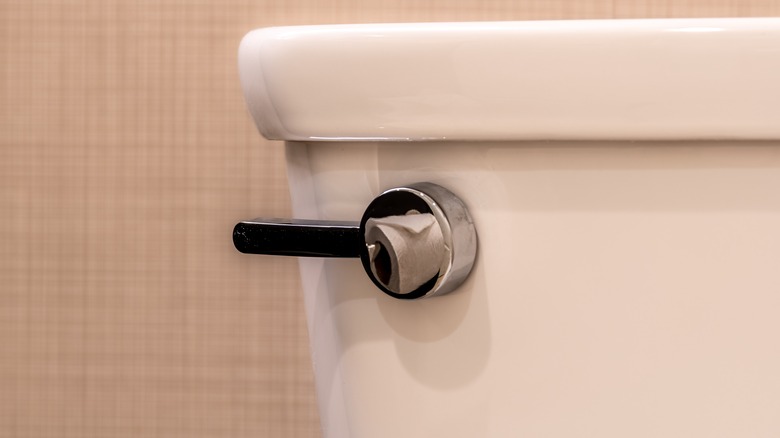 SEALANDSKYPHOTO/Shutterstock
Fox News writes that the Pittsburgh potty fell out of fashion after World War II when plumbing conditions improved. Nevertheless, they remain a symbol of the past and Pittsburgh's history. Although archaic plumbing likely led to the Pittsburgh potty, Zellers told the publication that steelworkers still played an important role in their longevity. He noted, "Even though I don't think it's a cause of the toilets, I do believe it is a way that these toilets were used and valued by a lot of people." For those who are unfamiliar with the Pittsburgh potty, CBS News reports that it can elicit shock and confusion.
Nevertheless, WESA notes that the Pittsburgh potty is beloved by many. WQED host Rick Sebak explained, "What I always liked about them was, they were obviously placed in unexpected spots." He added, "So there's no rhyme or reason as to where they'd be in the basement. Sometimes right in the middle, sometimes in a corner, which seems to make more sense." In a 2010 article for Pittsburgh magazine, writer Virginia Montanez recounts her personal story about a Pittsburgh potty and how she later became the proud owner of one. According to Fox News, many homeowners with a Pittsburgh potty have opted to keep them and convert them into a small bathroom.