The Reason George Harrison Dropped An Expletive At Harry Nilsson's Funeral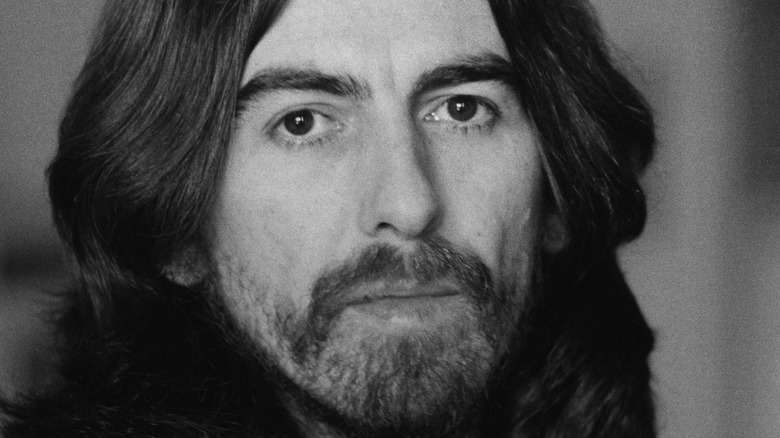 Michael Putland/Getty Images
It's hard to measure just how big of an influence Harry Nilsson exerted on popular music. Despite not having quite the same level of recognition of many of his peers in the late 1960s and 1970s, he made numerous important contributions to rock 'n' roll. According to Famous Singers, he's generally regarded as the originator of such concepts as the remix album and the mash-up. He had numerous hits throughout his career, including "Everybody's Talkin'," "Gotta Get Up," "Let the Good Times Roll," and others, and was renowned for his amazingly wide vocal range.
Before he cemented himself in the annals of rock history, Nilsson was born to a blue collar family that worked in the circus, as stated in Famous Singers. The New York Times reports he was born Harry E. Nelson III in Brooklyn, but changed his last name to the Swedish spelling when he moved to California for his music career. He showed some talent for and interest in singing, a path that was encouraged by his uncle. Nilsson could only develop his musical gifts during the day, as his tight financial situation required him to work nights. However, his efforts paid off; he eventually landed gigs writing songs for other artists, like Fred Astaire, The Ronettes, and The Yardbirds, which led to him becoming a popular solo act.
The former Beatle's funerary F-bomb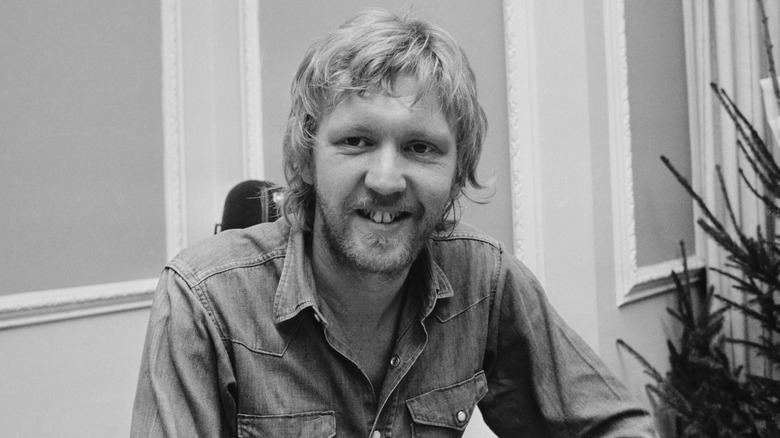 Stan Meagher/Getty Images
Unfortunately, Harry Nilsson's rock 'n' roll life came to a tragic end on January 15, 1994, when he died of a heart attack at age 52, as stated in Far Out Magazine. Still, his funeral was a wonderful reminder of just how important he was in the music world, as it was attended by many major musical artists, according to record producer Mark Hudson, who said to Rolling Stone (via Far Out Magazine) that "every songwriter was there — Jimmy Webb, Paul Williams, Van Dyke Parks, George [Harrison], the list of people was scary."
While the sadness of Nilsson's death was tempered by the presence of pop music royalty, there was a brief yet shocking moment that occurred courtesy of ex-Beatle George Harrison, according to Hudson (per Far Out Magazine). The producer recalled how everyone was "standing around the grave and George goes, 'F*** You.' And we are all shocked, and we thought he was having some kind of angst. And then he says, 'That was always my favorite song [of Nilsson's]: "You're Breaking My Heart, Tearing it Apart, Well F*** you,"' so then we all joined in and sang it." While the language may not have been appropriate for a typical funeral, because this was to commemorate the life and work of a rock star, singing one of his most notorious songs is actually quite the heartfelt sendoff.
Harry Nilsson's earth-shaking funeral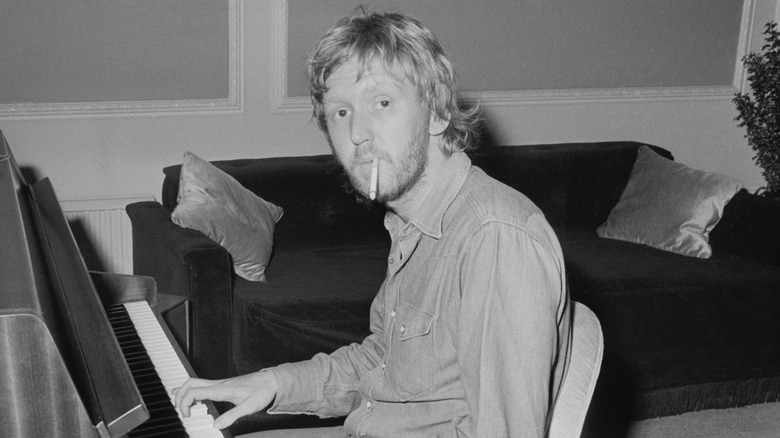 Stan Meagher/Getty Images
Far Out Magazine states that Harry Nilsson's funeral took place on January 17, 1994. That was a sad enough day in and of itself, at least for fans of the singer-songwriter, but there was another terrible event that took place on that day: the Northridge Earthquake, which was mostly localized in the San Fernando Valley, not far from where the funeral was taking place in Westlake Village. It was not a small earthquake, either; with a 6.7 magnitude, dozens of people died from it and considerable property damage was caused.
News of the earthquake overshadowed what was planned to be a day of mourning for the late Nilsson, Jimmy Webb told Rolling Stone (via Far Out Magazine). The singer-songwriter said that "there was no fuss over the fact that he was gone because the Northridge Quake flattened about half of Southern California. It was not a slow news day when he passed over. There have been a lot of things that have conspired that have made him sort of the Unknown Soldier." While it's heartbreaking to know that the death of Nilsson, whose name isn't as widely remembered as that of his contemporaries, was crowded out of the spotlight, it's comforting to know that he will always be honored by some of history's greatest musical figures (via NPR).