Viktor Bout's Alleged Connection To Osama Bin Laden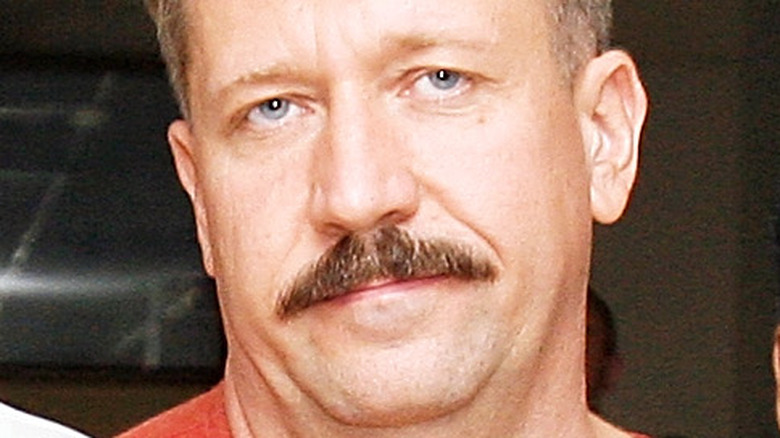 Chumsak Kanoknan/Getty Images
Born in 1967 in the former Soviet Union (present-day Tajikistan), Viktor Bout worked as an international arms dealer who helped supply weapons and ammunition around the world, according to PBS' Frontline. He earned the nickname "Merchant of Death" for providing the firepower used in many bloody conflicts, per CNN. His alleged exploits reportedly inspired the 2005 movie "Lord of War" starring Nicolas Cage.
Bout managed to keep his lucrative arms operations going for nearly two decades, according to Reuters. He had a natural gift for language, and he served as a translator during his time in the Soviet military in Angola. After the collapse of the Soviet Union, he capitalized on the opportunity to buy disused weapons and aircraft. From here, Bout began to develop his arms empire. He seemed to have a knack for using his planes to get firepower into embargoed parts of the world in violation of international sanctions.
Bout's possible connection to Osama bin Laden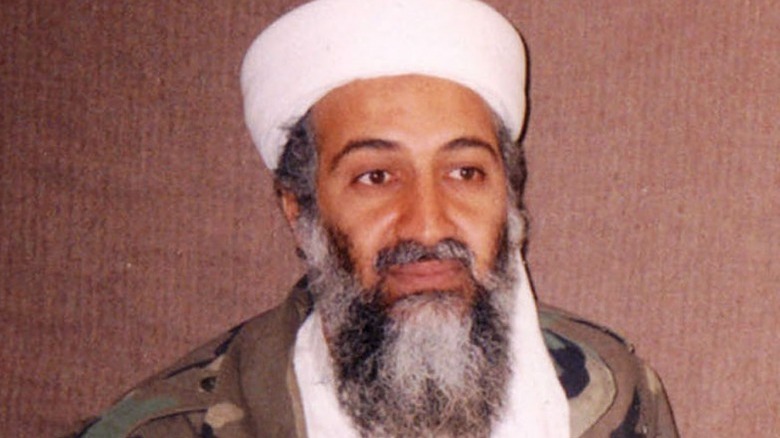 Visual News/Getty Images
Viktor Bout developed an array of cargo businesses that helped him move all sorts of military hardware around to his buyers, many of whom were located in Africa and Asia (via Global Policy Forum). He was known to have provided arms to rebel forces in such countries as Congo, Liberia, and Angola, per Reuters. Bout had no qualms about who he sold weapons to, including members of Taliban in Afghanistan.
Initially Bout had been selling arms to Afghanistan's government forces, but he changed sides after the Taliban held one of his planes hostage. Ever the skilled dealer, he negotiated the release of his aircraft and landed himself a new customer, according to Frontline. There were allegations that one of Bout's business associates may have sold chemical weapons to Osama bin Laden and that some of Bout's planes may have been used to deliver these materials to Al Qaeda.
Deadly arms dealer finally arrested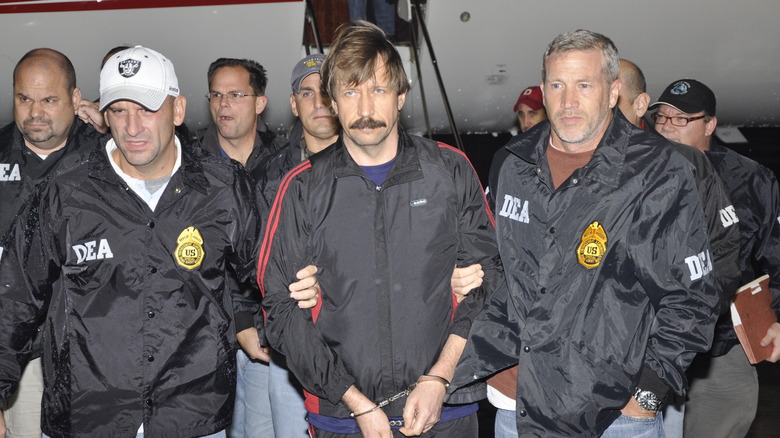 Handout/Getty Images
Authorities have failed to find a direct connection between Viktor Bout and Osama bin Laden, per Frontline. But it is believed that Bout's weapons may have made their way to Al Qaeda through the terrorist organization's relationship with the Taliban. Bout, however, publicly claimed not to have had any dealings with the Taliban and Al Qaeda (via The Washington Post).
It would be another terrorist group, however, that would lead to Bout's downfall. In 2008, he was arrested in Thailand on a number of charges related to his intention to sell arms to a Colombian terrorist group known as Fuerzas Armadas Revolucionarias de Colombia (FARC), according to the U.S. Department of Justice. FARC planned to use these weapons to kill American citizens. Bout was convicted on several conspiracy charges, and he was sentenced to 25 years in prison. In December 2022, Bout was freed in a prisoner exchange with Russia. Bout was allowed to return to Russia, and American basketball player Brittney Griner was brought home to the United States (via CNN).