How Glassblower Dale Chihuly's Traumatic Injury Affected His Art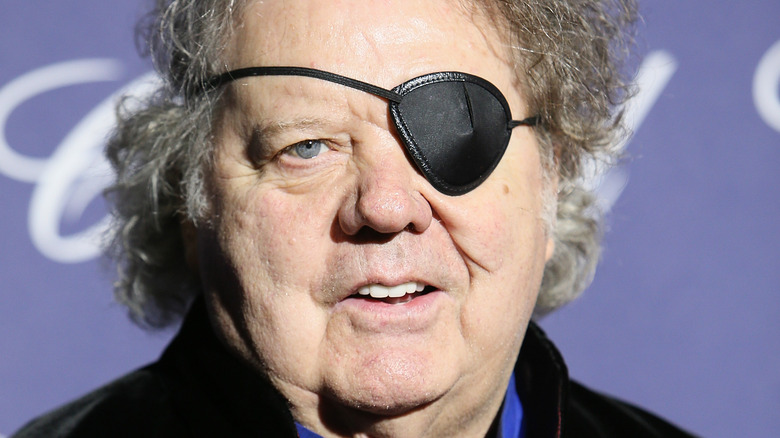 David Livingston/Getty Images
Artist Dale Chihuly was driving across England in the 1970s when an accident flung him head-first through the windshield, a hideous ordeal that cut his face to pieces (via Chihuly). Chihuly, who is known for his psychedelic glass gardens and eerie plankton-like glass creatures, was already an expert blower at the time of his crash. In 1968, he went to Italy to learn from the Venetian masters, working at a famous factory (via Chihuly Garden and Glass). Then in 1971, he created his own glass-making school in the U.S. and began his journey testing the limits of the art form.
When Chihuly emerged from his accident, however, it looked as if his career might be over. In addition to deep gashes in his face, his eye was so badly injured he has worn an eyepatch ever since. The whole ordeal left him with 250 stitches and a six-month recovery period (via The Daily). Nonetheless, the results of his brutal injury led Chihuly to experiment with glass in profoundly novel ways that thrill museum visitors today.
Many hands make light work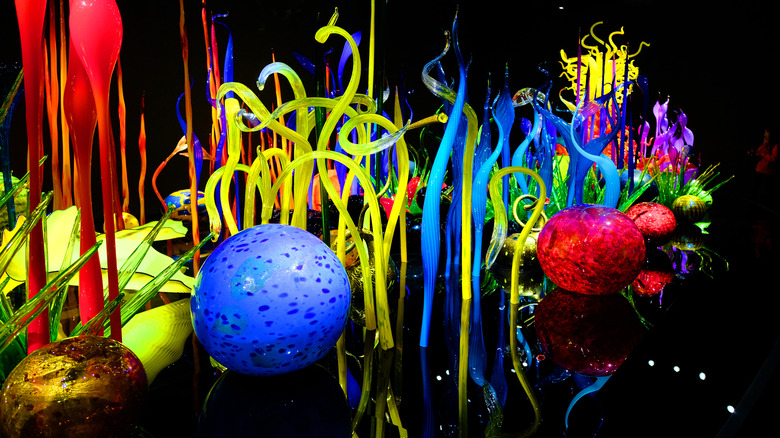 CK Foto/Shutterstock
In the long-run, Dale Chihuly came to see his accident as a turning point in his creative process. Robbed of his depth perception, he could no longer safely participate in the dangerous process of firing molten glass (via Chihuly). To make matters worse, an unrelated injury to his shoulder caused by a bodysurfing accident also made it difficult for him to lift the equipment (via The New York Times).
As life-altering events often do, Chihuly's car accident gave the artist time to pause and reconsider his life and work. This thinking time turned out to be vital, and Chihuly has stated that after he lost his eye, he dared to be much more inventive with his work, producing many weird and wonderful new shapes (via The Daily). To get around his disabilities, he also began to rely heavily on others, which turned out to be no bad thing.
Like the artists of the Renaissance, who regularly worked in teams under a great master, Chihuly gathered groups of artists around him to produce pieces in his workshop. Chihuly has stated that the superior technical abilities of some of those he worked with years have helped him better execute his ideas. As his work earned him more money, these teams only got larger, and the projects more ambitious. The results: some of the strangest and most beautiful sculptures ever conceived.
Mind and body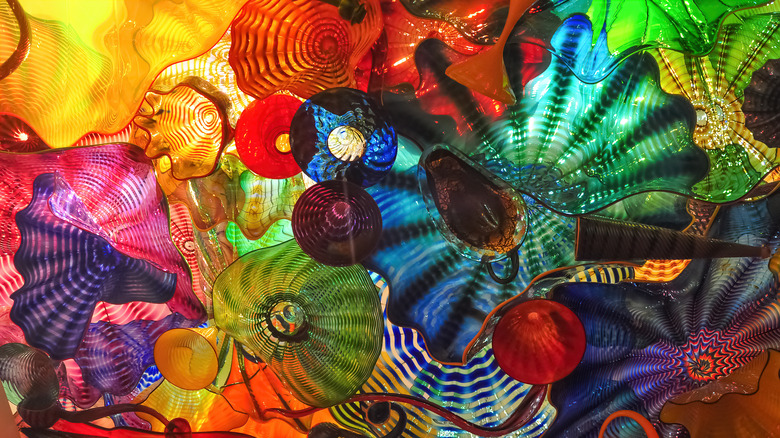 365 Focus Photography/Shutterstock
In the years that followed, Dale Chihuly began some of his most iconic projects. In the 1980s, this included his "Persians" and "Seaforms" series, collections of delicate wave-like glass that resemble shells and sea creatures (via Chihuly Garden and Glass). Today his best pieces are worth up to a million dollars each, and the man himself has become something of an icon in the art world, eyepatch and all (via The New York Times). Chihuly's work has also appeared across the globe in some extraordinary public exhibitions — at Kew Gardens, the Garfield Park Conservatory, and even scattered around the canals of Venice.
Chihuly has made it quite clear in interviews that his lifelong struggle with bipolar disorder, rather than his physical injuries, has been the real barrier to his work. Speaking to AP News, he commented, "When I'm down, I kind of go in hibernation." Before Chihuly gave up drinking, he claims his depression reached life-threateningly bad levels. He has learned to cope with it better but concedes the condition casted a long dark shadow over a certain part of his life.