One Of Bam Margera's Worst Stunt Injuries Had Nothing To Do With 'Jackass'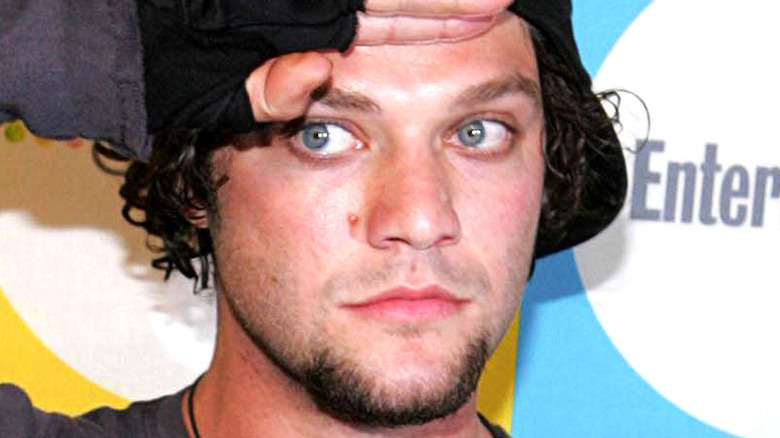 Everett Collection/Shutterstock
Stunt performer and TV personality Bam Margera was hospitalized in early December 2022 for pneumonia, as TMZ reports. While under medical care in the ICU, Margera, who made his name in the early 2000s on the MTV show "Jackass," alongside Johnny Knoxville (via IMDb), reportedly tested positive for COVID-19 and was put on a ventilator. According to TMZ's report, Margera was listed in stable condition.
On the "Jackass" TV show, and in the subsequent movie spin-offs, Margera, a skateboarder and a musician, was known to perform outrageous stunts and tricks, with seeming disregard for his health and body. As Margera revealed in a 2007 promotional interview, his nickname "Bam" comes from his childhood tendency to put himself in harm's way (via The Cleveland Free Times).  At that time, Margera also said his worst injury came not on "Jackass" but in a 2006 appearance Margera made on another popular MTV show, featuring a well-known band from that same time period (per TV Time).
Margera's worst injury happened on 'MTV Cribs'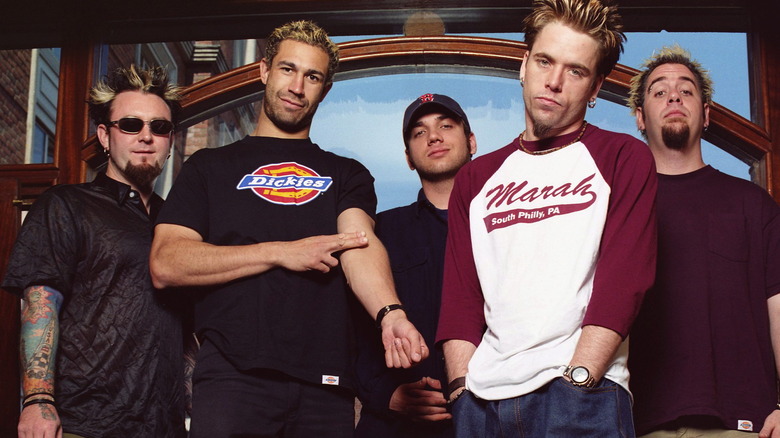 Dave Tonge/Getty Images
Alongside "Jackass," another popular show from the early-2000s was "MTV Cribs," in which celebrities offered viewers a behind-the-scenes at their high-end dwellings (via IMDd). The latest season of the show premiered in 2022, according to "Today." The "Cribs" episode in which Margera was injured also featured a rap-rock band called Bloodhound Gang (pictured) which circa 2006 had just recently released one of their most popular records, "Hefty Fine" (per AllMusic).
In addition to the appearance Margera made with Bloodhound Gang on "MTV Cribs," Margera also appeared in the Bloodhound Gang 2005 music video for the song "Foxtrot Uniform Charlie Kilo" (posted on YouTube). It was in that cameo, though, that Margera made on the "Cribs" episode featuring Bloodhound Gang when the worst injury of his career took place, according to the star's 2007 interview (via The Cleveland Free Times). And in keeping with Margera's boundary-pushing style, the injury happened while the stunt actor drove a banana-shaped vehicle.
Margera's injury required 15 staples in his head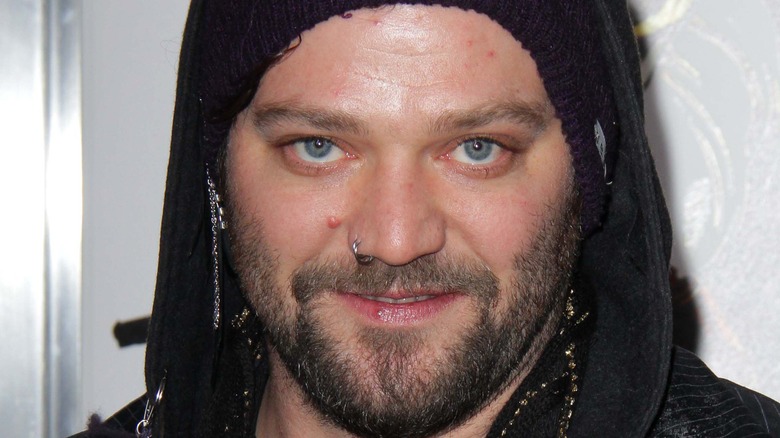 s_bukley/Shutterstock
According to the 2007 interview Margera gave from the Hollywood Roosevelt Hotel, in his "Cribs" cameo, he was meant to drive a banana-shaped vehicle into a moat that he was assured was  seven feet deep, according to Hollywood Outbreak. At first Margera was uninjured after the stunt was performed, but as he went on to explain, he stood on top of the vehicle and then made a dive into the water, head first. The water was actually only two feet deep, Margera said, with rocks at the bottom. "I cracked my head open," Margera said (via The Cleveland Free Times).
From there, Margera was driven to a small rural hospital, near where the shoot happened. "I told the doctor I thought my neck was broken," Margera said. "They took an x-ray and were like, 'It's not broken, so you're good to go.'" Margera then asked, "What about the gash in my head?" According to Margera, the doctor looked at the injury and said, "'Oh my God' ... That's when I knew I was in trouble." The subsequent injury required 15 staples and "... my neck is always messed up," Margera said.