Bam Margera's Relationship With Johnny Knoxville Explained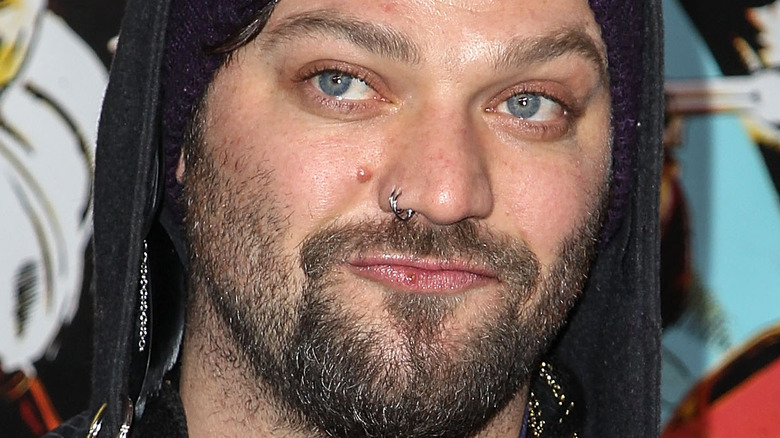 Paul A. Hebert/Getty Images
Stunt performers Bam Margera and Johnny Knoxville rose to fame thanks to their prominent series "Jackass" (via Complex). Per The Hollywood Reporter, "Jackass" premiered on MTV in October 2000. Although it lasted only three seasons, Margera, Knoxville, and the rest of the crew's escapades made them superstars. Shortly after the series ended, "Jackass" was revived as a multimillion-dollar film franchise. It also led to various spin-offs including "Viva la Bam" (per IMDb). However, at the center of it all is the bond between the cast members that included Margera, Knoxville, Steve-O, Ryan Dunn, and Jason "Wee Man" Acuña, amongst others.
In an interview with Maxim, Knoxville divulged that the origins of "Jackass" lie in a magazine called Big Brother. According to Vice, Big Brother is a now-defunct publication that is remembered for pushing boundaries and for writing about controversial subjects. Knoxville became acquainted with the magazine when they allowed him to test self-defense equipment. Around the same time, Margera, a Pennsylvania native and skateboarder, was making a name for himself by making CKY videos (per IMDb). These skateboarding videos were ultimately distributed by Big Brother.
Maxim reported that when Knoxville and Big Brother editor Jeff Tremaine decided to create a series that involved stunts and antics, they brought on Margera and Dunn. The rest, as they say, is history. Although "Jackass" and its subsequent ventures have been wildly successful, Knoxville told Variety in October 2022 that "I haven't spoken to Bam in about a year and a half, give or take six months."
Margera and Knoxville's falling out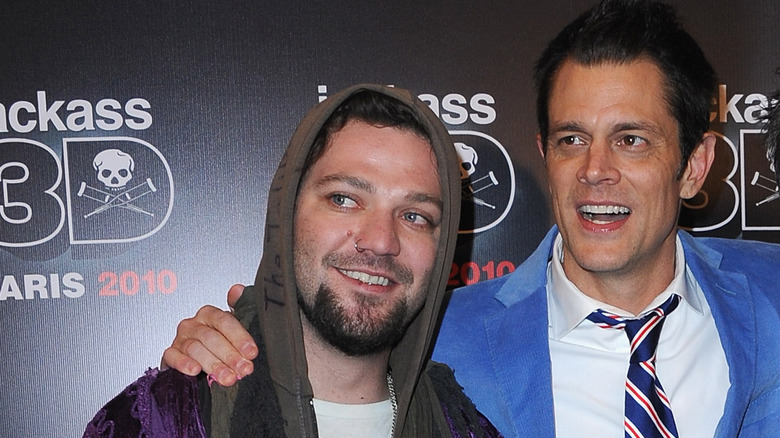 Francois Durand/Getty Images
According to E! Online, several "Jackass" cast members, including Margera, have struggled with addiction. Although some, like Steve-O, have remained sober, Variety reported that this had not been the case for Margera. Complex adds that this has caused the friendship between Margera and Knoxville to flounder. The publication explains that Margera's addictions worsened after the 2011 death of Ryan Dunn. He managed a few years of sobriety, but Margera relapsed in 2018. Since then, Margera has struggled to stay clean and has been in and out of rehab (via the Daily Mail). Ultimately, this contributed to Margera being fired from "Jackass Forever," the 2022 installment of the hit franchise (per NBC News).
People wrote that Margera was let go after testing positive for the prescription drug Adderall. However, he fired back and sued Knoxville and the film's directors. Margera stated that he was forced into signing a "wellness agreement" that subjected him to drug tests. If he did not sign it, Margera claimed that he was told that he would not be involved in future "Jackass" projects. Furthermore, Margera alleged "inhumane treatment" from Knoxville and the others. He stated that Knoxville and the rest "knew full well" he was taking Adderall.
When asked if he was taken aback by Margera's lawsuit, Knoxville stated (via People), "Yes and no. Because he's in such a way that anything's possible. So, something will break your heart — but it might not shock you." Knoxville also said, "We wanted him all throughout the movie, but unfortunately that's not the way it worked out."
If you or anyone you know needs help with addiction issues, help is available. Visit the Substance Abuse and Mental Health Services Administration website or contact SAMHSA's National Helpline at 1-800-662-HELP (4357).
Knoxville has well wishes for Margera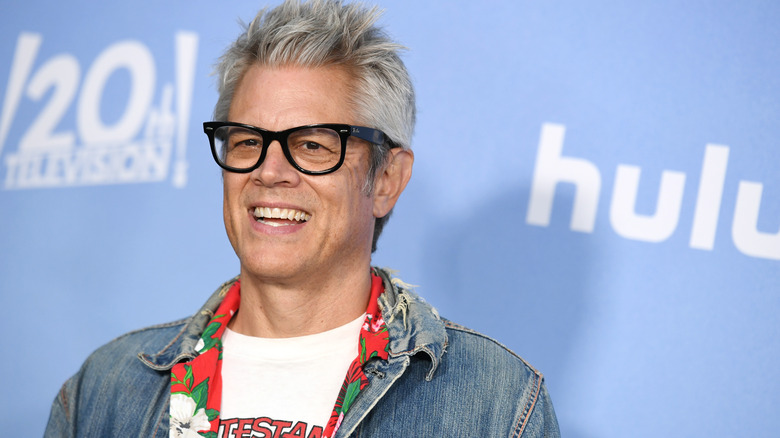 Jc Olivera/Getty Images
In April 2022, Entertainment Weekly reported that Margera dropped the lawsuit against Knoxville. Per TMZ, he, Knoxville, and the film's directors settled for an undisclosed amount. In August of that year, Margera went on Steve-O's podcast (as seen on YouTube) and told his old friend that he was "better off not being" in "Jackass Forever." "Everything [was] meant for a reason, and I'm much better off not being in it." He added (via NME), "I'm happy to not be in it. I don't want to do that anymore. I don't want to be a part of it. I'm much happier without it." 
Shortly after this interview, TMZ reported that Margera returned to rehab. Complex notes that this latest stint comes months after Margera went "missing" from rehab. That said, Knoxville has not said anything negative about Margera to the media and has encouraged Margera to work toward sobriety. When Margera was fired from "Jackass Forever," Knoxville told GQ, "We want Bam to be happy and healthy and get the help he needs. We tried to push that along. I think that's all I really want to say about it."
In an October 2022 interview with Variety, Knoxville shared the same sentiment and said that there is a possibility that Margera will return to the franchise. "I only want him to get better. That's the first step. He has to take that step and maintain that step, because everything else is just gravy. 'Jackass' is not important when you're talking about someone's life," he said.