Whatever Happened To Al Cowlings After The OJ Simpson Trial?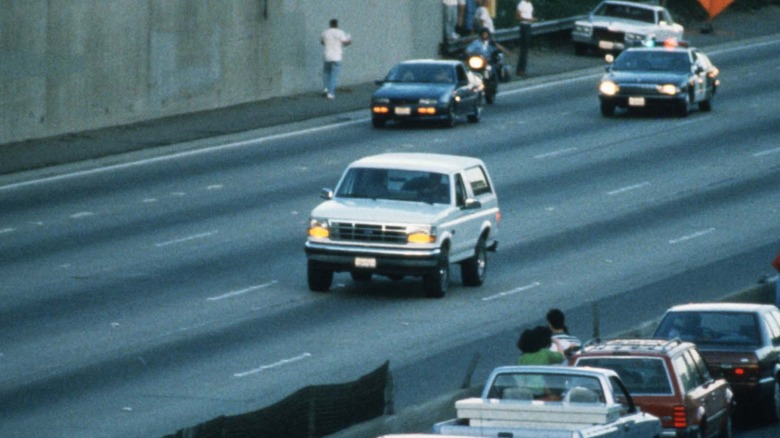 Jean-marc Giboux/Getty Images
Many Americans over the age of 35 remember the evening of June 17, 1994. Earlier that afternoon, the LAPD held a public news conference, stating that they were "actively looking" for retired football star and actor O.J. Simpson (via ABC 7 News). Simpson's wife Nicole and her companion Ronald Goldman were found stabbed to death on June 12 and the former Buffalo Bills running back was the primary suspect (he was eventually acquitted of murder). 
The district attorney's office held its own press conference where DA Gil Garcetti announced that his office was charging Simpson with murder. Just before 6 p.m., Simpson dialed 911 and cried, "I'm just gonna leave. I wanna go with Nicole. That's all I wanna do. That's all I've been trying to do." Police were able to trace the call to a cell phone inside a white Ford Bronco on the I-5 in Santa Ana. The California Highway Patrol located the vehicle and began a long pursuit that would ultimately end in Simpson peacefully surrendering. Nearly 100 million people tuned in to view the low-speed chase that ended in Brentwood, as major news networks preempted their regular broadcasts to air this bizarre turn of events. 
Police soon discovered that it wasn't Simpson driving the vehicle. At the wheel was his best friend and former NFL teammate Al Cowlings, who owned the Bronco and phoned in his own pleas to 911 during the event. Years later, one might wonder what happened to Cowlings after this historic event.
Cowlings and Simpson had been lifelong friends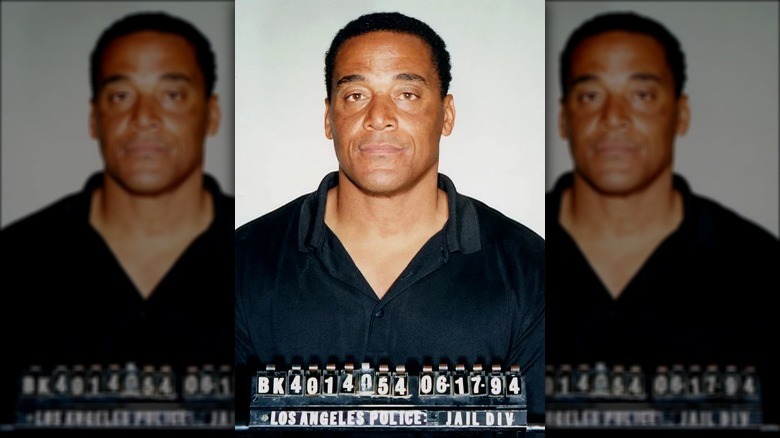 Los Angeles Police Department
Sportscasting reminds us that Cowlings and Simpson had a friendship that went back to their teenage years. The two pals played high school football together before both joined the team at the University of Southern California (USC) and later the Buffalo Bills. 
Though he might be best known for Simpson's driver on that hot June night all those years ago, Cowlings was a terrific football player. Years after Simpson was acquitted of double murder, Cowlings' efforts on the collegiate gridiron were rewarded with his induction into the USC Athletic Hall of Fame in 2009. The university also named a dormitory in his honor in 2017.
The Simpson trial might have been a significant event in Cowlings' life, but it isn't one that he much discusses publicly. In fact, he has gone to some lengths to distance himself from the fiasco. When the FX network began production of "The People vs. O.J. Simpson" in 2016, TMZ reported that Cowlings threatened to sue if the show made him look bad in any way. His character was played by Malcolm-Jamal Warner.
In 2015, the Fox News network featured a story about many of the key players in the O.J. Simpson murder case, giving some insight as to what they've been up to in the years after the case had been closed. They revealed that Cowlings had fallen into "total obscurity," still in the shadow of Simpson like he was on the football field.
Cowlings sold the infamous white Ford Bronco years ago
Joe Seer/Shutterstock
Fox News reported that Cowlings had faced bankruptcy in the early 2000s and was trying to make a living selling purses in the Los Angeles area. In 2014, former football teammate Charley Ferguson reported that Cowlings was working for B. Wayne Hughes. Hughes is the founder of Public Storage, though it wasn't clear if Cowlings was working for Hughes in that business (per USA Today). Ferguson went on to say that Cowlings was still living in Los Angeles, but declined to say where. 
Cowlings is said to be retired today and living somewhere in southern California. In a 2020 interview with the Buffalo News, Simpson speculated that Cowlings suffered from chronic traumatic encephalopathy, a condition that appears in many athletes who have had repeated blows to the head. 
And as for the famous Bronco? It was Cowlings' vehicle, but he despised driving it after the chase. He negotiated the sale of the now-famous vehicle to an investor shortly after the chase. After years in storage, the white SUV is now on loan to the Alcatraz East Crime Museum in Pigeon Forge, Tennessee. For the price of admission, you can get up close to the vehicle that carried Simpson on his most memorable ride.