Merv Griffin's Cheeky Tombstone Message For Fans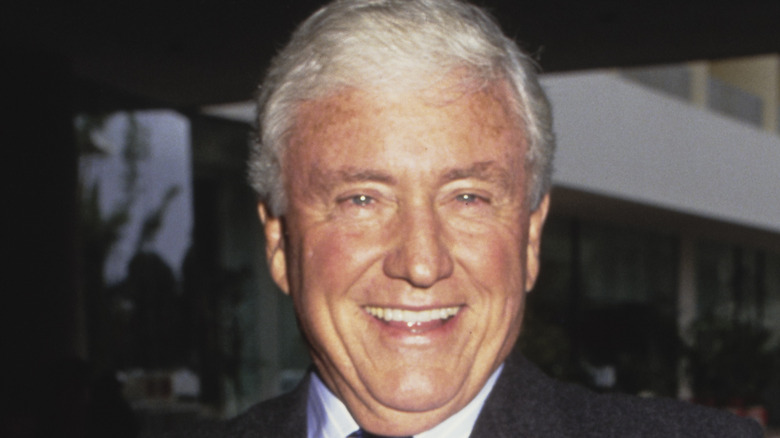 Michael Ochs Archives/Getty Images
From the time he was a teenager, Merv Griffin was involved in show business. He sang and played the organ for the church choir while growing up in San Mateo, California. That work laid the foundation for his first professional music gig. In 1949, at the age of 19, Griffin joined Freddy Martin and His Orchestra as a big band singer, according to CBS News. Griffin and Martin simply worked well together and recorded a top 10 hit, "I've Got a Lovely Bunch of Coconuts," in 1950 (via YouTube). It was a relationship that would eventually land Griffin on television in the 1950s for "The Freddy Martin Show." Throughout the 1950s, Griffin's career was a mix of music and television.
Griffin's big television break came in 1958 when he was asked to host "Play Your Hunch," a show developed by Mark Goodson, the famed producer of game shows like "Password" and "Family Feud" (per the LA Times). The show got a boost when "The Tonight Show" host Jack Paar accidentally wandered onto the set during its live taping and hung around for an interview. "If somebody asks you what show business is all about — accidents," Griffin later said, per PBS. "For some reason, you plan your career, and just before you go to sleep at night you say, 'Yeah, I'll do this, I'll do that.' It never works. I just happened to be in the right place at the right time."
Running his own show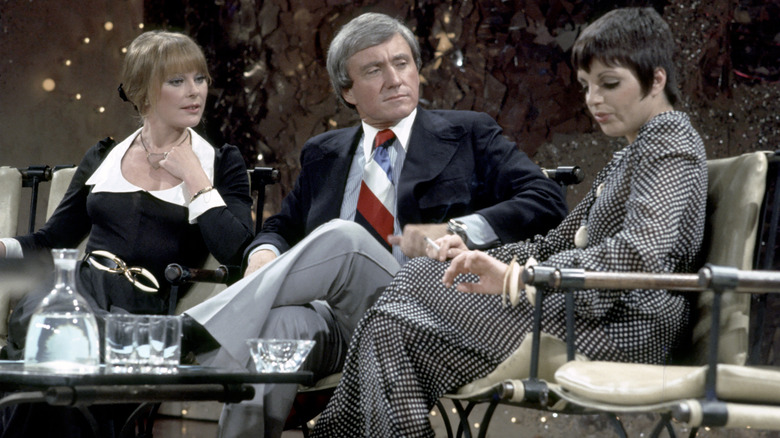 Michael Ochs Archives/Getty Images
The Paar incident forced NBC executives to take notice of Griffin. First, Paar booked him as a guest on "The Tonight Show." Soon after, he was asked to fill in as host of the show during the transition between Paar and Johnny Carson, according to CBS News. The decision-makers at NBC saw what Griffin brought to the table and gave him his own daytime talk show, "The Merv Griffin Show" in 1962, but pulled the plug on it in 1963. Griffin thought he could do better and rebooted the show for syndication in 1965. Some stations ran it during the day, while others put it in primetime — and some aired it in competition with Johnny Carson's run of "The Tonight Show."
The show ran for 21 years, which was something of a surprise to Griffin. "I never anticipated ever being a talk show host in my life," he said (via PBS). "Every day of it, every day of my career, I've cherished. I love it." During his time on television, Griffin went on to found his own production company, which created some of the most beloved and enduring game shows, including "Jeopardy!" and "Wheel of Fortune." Upon retiring from full-time television work in 1986, Griffin sold his production company to Columbia Pictures Television (then a part of the Coca-Cola Company) for $250 million, per The New York Times.
Griffin's memoir teased his epitaph
In his 2003 memoir, "Merv: Making the Good Life Last," Griffin contemplated the end of his life. "Let me preface this final observation by saying that I feel great and that I plan on being around for quite a while. But I've never been afraid of death. If you live your life in fear of dying, you might as well be dead already," he wrote. "So lately, in idle moments, I've been toying with what I'd like my headstone to read. (You don't think I'm going to let anybody else write my last line, do you?)" He continued, "[P]erhaps the talk show's final exit line would be more appropriate: 'I will not be right back after this message.' Hey, you know what? I've just figured out what I want it to say: 'Stay tuned.'"
On August 12, 2007, Merv Griffin died of complications from prostate cancer at Cedars-Sinai Medical Center in Los Angeles, according to The New York Times. He was 82 years old. Per Find a Grave, Griffin is buried in a spacious plot at Westwood Memorial Park in Los Angeles. As for his headstone (above), it's not clear if Griffin had a change of mind or if his family made a different decision, but it doesn't read, "Stay tuned." Instead, his final words are ones taken from earlier in the same paragraph of his memoir. His grave reads, "I will not be right back after this message."