How Mike Leach Turned A Loss And A Historic Fine Into A Beautiful Charity Act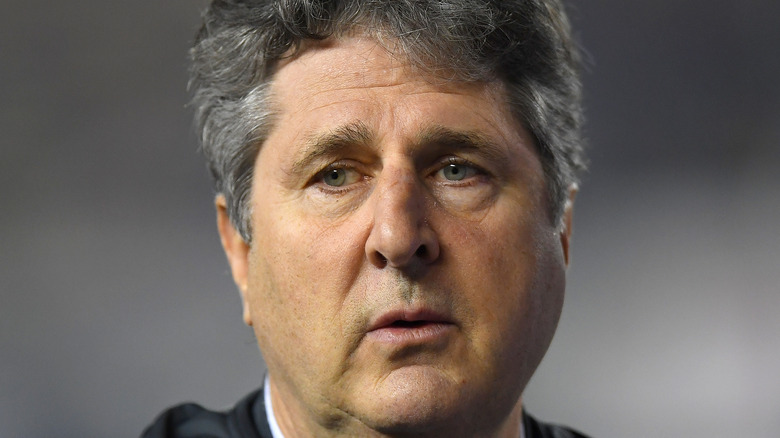 Thearon W. Henderson/Getty Images
Famed football coach Mike Leach became a household name thanks to his time with Texas Tech and Washington State (via CBS News). At the time of this publication, the 61-year-old is the head coach at Mississippi State, where he's continued to prove himself as a force to be reckoned with. Per Sports Illustrated, Leach began his career back in 2000 and has never strayed far from controversy. In 2009, ABC News reported that Leach was fired after his alleged maltreatment of Texas Tech player Adam James. This spurred a years-long feud between Leach and James' father, Craig James (per the Bleacher Report). This also led to a lengthy legal dispute with the university (via USA Today).
According to Chron, Leach found himself in hot water when he said some choice words to the Big 12 back in 2007. Britannica explains that the Big 12 is an athletic conference and organization that includes various educational institutions, including The University of Texas and Texas Tech, amongst others. KCBD wrote that Leach became disgruntled over a football game between the Texas Tech Red Raiders and the Texas Longhorns. The Red Raiders ended up losing 59-43, and Leach was unhappy with how the games officials treated his team (per another article from USA Today). This included the dismissal of two touchdowns and the refusal of a penalty flag.
The Big 12 fined Mike Leach $10,000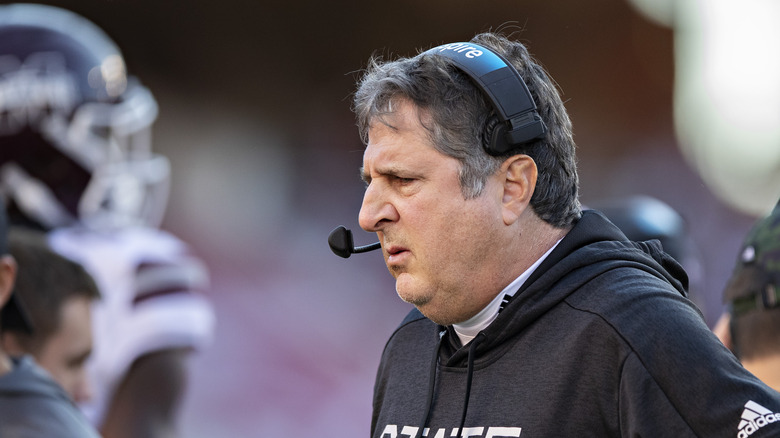 Wesley Hitt/Getty Images
Chron reported that Mike Leach called the game's officiating crew a "total travesty" and the game "a total sham." In a 2013 interview, Graham Harrell, who previously played for the Red Raiders, recounted how the incident played out. Harell stated (via the Bleacher Report), "He [Leach] always talked to me between series, so he's talking to me and he pulls his cell phone out and he called the Big 12 commissioner. He's like cussing out the Big 12 commissioner, telling him like, 'These refs are screwing us. You better watch my post-game press conference because I've got some stuff to say.'"
Needless to say, the Big 12 did not take Leach's comments kindly. According to USA Today, the organization responded and released a statement that read, "Coach Leach's public statements called into question the integrity and competence of game officials and the conference's officiating program." As a result of his remarks, Leach was fined a whopping $10,000. In the Big 12's words (per Chron), this was "the largest fine issued to date by the Conference." This not did seem to faze Leach, who stated (per KCBD), "We've broke records around here before. We're used to breaking records." That being said, the Lubbock Avalanche-Journal wrote that Leach took this opportunity to do some good in his community.
He donated 400 hams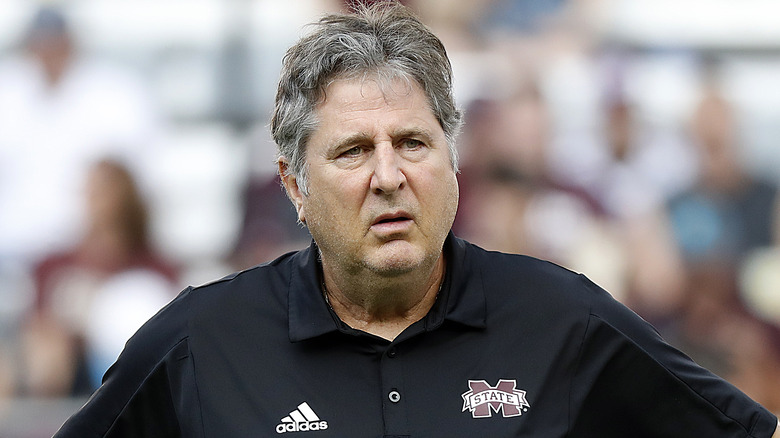 Bob Levey/Getty Images
According to ESPN, Mike Leach's hefty fine spurred a local movement in Lubbock called the "I Like Mike" campaign. The goal was to raise money for Leach to pay his $10,000 penalty. Leach replied to this crusade by stating, "I can't say enough about the Tech fans." He added, "And their enthusiasm around other causes as well." The Lubbock Avalanche-Journal reported that the "I Like Mike" campaign ended up raising almost $5,000. However, Leach opted to not use the money to pay off his fine. Instead, he asked that the funds be used to purchase 400 hams for donation.
Brian Mayes, the creator of the campaign, told the Lubbock Avalanche-Journal that Leach wanted the money to be donated to the city of Lubbock or to the University. He explained, "It doesn't surprise me that coach Leach would not take the money to pay his fine. This really was always a symbolic gesture to tell coach Leach that, We appreciate your passion for the university. This is our way of showing our passion for you as a coach."
Per Texas Tech, the hams were given out days before Christmas at the university. "This is just a small way for us to say thank you to our great fans and to let our community know how important they are to our program," Leach said.