Why Niccolò Paganini's Renowned Talent Led People To Believe He Was Touched By The Devil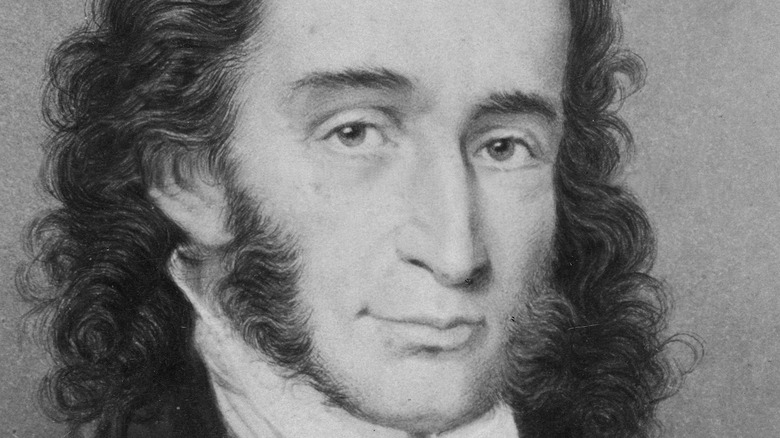 Brandstaetter Images/Getty Images
Niccolò Paganini was a veritable rock star before rock 'n' roll was even invented. The 19th century violinist was a child prodigy whose natural gifts for the instrument made him renowned across Europe for his virtuoso technique and exuberant showmanship (via Biography). Paganini's concerts were less like typical classical music performances and more like special effects-laden Hollywood movies, so explosive was his playing and ability to perform hitherto unknown techniques on his instrument.
Paganini was born October 27, 1782 in Genoa, Italy, according to Biography. His father worked in the shipping industry, but also dabbled in music in his spare time, so it wasn't long before he taught his son the violin. The young boy instantly took the instrument, and was eventually sent to study with the top violin instructors in Genoa to develop his musical talent. Niccolò surpassed all of those who taught him, and began composing his own incredibly difficult works for the instrument, most notably his "24 Caprices for Solo Violin," a collection of violin works noted for its complexity, even by today's standards. (David Garrett gives a performance of "Capriccio No. 24" on YouTube.)
Did Niccolò Paganini make a pact with the devil?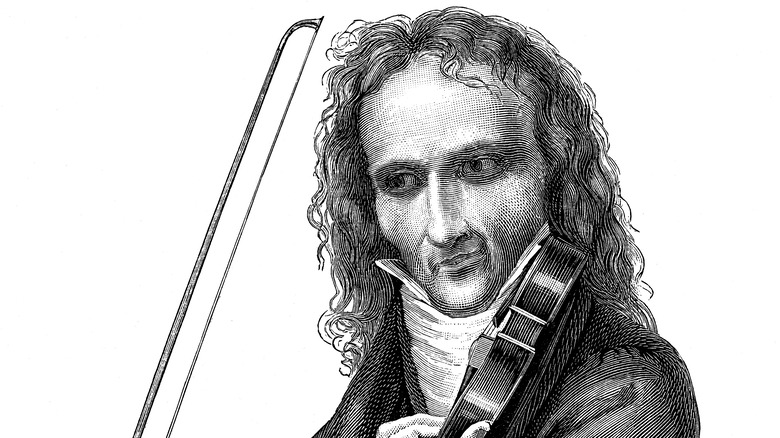 Heritage Images/Getty Images
Niccolò Paganini's breathtaking ability on the violin was matched by his unique physical features, which only served to contribute to his almost mythic reputation. According to Classic FM, he was unusually tall, thin, and pale, and because of his propensity to thrash around onstage during his intense performances, he was given the nickname "Rubber Man." Paganini may have had Marfan syndrome, which could explain his unusually long fingers (per Mayo Clinic), giving him an edge when it came to pulling daring feats on the violin.
Of course, because so little was known about the actual cause of Paganini's physical features and how they probably contributed to his playing abilities, fantastical rumors spread about him (per Classic FM). The most infamous of those rumors was that he had sold his soul to the Devil in exchange for his seemingly supernatural violin prowess. (Another version of the story says it was his mother who struck the deal on his behalf.) This superstitious gossip only spread further with reports from concertgoers claiming to have seen Satan himself manipulating Paganini onstage or sending a lightning bolt at the end of Paganini's bow at one of his performances. While these are most likely old wives' tales, the violin did have an association with the Devil prior to Paganini, such as in Giuseppe Tartini's "Devil's Trill Sonata" (posted on YouTube).
Niccolò Paganini's later years and death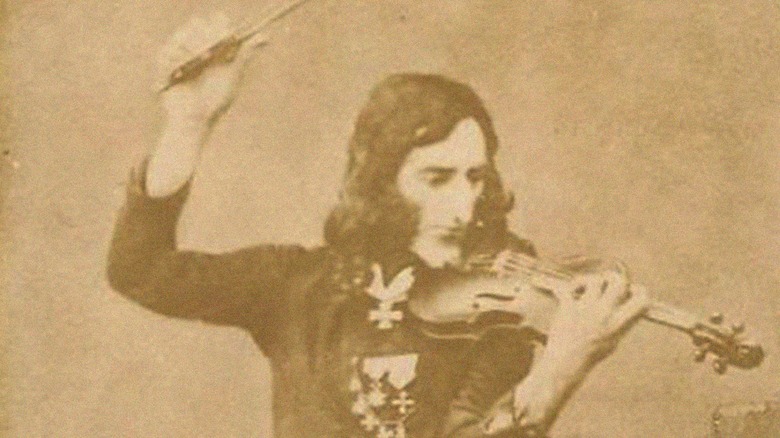 Heritage Images/Getty Images
Niccolò Paganini most likely didn't sell his soul to the Devil, but he still had an incredibly successful career, according to Biography. He eventually moved to Lucca, Italy, where he garnered the attention of Napoleon's sister, Princess Elisa Baciocchi, which led to him becoming a violinist for the court. However, Paganini didn't last long in this position, so he hit the road again to delight audiences across Europe, culminating in being named to the Order of the Golden Spur by Pope Leo XII in 1827.
However, Vialma Classical states that Paganini's later years were plagued by health issues, including syphilis, tuberculosis, and alcoholism, which forced him to give up life as a traveling musician and give lessons instead. The great violinist and composer died on May 27, 1840 and, befitting a figure who was rumored to have made a deal with Satan, was not given his last rites by the Church and thus not allowed to be buried in consecrated ground. Eventually his body was buried in Genoa, at the request of Pope Gregory XVI.
If you or anyone you know needs help with addiction issues, help is available. Visit the Substance Abuse and Mental Health Services Administration website or contact SAMHSA's National Helpline at 1-800-662-HELP (4357).