John Lennon Said He 'Didn't Feel Anything' After The Death Of The Rolling Stones' Brian Jones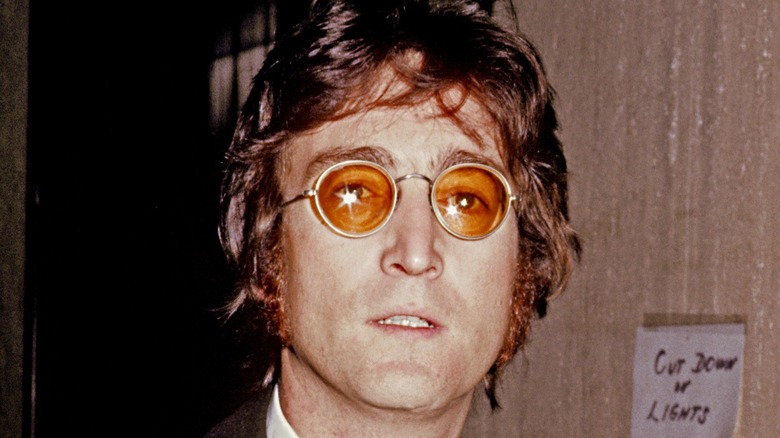 Michael Ochs Archives/Getty Images
Fans and fellow musicians have compared the Rolling Stones and the Beatles for as long as both bands have existed. There are definite similarities: both are British, both were a part of the "British Invasion" of the 1960s, and both shocked audiences during television performances. The world of showbusiness can seem like a small one — with entertainers frequently rubbing elbows with other entertainers. This was true in the 1960s as well. Members of the Beatles came into frequent contact with members of the Rolling Stones.
Brian Jones was a founding member of the Rolling Stones along with Keith Richards, Mick Jagger, Charlie Watts, and Bill Wyman. Jones played multiple instruments and was with the band for some of their biggest hits, such as "(I Can't Get No) Satisfaction" and "Paint it Black" (Per Britannica). However, UDiscoverMusic explains that he began to separate from the band in the late 1960s and sought out a different musical path. He officially left in 1969.
Brian Jones and John Lennon became friends in the early 1960s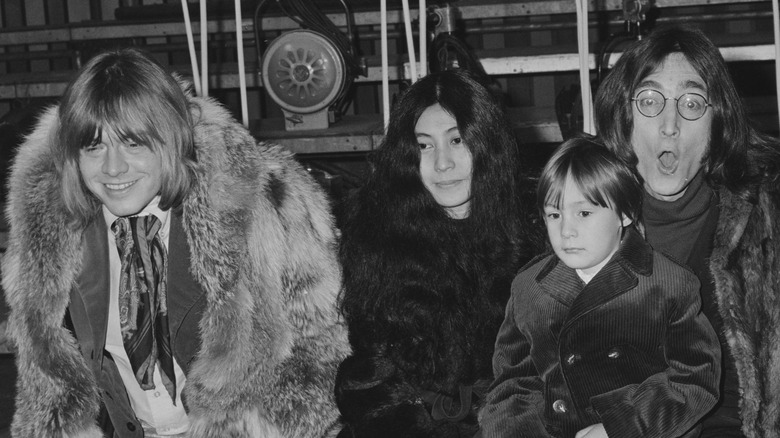 Evening Standard/Getty Images
As previously mentioned, the Beatles and the Rolling Stones often crossed paths. Manager for the Rolling Stones Andrew Loog Oldham invited John Lennon and Paul McCartney to meet the Rolling Stones at a studio. There, they gave the song "I Wanna Be Your Man" to the Rolling Stones. They recorded and released it in November of 1963. The Rolling Stones turned it into a rhythm and blues song, with Brian Jones adding a slide guitar (per Ultimate Classic Rock).
According to Jann S. Wenner's book, Lennon Remembers, Lennon and Jones struck up a friendship. They often met up and talked about music with other artists in London. However, Jones "disintegrated" due to drug use and personal issues. "He ended up the kind of guy that you dread when he would come on the phone because you knew it was trouble. He was really in a lot of pain ... He wasn't sort of brilliant or anything, he was just a nice guy," said Lennon. 
Brian Jones drowned in his swimming pool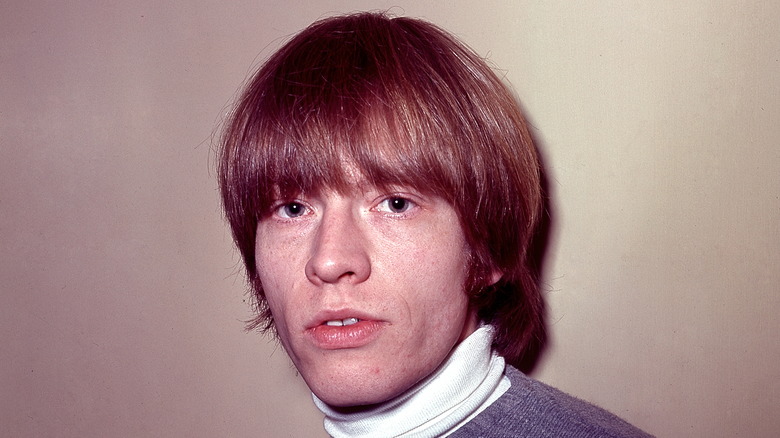 Michael Ochs Archives/Getty Images
According to UDiscoverMusic, Brian Jones drowned in the swimming pool of his Sussex home on July 3rd, 1969 at just 27 years old, making him a member of what is known as the "27 Club." Other artists who died at age 27 include Kurt Cobain and Amy Winehouse. His official cause of death was drowning — labeled "misadventure" by the coroner, described in part on his death certificate as "swimming whilst under the influence of alcohol and drugs," though there are some conspiracy theories about his untimely death (per the Independent).
According to "Lennon Remembers," By 1969, Jones was no longer close to John Lennon. At the news of his death, he said, "By then, I didn't feel anything, really. I just thought, 'Another victim of the drugs.' Like that."
Despite such a claim, Lennon said that the time they did spend together "was great." He also believed that Jones was better at the harmonica than himself Lennon dealt with drug addictions of his own. Beatles Bible explains that all of the Beatles did drugs, but Lennon had a fondness for heroin around the time at which Jones died. Perhaps Lennon could have suffered a similar fate to Jones had he not eventually overcome the addiction.