The Heart-Wrenching Death Of The Rolling Stones' Charlie Watts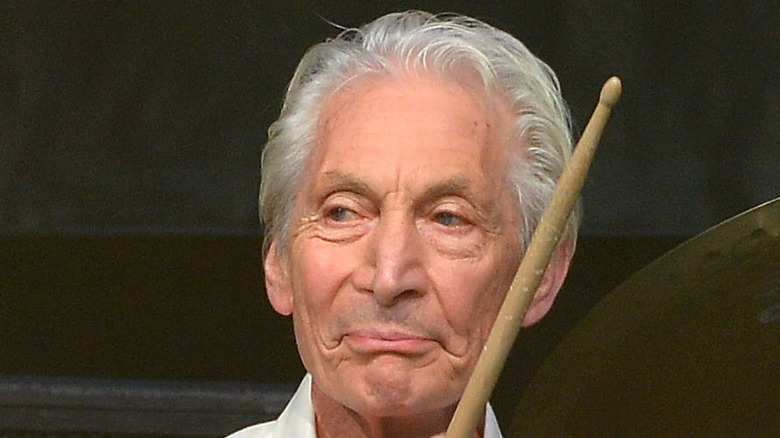 Jim Dyson/Getty Images
Charlie Watts, the unassuming drummer who never missed a beat in his 58 years playing with the Rolling Stones, has died, according to his spokesperson. The announcement, which was posted on Twitter on August 24, comes just weeks after a prior announcement on Twitter that Watts would not be joining his bandmates on their upcoming "No Filter" 2021 tour. The post cited a successful medical procedure that Watts' doctors said he needed to rest and recuperate from.
On August 5, Watts was quoted in the post as saying, "For once my timing has been a little off. I am working hard to get fully fit but I have today accepted on the advice of the experts that this will take a while." 
In the new and devastating post on the Rolling Stones' official Twitter page, Watts' cause of death is not listed. Instead, the post notes he died early on August 24th at a hospital, "peacefully" and "surrounded by his family." The post says "Charlie was a cherished husband, father, and grandfather, and also as a member of The Rolling Stones one of the greatest drummers of his generation." It goes on to request privacy for his family, close friends, and his bandmates, Mick Jagger, Keith Richards, and Ronnie Wood. 
Charlie Watts was a reluctant rock star
Chris Ware/Getty Images
Charlie Watts joined the Rolling Stones in 1963 and along with Mick Jagger and Keith Richards, he has remained a crucial member of the band even as the lineup shifted over the decades. But while Watts was loyal to the group and to the music, he marched to his own beat, avoiding the reputation of a debauched rock star. Instead, he was known to avoid the spotlight, fame, and other trappings of excess. 
According to NME, Watts was married to the same woman, Shirley Ann Shephard, since 1964, and the pair had one daughter. In a 2018 interview with the publication, Watt's explained his long marriage amidst touring and the rock 'n' roll lifestyle: "Because I'm not really a rock star. I don't have the trappings of that ... I've never been interested in doing interviews or being seen." 
The same year, Watts admitted to The Guardian that he would be fine with the band calling it quits. "I love playing the drums and I love playing with Mick and Keith and Ronnie, I don't know about the rest of it wouldn't bother me if the Rolling Stones said that's it ... enough." On the other hand, he also said, "I don't know what I would do if I stopped."
As of now, it's unclear what the Rolling Stones will do without Watts.