New Vladimir Putin Health Rumors Fueled By His Recent Actions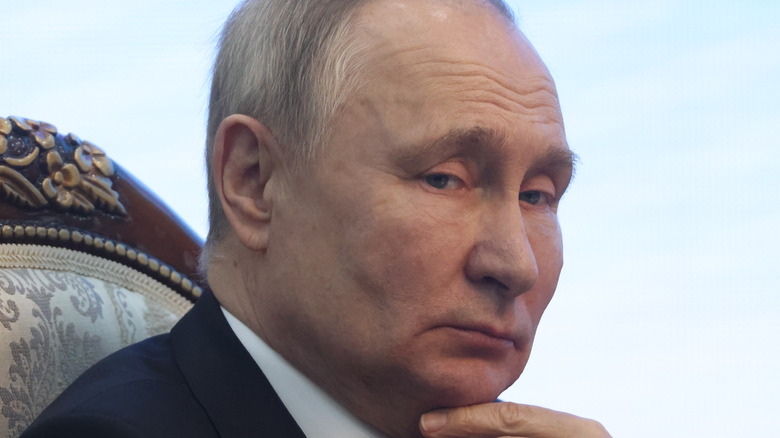 Contributor/Getty Images
For the last decade that Russian President Vladimir Putin has been the head of government (he previously held the office of the president from 2000 to 2008 and was acting president from 1999 to 2000, per Britannica), he's had something of a year-end tradition during his years in office. It's not an act of goodwill like commuting prison sentences or volunteering in a soup kitchen, as some other government leaders might do around the holidays. Instead, Putin would spend hours in a marathon press conference sparring with journalists over matters big and small. For the Russian leader, who liked to say, "The thing is that I am the only [pure democrat], there just aren't any others in the world," (via Reuters) the year-end press conference was meant as proof that he was being held accountable.
The yearly news conference is a significant strategy in the Kremlin's toolbox in their attempt to put Putin's image in a positive light among the Russian public, per the Associated Press. But not everyone buys it. "The press conference has become a significant fixture in Putin's calendar of public engagement and has frequently been used as an opportunity to demonstrate the supposed integrity of Putin," the U.K. Ministry of Defence posted on Twitter. 
However, Putin disrupted his tradition in 2022, abruptly canceling the press conference. Kremlin spokesperson Dmitry Peskov didn't offer a reason for the cancellation, leaving room for plenty of speculation as to why the president wouldn't make himself available to journalists face-to-face for hours on end in front of a television audience.
Why did Putin cancel his year-end press conference?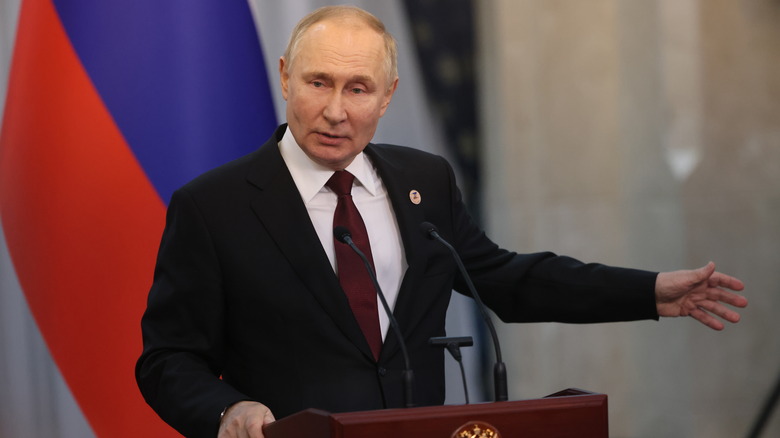 Contributor/Getty Images
Many in the foreign policy establishment suggest Putin canceled the year-end news conference because he didn't want to face questions on Russia's invasion of Ukraine. Although Putin has presented the operation as having little to do with the average Russian and that the country was operating as usual, the reality suggests otherwise. Per The New York Times, thousands of Russian troops have been killed and the military's attempt to enlist hundreds of thousands more has been abysmal — including thousands of men fleeing the country to avoid conscription. But, more generally, critics say Putin has few answers to the feeling of stagnation in the country, according to The New York Times.
However, for others, Putin's cancellation is fueling even more intense speculation over his health. Putin, who turned 70 in November, is reportedly in poor health. According to The New York Times, in recent years, Putin is rumored to be suffering from cancer, Parkinson's disease, dementia, and paranoia. Ukraine's head of military intelligence, Major General Kyrylo Budanov, told Sky News in May 2022 that Putin was suffering from cancer and other health issues. In April 2022, Newsweek reported that close observers of Putin have speculated that he is suffering from Parkinson's disease after he was seen strangely sinking in his chair and gripping a table. And the Daily Mail reported that Putin has been rarely seen without doctors who specialize in thyroid cancer and neurology, yet the Kremlin denied he'd undergone any cancer surgery (via Newsweek).  
Putin doesn't seem the same
Those who watch Putin carefully say he doesn't look the same as he did even a year ago. They point to a change in his face and neck — which appear to have become bloated — to suggest extended use of steroids to combat an illness, perhaps cancer, according to the Daily Mail. And then there was the spectacle of the 20-foot-long table separating Putin and French President Emmanuel Macron in February 2022, which fueled speculation that he was extremely fearful of contracting COVID-19 due to a potential health condition. Per Insider, he did the same for U.N. Secretary-General António Guterres.
For nearly a year, the Kremlin has been working overtime to deny any and all reports regarding Putin's supposed ill health. "Everything is fine with his health," Kremlin spokesman Dmitry Peskov said during a press briefing in July 2022, per Reuters. "You know that Ukrainian information specialists, and American and British ones, have been throwing out various fakes about the state of the president's health in recent months — these are nothing but fakes."
At least officially, British and American officials agree with the Kremlin. "There is no evidence that Putin is suffering from serious illness," said Richard Moore, the head of MI6, per The New York Times. William J. Burns, director of the CIA, had a more disappointed tone, saying, "There are lots of rumors about President Putin's health, and as far as we can tell he's entirely too healthy."