The Best Rock Albums Of 2022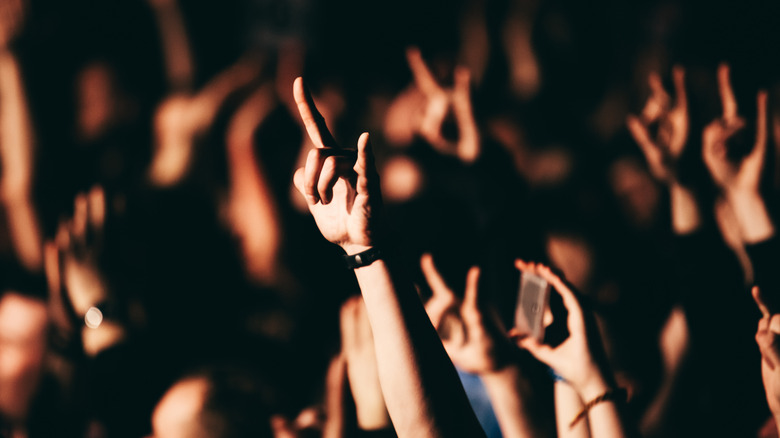 Gallks/Shutterstock
What makes a good rock band? Is it the ability to fill stadiums around the world with enormous audiences, who sing every word of every song and drive themselves into a frenzy of excitement leading to thrown drinks, stage-diving, and an atmosphere akin to the days of Beatlemania? Or is it about how the band puts things together in the studio, using the gear they have to hand in new, innovative, and exciting ways to give listeners something they're going to want to fill their ears with time and time again? Or is rock and roll still about the spirit of rebelliousness and hedonism, of partying and bringing people together? Or do legendary rockers tend to offer a combination of all three?
Whatever the answer might be, the last few years have been tough for rock bands, and musicians more widely, with tours being canceled, band members being prevented from sharing a studio to record in person, and being unable to connect with their fans in the usual way (or, indeed, to even party like rockstars stereotypically should). With physical album sales dwindling and bands more reliant on ever on touring for income, the events of the last few years could easily have spelled the end of the rock genre as we know it.
So is rock music still a formidable creative force in 2022? Check out the ax-wielders who enjoyed both critical and commercial success this year for your answer.
The Smile – A Light for Attracting Attention
Radiohead's Thom Yorke and Jonny Greenwood are used to outpourings of critical acclaim. Whether releasing work under the name of their long-running iconic group — which was inducted into the Rock & Roll Hall of Fame in 2019 — or as solo performers, music journalists have typically been gushing in their praise of the two British musicians, who have been making music together for more than three decades.
So it was no surprise that their latest project together, The Smile, a new band formed during the COVID-19 pandemic, began to garner serious approval from those in the know. A trio that is also comprised of drummer Tom Skinner — who most famously kept the rhythm for London jazz scene greats Sons of Kemet from their formation in 2011 until they announced their split earlier this year (via The Guardian) — The Smile debuted their first songs at an introductory gig in 2021, before announcing the imminent release of their debut album, "A Light for Attracting Attention," which arrived in May 2022 on XL Records.
Per Pitchfork, The Smile's debut sees Yorke and Greenwood's now-instinctive songwriting partnership offer an almost panoramic critique of modern life, highlighting the insincerity of 21st-century politicians — hence the bitterly ironic band name — media industry exploitation, and other horrors amid a dystopian soundscape that manages to sound controlled and composed as well as deliriously angry and bitter at the same time.
Big Thief – Dragon New Warm Mountain I Believe In You
Though Big Thief have enjoyed a wide audience ever since the release of their 2016 debut "Masterpiece" and the evergreen ballad "Paul," which is now an established fan favorite, it was 2019 with the release of two albums, "U.F.O.F.," which arrived in May of that year, and "Two Hands," which came out the following October, cementing the group's reputation as one of the most prolific and effortlessly creative indie rock acts around.
Excitement for their latest album was slowly building at the start of 2022, with Stereogum publishing their "premature evaluation" of the imminent album, "Dragon New Warm Mountain I Believe In You." Eight of the album's tracks had already been released as teasers for what fans now realized was a sprawling double record, 20 tracks long totaling 80 minutes of new music. As revealed in a promotional article published by the band's record label 4AD, the recording process was influenced by geography, with Big Thief recording in various locations throughout the U.S. and making music they believed reflected the feel of their surroundings; when recording didn't work out, they'd go ice dipping, then return to their instruments to capture the changed mood.
Though critics and fans may have been similarly anxious to see whether Big Thief could sustain a coherent work across four sides of vinyl, Stereogum reports that the band continues to excel on "Dragon," avoiding the trap of relying on past glories and the opportunity to coast, and instead delivering another exploratory album that the same source argues may indeed be their very best.
Jack White – Entering Heaven Alive
Jack White, formerly of 2000s garage legends The White Stripes as well as The Raconteurs and The Dead Weather, also decided this year to double up on his output, releasing two contrasting works in the space of just a few months, per ABC News.
The first, "Fear of the Dawn," was an album of thumping new songs reminiscent of White's heavier work with The White Stripes and the more bombastic patches of his solo career. Seemingly targeted at fans whose favorite version of Jack White is the one that's rocking out to heavy riffs, the album received a lukewarm reception from outlets such as Pitchfork, which decried the album's lack of catchiness while nevertheless proclaiming its admiration for White's unstudied embrace of musical strangeness.
Though "Fear of the Dawn" divided critics, its follow up, "Entering Heaven Alive," attracted many admirers. As described by Rolling Stone, White's second 2022 is a folk-infused art-pop record, working with slower tempos and softer emotional material in songs with titles such as "If I Die Tomorrow" showing White's vulnerable side to great effect.
Red Hot Chili Peppers – Unlimited Love
When exactly was the heyday of perennial funk rockers the Red Hot Chili Peppers? Was it in the late '80s and early '90s, when they enjoyed their first flush of commercial success with albums like "Blood Sugar Sex Magik" and its mammoth single "Under The Bridge"? Was it in the 2000s, when "Californication," "By The Way," and "Stadium Arcadium" gave the band a series of radio-friendly singles that made them a ubiquitous part of the decade's soundtrack? Or, in fact, is it happening right now?
They may be almost 40 years into their career at this point, but 2022 has been one hell of a year for Anthony Keidis, Flea, Chad Smith, and the recently returned John Frusciante. As noted in an interview with NME in February, the year started with the veterans promoting their new album, "Unlimited Love," an album that sees the band's classic lineup expanding their horizons into new pockets of soul and even surf rock.
"We feel fresh, like a new band," Frusciante told the NME, while Keidis described the vibe during recording sessions as "healthy, productive[,] and creative." The magazine hailed the results, complementing the array of styles and catchy riffs on offer. As noted by Billboard, the album hit the top spot on the Billboard albums charts, but as if to prove that the good vibe around the band wasn't a fluke, in October, RHCP released a follow-up, "Return to the Dream Canteen," which repeated the feat.
Ghost – Impera
It would perhaps be justifiable to assume that rock acts making it to the heady heights of the Billboard charts in 2022 generally do so as veterans who ride their way to continued commercial success on the back of widespread goodwill accrued over many decades. Critics have long since considered rock's reign as the biggest genre of music on the planet to be over, with most guitar bands making a living catering to smaller niche audiences.
The ever-eccentric Ghost, however, have proven that arena rock is far from on its last legs, establishing a sizeable American following in the mid-2010s. As noted by Metal Hammer's Dave Everley, the band's fifth album, "Impera," released in March 2022, is Ghost's most ambitious work to date, combining high-concept themes, the heaviness of metal, and the crowd-pleasing melodiousness of classic rock and pop to create something deep and catchy at the same time. 
Few today would expect that an album that tells the story of "the rise and ultimately the unescapable fails and falls of empires" — as described by Ghost mastermind Tobias Forge in a recent interview (via Blabbermouth) — could find a place on the charts alongside the likes of Rihanna and Katy Perry, but as noted by Loudwire, the critically acclaimed "Impera" peaked at No. 2 on the Billboard album chart, their highest placing ever. Impressively, though, it's their third in the top 10, cementing the band's reputation as one of our most popular rock acts at the peak of their career.
The Black Keys – Dropout Boogie
The video for "Wild Child," the lead single from The Black Keys' 2022 album "Dropout Boogie," sees the duo taking on work as janitors in a high school in an attempt to reconnect with their "blue-collar roots" for the sake of "the album."
Not that there was any chance that their roots have been entirely invisible in recent years. As noted by American Songwriter, "Dropout Boogie" arrives not long after guitarist Dan Auerbach and drummer Patrick Carney took listeners on a tour of their favorite blues standards on 2021's "Delta Kream," which itself was a continuation of the pair's comeback in the form of the "Let's Rock" album in 2020.
The Black Keys appear to have fallen into their "comfort zone," according to All Music, though in their case this isn't a bad thing, with the same source arguing that the depth of their musical knowledge and affection for countless rock touchstones means that "Dropout Boogie" is an album with a pleasing jukebox feel to it. There are even some special guests, with ZZ Top's Billy Gibbons making a welcome appearance on the hard rocking "Good Love," simultaneously demonstrating The Keys' adjacency to bona fide rock royalty. Fans have hailed "Dropout Boogie" as a return to form, and the album has, once again, been rewarded with a Grammy nomination.
Halestorm – Back from the Dead
"We started writing this album about three months B.C. (Before COVID)," said Lzzy Hale, the acclaimed singer-songwriter whose distinctive lyricism and powerful vocal performances have driven the sound of Pennsylvanian rockers Halestorm for more than a decade (via Metal Injection). "Once we went into lockdown and were unable to perform and tour, I fell into a dark place and something of an identity crisis. This album is the story of me carving myself out of that abyss. It is a journey of navigating mental health, debauchery, survival, redemption, rediscovery, and still maintaining faith in humanity."
Per the same source, mental health emerges as the most prominent theme of "Back from the Dead," a deeply personal album that also manages to reflect the universal experience of the biggest news story of the last few years and its effect on countless millions across the globe. But don't let that trick you into thinking this is a morose or low-energy album: "Back from the Dead" is also a work of hard-rocking defiance, which Metal Injection claims offers a valid insight into the energy and frenetic pace of Halestorm's legendary live shows.
In a five-star review, Kerrang! gushingly described "Back from the Dead" as the first great post-lockdown rock album, a reward for rock music fans who had to go for so long without live music, and compared it to the band's 2012 debut — "The Strange Case Of..." — suggesting it is among the best work of Halestorm's career.
Elvis Costello – The Boy Named If
When artists have been around for almost half a century like British pop and rock troubadour Elvis Costello, they could be excused for dropping their quality control levels a little. No one is expecting Ozzy Osbourne, for example, to try to release music that's on par with the stuff he released at the height of his powers with Black Sabbath. On paper, Costello has no need to try and challenge the work he released on his most famous albums such as 1979's "This Year's Model" or 1982's "Imperial Bedroom."
But according to the critics, that's just what Costello has done with his latest album, "The Boy Named If (And Other Children's Stories)," which was released to a wave of universal acclaim back in January. As noted by Michael Quantick in Classic Rock, after a busy 2021 which saw a total of three distinct Costello releases, 2022 saw the singer-songwriter on top form, with a record that sounds contemporary while at the same time succeeding in making numerous references to Costello's sprawling discography — American Songwriter argues that "Magnificent Hurt" is comparable to the early classic "Pump It Up," for example – without ever straying into the territory of being simply a tribute act to his younger self.
The album barely scraped the Billboard charts, but nevertheless has been warmly received by Costello fans as evidence that one of the previous century's greatest pop composers is also producing some of his finest work in this one.
Black Country, New Road – Ants From Up Here
A huge indie presence in their native Britain, Black Country, New Road released their second LP, "Ants From Up Here," in February 2022, building upon the success of their 2021 debut "For the First Time," released 12 months earlier to widespread acclaim.
As reported in The New York Times, Black Country, New Road had operated as a seven-piece group since its inception, oscillating and melting a range of styles including post-punk, post-rock, jazz, and chamber pop to dazzling effect right up until the eve of the release of "Ants," when it was sadly announced that lead vocalist and guitarist Isaac Wood was to leave the group citing mental health issues, causing the cancellation of a major tour and fans anxiously considering how Black Country, New Road might be able to continue as an entity without their primary lyricist and usual focal point. The remaining members, however, quickly revealed that they planned to continue operating under the same name, whatever sound the music would take in the future.
Though audiences may have missed their chance to witness a Wood-fronted incarnation of Black Country, New Road, "Ants" has proven to be a stunning signing-off of his tenure, an album of seemingly endless playfulness that combines musical experimentation with varied lyricism and a sense of the cinematic. Black Country, New Road have since returned to touring with a brand new set of material.
Spoon – Lucifer on the Sofa
Austin rock supremos Spoon have stayed pretty consistent when it comes to releasing studio albums ever since their debut LP, "Telephono," came out back in 1996, and they have seemingly gone from strength to strength in the process. So it was frustrating when in 2020, three years on from the band's last album "Hot Thoughts," released in March 2017, the band was stopped in its tracks by the COVID-19 pandemic while trying to write and record their much-anticipated 10th LP.
As lead vocalist and guitarist Britt Daniel told Rolling Stone back in September 2020: "I'd say we had 70 or 80 percent of the record done ... We were recording right up until March 10th. And then March 11th was when this whole mess kicked into high gear." Spoon is used to moving quickly. "This is definitely the longest we've ever spent on a record," he added, his words barely concealing his frustration. "It's so far along, and yet so far away."
The result, however, has been well worth the wait. Despite the delay, Spoon have barely broken their stride when it comes to consistency, releasing yet another quality album in the form of "Lucifer on the Sofa" in a discography famous for its consistently high quality. In fact, Rolling Stone put the album among the band's best, noting that it seems the band is having fun returning to old-fashioned rock & roll in the form of songs such as "My Babe" and "Wild."
Eddie Vedder – Earthling
Eddie Vedder's third solo album away from Pearl Jam is, understandably, a star-studded affair. The respected vocalist has barely been out of the rock music limelight since his world-class band started making a name for themselves in the early 1990s, and the list of collaborators Vedder has recruited on "Earthling" — which features such monster names as Elton John, Stevie Wonder, Ringo Starr, as well as Red Hot Chili Peppers' Chad Smith and Josh Klinghoffer, according to Consequence of Sound – serves to remind listeners of Vedder's deserved place in rock's upper firmament, even as it reveals his popularity among his fellow rockers.
But as All Music notes, where the appearance of legends from way back in the '60s and '70s might signal that such an album as "Earthling" might be self-indulgent or soft — or, for that matter, bloated and bombastic — the appearance of so many big name collaborators in fact heralds that the Pearl Jam frontman is in a uniquely playful mood, looking to try out a range of rock styles lightheartedly (just check out the fun Vedder is obviously having supplying vocals opposite Wonders' masterful harmonica on "Try").
It makes for a smooth but satisfying listen, and, as noted by Consequence of Sound, is an unexpectedly uplifting album from the writer of "Gigaton."