The Science Behind Facial Fracture Protections In Sports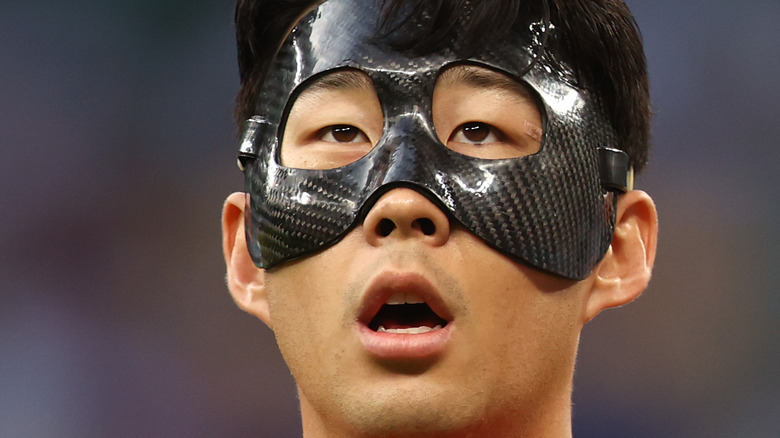 James Williamson - Ama/Getty Images
Per an article titled "Facial Trauma in Sports" in the Current Sports Medicine Reports, 11% to 40% percent of all sports injuries are associated with the face. ENT Health reports that facial injuries can happen in any sport, including soccer and basketball. That said, these injuries can include facial fractures to the cheekbones, eye sockets, the bones near the sinuses, and the nose. Furthermore, soft tissue injuries are also commonplace, and they can cause bleeding underneath the facial tissues and infections. Medscape explains that these injuries occur when an individual is hit head-on by a ball or a player.
To avoid these injuries, ENT Health writes that it's recommended for athletes to gear up with mouth guards and goggles, amongst other things. However, accidents happen, and when they do, some athletes have no choice but to wear a sports face mask while they heal (via Technology in Motion). This, of course, provides an added measure of protection and prevents further injury.
According to CNN, several players during the 2022 World Cup wore facial masks on the field. Per Salon, this included Tottenham Hotspur star Son Heung-min (pictured above). He fractured an eye socket and had nothing but praise for his mask. He stated (via The Guardian) that it's "more comfortable than I thought. It's made of good material. It's light, hard when worn on the face, and it's a good material that can protect against impact. I was surprised that it was considerably lighter than I thought."
The face masks are custom made to fit the user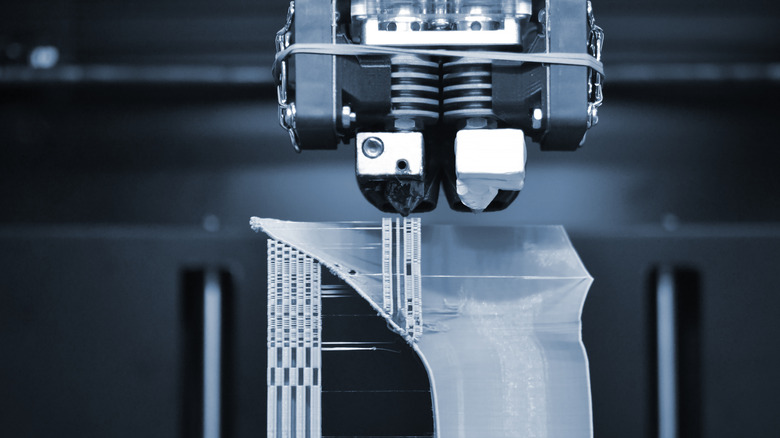 Marina_skoropadskaya/Getty Images
Son Heung-min's comments may not come as a surprise to those familiar with how the face masks are created. According to Technology in Motion, 3D printing is the key to manufacturing a mask for an athlete. This ensures the mask will not feel invasive or impede a wearer's vision. The athlete, after all, will likely wear the mask while they play their chosen sport. Medical Art Resources explains that an athlete's face is scanned using 3D technology, and a facial mold is created. A 3D printer is then used to create the mask. This process takes less than two weeks, and a final fitting with the completed mask provides further adjustments if needed to provide maximum comfort.
Per Cavendish Imaging, using facial scans rather than a traditional mold assures that the process of creating the mask is not painful to an injured individual. Despite their name, Owens Carolina Orthotics & Prosthetics adds that sports face masks are not exclusive to athletes or sports injuries. Individuals who have undergone a rhinoplasty, otherwise known as a "nose job," may also choose to obtain a sports face mask for added protection during their recovery. Moreover, these masks are usually produced in two colors — black and clear. Owens Carolina Orthotics & Prosthetics notes that in the NBA, only clear masks are allowed on the court.
Joel Embiid's impressive face mask
Matteo Marchi/Getty Images
According to ESPN, several NBA stars have sported face masks throughout the years, including Devin Booker and LeBron James. Notably, Philadelphia 76er Joel Embiid has had to wear a sports mask twice in his career. In 2022, Marca reported that Embiid suffered an orbital fracture and an eye injury, which resulted in him wearing the mask. The Washington Post wrote that he suffered his first orbital fracture back in 2018. This injury occurred when another player's shoulder directly hit Embiid's left eye socket (per SB Nation). As a result, a distinct sports face mask was created for him.
Per Sports Illustrated, Embiid's mask was designed by prosthetist John Horne from the University of Delaware STAR campus. Horne manufactured the mask using polypropylene and carbon. SB Nation notes that these materials are incredibly durable and are stronger than plastic. Furthermore, Embiid's mask featured goggles, and Horne added that he used "secret" technology to construct the mask (via Sports Illustrated). In a tweet, ESPN writer Ramona Shelburne referred to the production of the mask as a "super involved hi-tech project." Meanwhile, Embiid described the mask as "annoying" (via the Bleacher Report). However, Embiid's devotees don't feel the same way. When Embiid was seen with his mask in 2022, his fans praised him on social media and welcomed its return (per USA Today Sports).