Whitney Houston's Relationship With Her Father Explained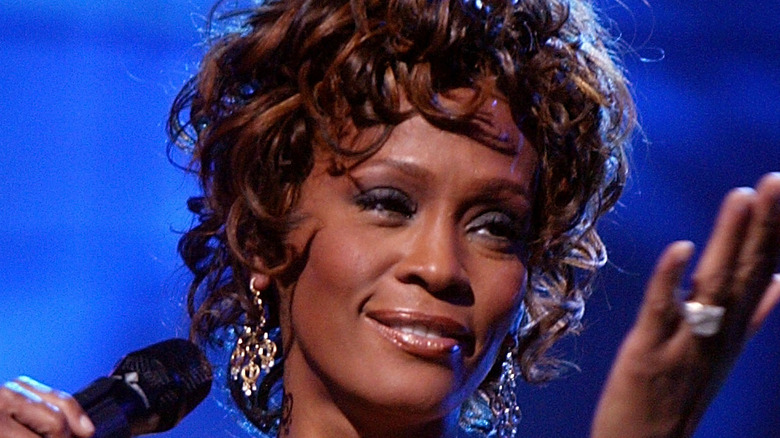 Kevin Winter/Getty Images
Pop singer Whitney Houston is the subject of the 2022 biopic "Whitney Houston: I Wanna Dance with Somebody" starring Naomi Ackie in the lead role, via the film's official website. Houston died in 2012 at the age of 48 in an accidental drowning in a bathtub. Substance use and heart disease contributed to her death, as Britannica notes. As for Whitney's familial connection to the music industry, Houston's mother Cissy Houston sang backup in the Sweet Inspirations for, among other artists, soul music legend Aretha Franklin. Whitney was also the cousin of another soul music superstar, Dionne Warwick, per Britannica.
As can sometimes be the case for those who work behind the scenes in entertainment, a less well-known music industry connection in Houston's family is through her father, John Houston, an entertainment manager, according to the Independent. John had a hand in Whitney's career early on. After his daughter hit the big time, though, that success drove a wedge in the Houston family. As a result, Whitney's relationship with her father was forever changed. That became especially true after Whitney entered into a relationship with Bobby Brown, a solo artist and former member of New Edition (per AllMusic).
John Houston managed the Sweet Inspirations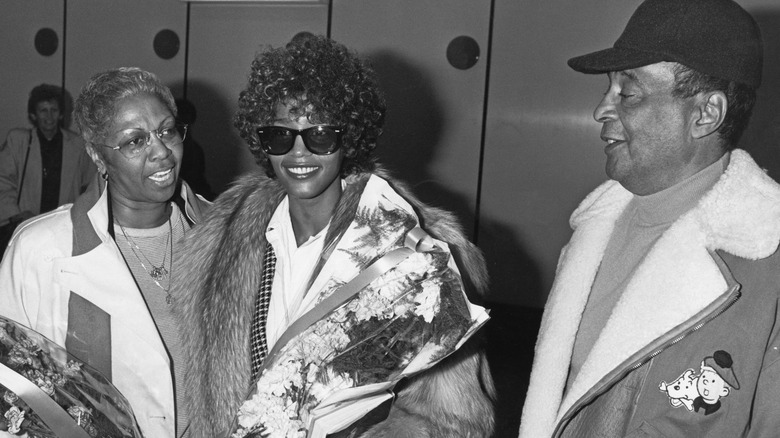 Dave Hogan/Getty Images
As the Independent goes on to report, John Houston, a World War II veteran who died in 2003, worked in the business side of entertainment with his company, John Houston Entertainment. He managed Cissy Houston's group, the Sweet Inspirations, but when Cissy went solo, he focused on his children, including Whitney Houston. Soon enough, even as a young girl, Whitney's gifts as a singer became apparent, and she began to model and sing alongside her mother while on tour.
As Whitney's self-titled debut album raced up the charts, it became clear she needed someone to mind business matters, and with that, John managed his daughter's career as CEO of Nippy Incorporated, so called in reference to Whitney's childhood nickname. As Biography goes on to note, in the heyday of Whitney's career from around 1985 to 1992, her first four records sold millions of copies, earning a string of No. 1 singles and Grammy wins, all under the watchful eye of her father. In 1992, though, Whitney married singer Bobby Brown, and things began to change.
John Houston Entertainment sued Whitney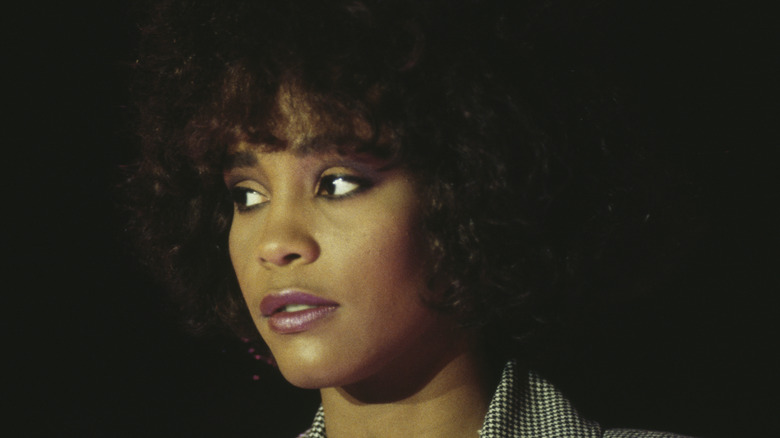 Dave Hogan/Getty Images
After meeting Bobby Brown, Whitney Houston's drug use reportedly worsened, according to Biography, and her career suffered. As late as 2000, John Houston — who divorced Cissy Houston in 1990, per SmoothRadio — came to his daughter's assistance following her arrest in Hawaii for possession of cannabis, as the Independent reports. Shortly thereafter, he also helped negotiate a new record deal for Whitney. Based on 2002 MTV News reporting, John's company, John Houston's Entertainment, claimed they were never paid for the service and sued Whitney for $100 million, around the same time as John's health declined.
That lawsuit between John Houston Entertainment and Whitney would later be thrown out, as Today writes. Still, Whitney didn't attend her father's funeral and reportedly had her own private memorial ceremony, per SmoothRadio. Before John's death, Whitney and her father evidently made amends. Via SmoothRadio, Whitney said, "There were years we didn't speak at all, but when he got sickly, I went to the hospital and I said, 'let's end this right now.'" At the time of her father's lawsuit, Whitney also explained to Oprah Winfrey (per SmoothRadio), "My dad was being influenced by people that were lying. My father was sickly at the time, he was in the hospital ... I was paying the bills, I took care of my father," she said.