Kobe Bryant And Lionel Messi's Friendship Explained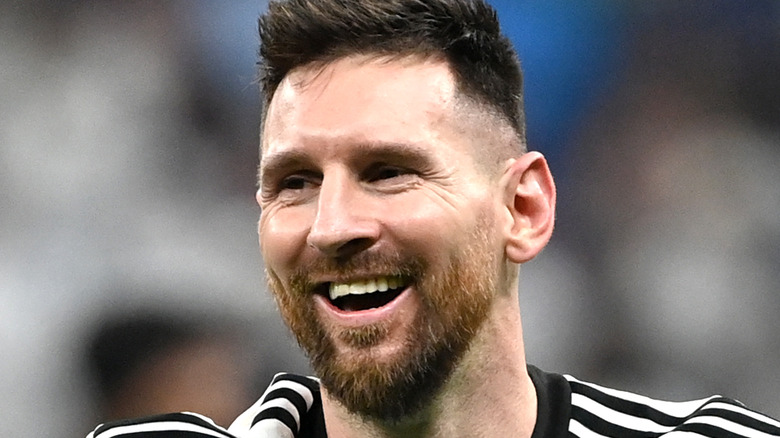 Mb Media/Getty Images
Late basketball legend Kobe Bryant had a storied love for more sports than just the one he was famous for playing. Since he was a kid, the former LA Lakers star has been a giant fan of soccer, a passion that not only helped to shape his athletic career but also one that helped earn him friendships later in his adult life. ESPN reports that when he was growing up, Bryant's family moved to Italy so that his father, former NBA player Joe "Jellybean" Bryant, could continue with the sport in a European league. As a kid in a new country, Bryant soon became fascinated with Italy's number one sport, soccer. 
Bryant would practice and play soccer with the other kids, but also made plenty of time for the basketball court. In fact, he strongly felt that his newfound love of soccer helped make him a much better basketball player. In an interview with ESPN, Bryant recalled that "they taught me at an early age how to play in triangles and how to utilize space, which wound up helping me tremendously in basketball as well. I loved the idea of how quickly the ball moves and how quickly you have to process what's moving right in front of you to make decisions."
Bryant returned to the United States in 1991, taking his passion for soccer back with him. He would eventually build a friendship with Ronaldinho, a Brazilian native who was the star player for the Barcelona team that Bryant loved to follow. It was Ronaldinho who first introduced 17-year-old Lionel Messi to the NBA All-Star.
Bryant was introduced to the greatest player of all time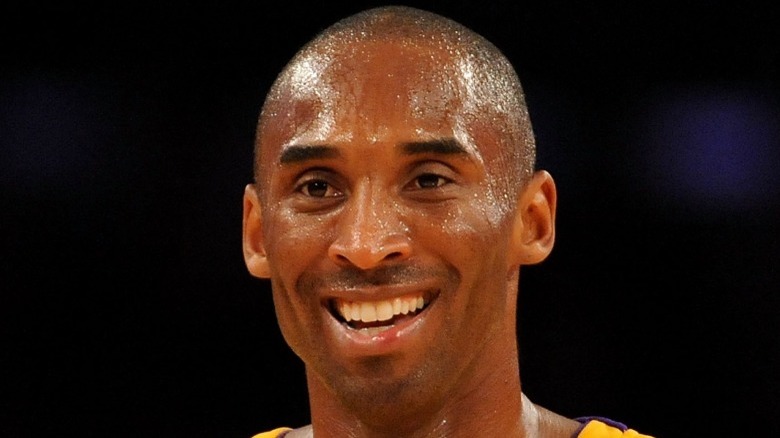 Harry How/Getty Images
Barcelona's team was touring the United States some years ago, prompting Bryant and Ronaldinho to meet up. In an interview with a Spanish network, Bryant recalled the soccer legend telling him "'Kobe, look I'm going to introduce you to the guy who is going to be the greatest player of all time" (via YouTube). Bryant was in disbelief. "What?" Bryant responded. "You are the best." But Ronaldinho disagreed, introducing his friend to Lionel Messi with the words  "No. This kid right here is going to be the best." 
A friendship developed between Bryant and Messi soon after. Messi, who had played for Barcelona, eventually moved on to be the star of Argentina's team. He was representing that country during the 2008 Olympic Games in Beijing when he led them to a victory against Nigeria in the finals to give Argentina the gold. Bryant was on hand to watch his friend play the semi-final match that year and met up with him in the athlete's cafeteria (per ESPN).
Bryant and Messi stayed in contact, with Bryant having endorsement deals that kept him strongly linked to the soccer world. But in 2012, he and Messi were contracted to appear together in a commercial that is still a favorite among sports fans. 
Bryant and Messi starred in a commercial for Turkish Airlines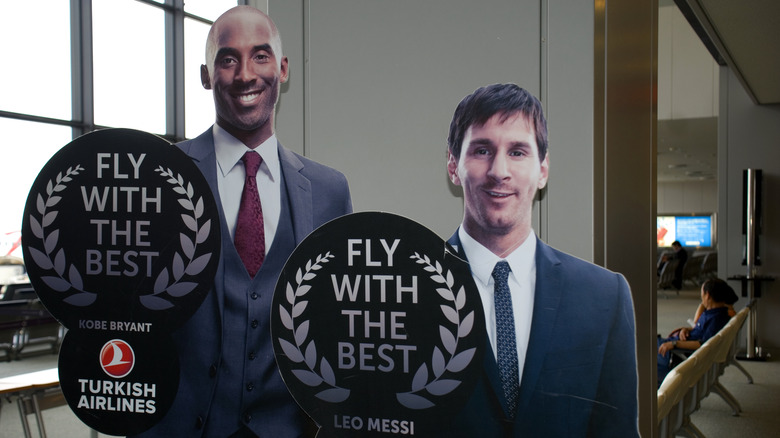 Attila JANDI/Shutterstock
At the top of their respective games, the two athletes appeared in a 2012 commercial for Turkish Airlines. The ad featured a young boy wandering through a plane's cabin and discovering that both Bryant and Messi are on board. The two pros perform a variety of tricks to further impress the child, going over the top in a competition to see who can awe him more. In the end, both players are overshadowed by a flight attendant who serves the kid some ice cream.
Bryant so respected Messi as a person and an athlete that the NBA star kept a photo of him in his player's locker. The friendship continued until Bryant's tragic and untimely death in 2020. Bryant, along with his 13-year-old daughter and seven others perished after the helicopter they were aboard crashed into the ground in Calabasas, California (via CNN).
When news of Bryant's death reached Messi, the soccer legend took to Instagram with these heartfelt words: "I have no words... All my love to Kobe's family and friends. It was a pleasure knowing you and sharing good times together. You were a genius like few others."