How Anthony Morley Went From An LGBT Pageant Winner To Serving A Life Sentence For Murder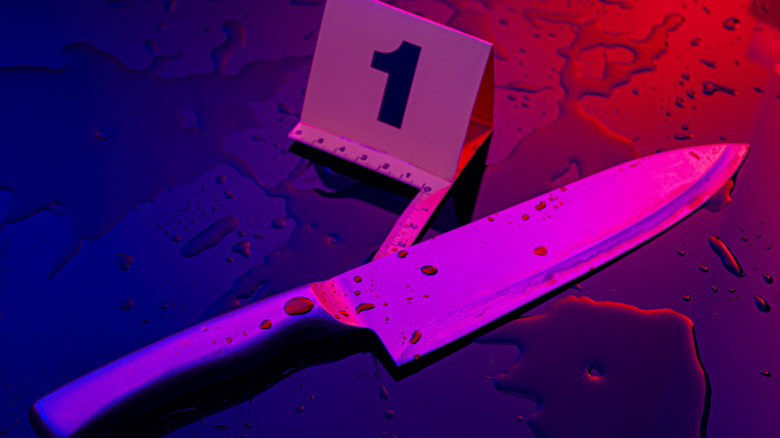 Moussa81/Getty Images
The following article includes descriptions of violence and cannibalism
In April 2008, a bloody Anthony Morley approached a restaurant near his home in Leeds, England. There, he told the staff that he had killed someone who had attempted to sexually assault him. When police entered the then 36-year-old's home, Yorkshire Live reports that they found the victim Damian Oldfield and a grotesque scene. According to the BBC, Oldfield's murder made waves in the U.K. due to the details surrounding the case. Morley was a former model and in 1993, he was crowned as Mr. Gay U.K. Oldfield, on the other hand, was his one-time boyfriend. The 33-year-old worked for Bent, a gay publication.
Per the Daily Mail, Morley and Oldfield knew each for years and even appeared together on a '90s TV show called "God's Gift." In it, Morley had to choose a date from a group of men, which included Oldfield. Although details of their ill-fated relationship are sparse, it's known that on the day of the murder, Morley, a chef by profession, invited Oldfield to his home (via the BBC). Morley cooked him a meal and the two later went upstairs to his bedroom. While in bed, the pair watched "Brokeback Mountain" and things went awry. Morley alleged that Oldfield performed a sexual act on him against his will, setting in motion a barbaric attack.
Anthony Morley's cannibalistic crime
In one word, Morley's actions against Oldfield can be described as overkill. According to the BBC, Morley slashed Oldfield's throat and stabbed him multiple times. But Morley was not done with his former lover. Once he was dead, the Independent adds that he cut chunks of Oldfield's flesh including pieces of his thigh, chest, and nipple. Reuters reported that Morley then cooked Oldfield's meat in his kitchen using olive oil, herbs, and seeds. However, it seems that Morley was not a fan of the taste as a chewed piece of Oldfield's flesh was later found in the trash by investigators. They also encountered the frying pan and the seasonings Morley left behind.
Perhaps what's even more disturbing is that officers discovered six cooked pieces of Oldfield's remains on a cutting board in the kitchen (per Yorkshire Live). There was no doubt Morley had committed this depraved crime; his saliva was a match for the discarded chewed piece of meat. Per The Guardian, Morley later claimed that he did not remember killing Oldfield or his subsequent deeds. He blamed the murder on his belief that he was going to be raped. Morley allegedly told the police (via Yorkshire Live), "I cooked him a nice meal. I said to take it slow, why did he do that?"
Damian Oldfield's murder disturbed prosecutors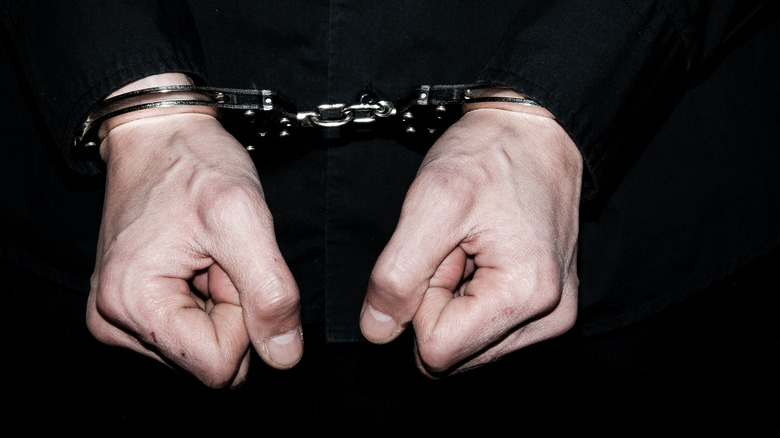 Srdjan Randjelovic/Shutterstock
According to the BBC, Morley had a history of violence and had previously attacked a former boyfriend, Shaun Wood, with a meat cleaver. As a result, The Guardian writes that prosecutors did not believe Morley's story, and was instead labeled as a "highly dangerous" individual during his murder trial. Moreover, it appeared that Morley had long struggled with his sexuality, which may have been a motive for murdering the openly gay Oldfield. One prosecutor stated (via the BBC), "It was a killing borne out of hatred for what he felt and what had happened to him, hatred for his own sexuality and now for the homosexual who was in his bed."
Reuters reported that in October 2008, Morley was found guilty of murder and sentenced to at least 30 years in prison. Needless to say, the details of Oldfield's death by Morley's hands repulsed prosecutors. At his sentencing, Judge James Stewart announced (via Yorkshire Live), "This is one of the most gruesome murders I have encountered." He added, "I associated cannibalism with eras long gone, with the tale of Robinson Crusoe. No longer."
With this verdict, Oldfield's mother Denise made a statement that read, "Damian loved life and he has had that taken away from him in the cruelest of circumstances" (per the Independent). She went on to say, "Damian will be sadly missed by all those who knew and loved him."