Tom Morello Had An Unexpected Career Before His Time In Rage Against The Machine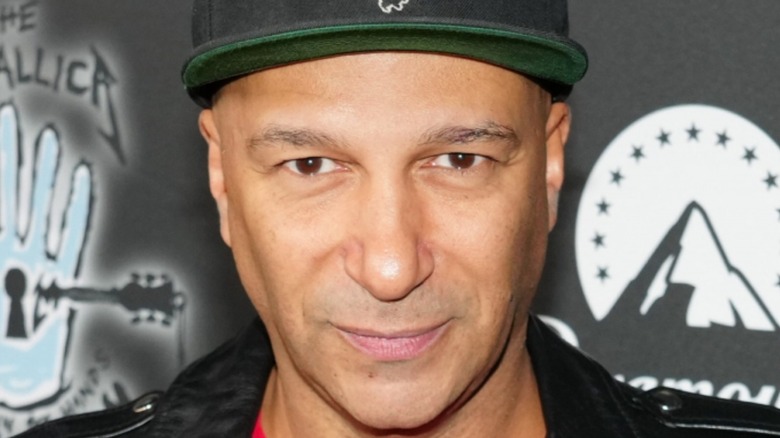 Jeff Kravitz/Getty Images
Tom Morello is most known for being the guitarist for the rock band Rage Against the Machine and later, Audioslave. Throughout the years, he has also worked on solo projects and is considered one of the greatest guitarists of all time, per Rolling Stone. Apart from that, Morello is also a political activist who uses his music to spread messages. In his words, his guitar is "a divining rod for truth and justice" (via Industrial Worker).
Morello was born in Harlem, New York, but moved with his mother to Libertyville, Illinois after his parents' separation when he was just 18 months old. He was exposed to politics at a young age, as his parents were staunch activists. As he revealed in an interview with Louder Sound, his father, Ngethe Njoroge, was a freedom fighter in Kenya, and his mother, Mary Morello, founded Parents for Rock and Rap, an anti-censorship campaign to support free speech in music. Morello's interest in being a musician began after listening to "Never Mind the Bollocks," Sex Pistols' album released in 1977. He formed a band in high school, Electric Sheep, and they played music that he described as "a cross between Devo, The Clash, and the Pistols."
Tom Morello's education and early career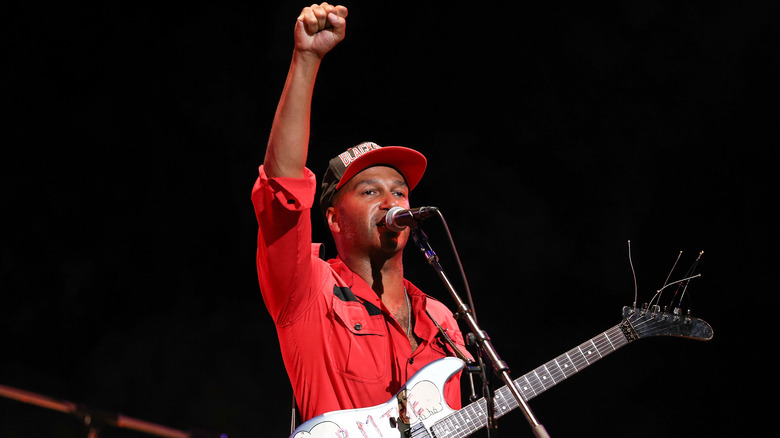 Imeh Akpanudosen/Getty Images
After graduating high school, Tom Morello attended Harvard University and pursued a political science degree. He juggled his studies and practicing the guitar, as he said he started playing the instrument in his late teens and if he wanted to be good, he needed to work hard to get to the level of his musical heroes, per Louder Sound. He practiced playing the guitar eight hours a day in college in 1986, he earned a degree in social studies with a focus on political science.
Morello moved to California after graduating from Harvard, but as noted by NME, he found it difficult to get a job. After months of unemployment, he eventually found work as a scheduling secretary at the office of then-Senator Alan Cranston. His experience only made him realize that he would never pursue a career in politics. Morello recalled that during the times he was with the senator, the majority of it was Cranston calling up wealthy people to as for money. "It just made me understand that the whole business was dirty. He had to compromise his entire being every day," Morello said. In an interview with Louder Sound, he also talked about his work with the senator and said that it was an epiphany. "Cranston was, possibly, the most left-wing senator ever in America. And yet even he had to compromise to satisfy the big money people who control electoral politics," Morello stated.
His stint as an exotic dancer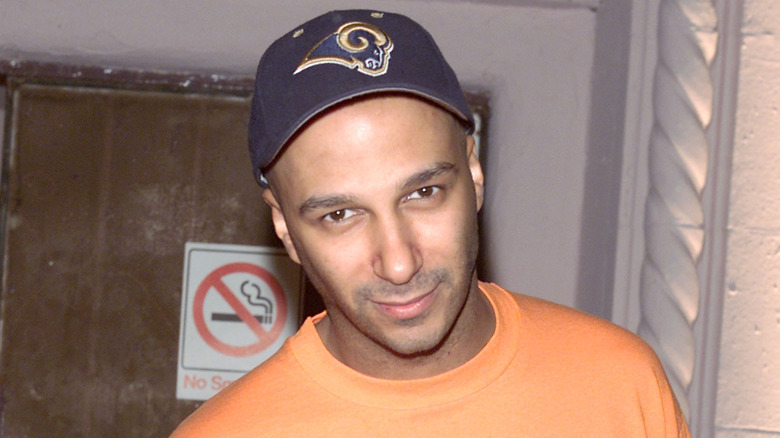 Kevin Winter/Getty Images
Being a fresh graduate and unemployed isn't the best situation for anyone. During the months Tom Morello was looking for work after moving to California, he revealed that he worked as an exotic dancer for a short time to earn some money. He told NME, "people do what they have to do," and he was just thankful that YouTube wasn't invented back then. He talked more about the experience in a 2021 interview on The Howard Stern Show. Morello said that he and his roommate wanted to get a hot tub in their apartment to improve their chances with the ladies, but he didn't have the funds to purchase one, so he had a short stint as an exotic dancer to earn the money quickly.
Morello cleared that he didn't dance onstage to an audience; rather, he danced for bachelorette parties where he knocked on doors wearing a suit and then performed for the ladies to the song "Brick House" by The Commodores. He continued by saying, "it wasn't awesome" and even called it weird. He only did the gig long enough to save money for the hot tub and quit right after.