Mike Piazza's Hall Of Fame Baseball Career Would Not Have Occurred If Not For Nepotism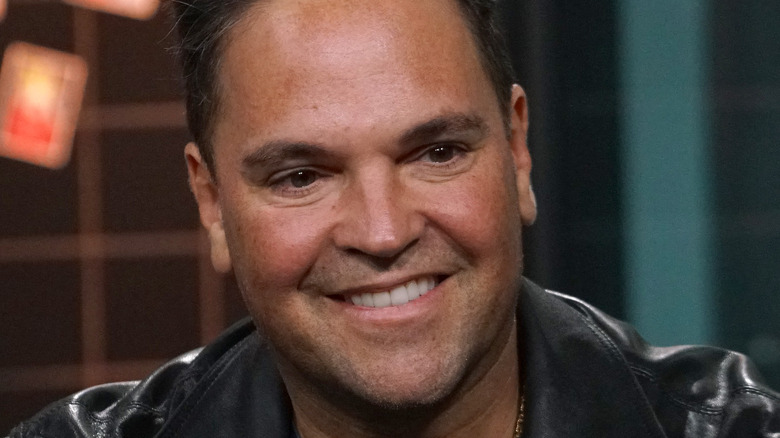 Manny Carabel/Getty Images
So-called "nepo babies" are children of successful individuals who have gained what can be perceived as unfair advantages in their careers because of their family connections. ("Nepo" babies got their name from "nepotism," via CNN.) The "nepo baby" phenomenon extends beyond the film, TV, and music industries into the world of sports. One such example is Hall-of-Fame Major League Baseball first-baseman and catcher, Mike Piazza, perhaps best known for his time spent behind home plate for the Los Angeles Dodgers and later on in his career for the New York Mets (per Baseball-Reference).
Alleged nepotism aside, it's plain to see Piazza has earned his spot among baseball greats. According to the Baseball Hall of Fame, among other accomplishments, Piazza, who retired in 2007, was the first player whose primary position was catcher to record more than 200 hits in one season. He drove in 1,335 runs in his career, fourth of all time behind big names like Johnny Bench and Yogi Berra — not bad company. He also has more home runs in his career than any catcher (per ESPN). However, if not for the dreams of Piazza's father — and a close family friend in the major leagues — Piazza's career might have turned out quite differently.
Tommy Lasorda was a close Piazza family friend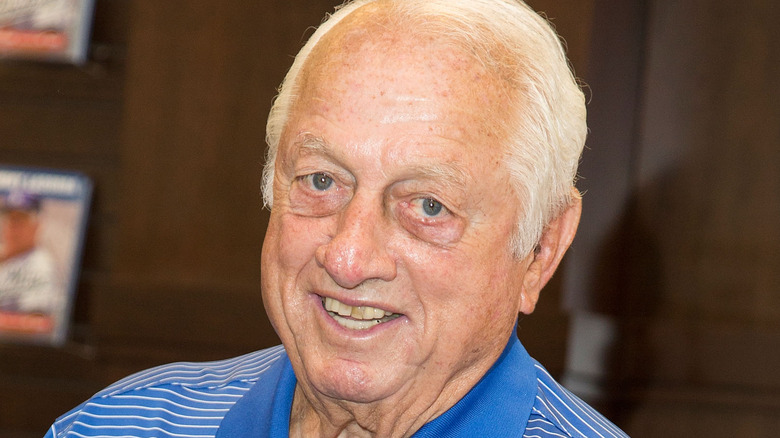 Vincent Sandoval/Getty Images
According to the MLB website, Piazza's father, Vince Piazza, was close friends with Hall-of-Fame Dodgers manager and former pitcher, Tommy Lasorda (via Baseball-Reference). Per 1993 reporting from The New York Times, Vince Piazza was a successful Pennsylvania businessman with a passion for baseball, who, in that same time period, tried to buy the San Francisco Giants. The elder Piazza's bid was unsuccessful. That said, young Mike Piazza grew up in close contact under the tutelage of Tommy Lasorda. Early on in Piazza's MLB career, some people even thought Lasorda was Piazza's godfather, or perhaps his uncle, per MLB. That was not the case.
As a young player, there was no guarantee Piazza would end up at the Cooperstown podium, either in high school or in college. Even with Lasorda's guidance, he showed promise but struggled to find his place or the position on the field that would suit him best, As a result, Piazza was picked in the 62nd round in the 1988 free-agent draft, and Piazza might not have even done that well if not for Lasorda's help, per The New York Times. Piazza was like a son to Lasorda and in Piazza's 2016 Hall of Fame induction speech, he thanked the baseball manager. "Tommy, you've always been in my corner," Piazza said. "[He] was always there for me like a guardian angel" (via MLB).
Lasorda encouraged Piazza to become a catcher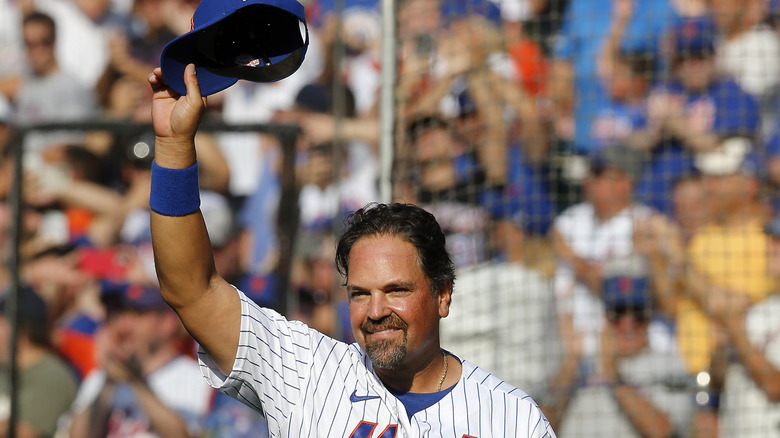 Jim Mcisaac/Getty Images
As the MLB website goes on to write, prior to that draft in 1988, Vince Piazza, Mike's father, called in a favor from his old friend, Tommy Lasorda, to get his son a one-on-one meeting with Joe Ferguson, who was then a coach with the Dodgers and himself a catcher who once played in the outfield. While the Dodgers were in town to play the Phillies, at Lasorda's urging, Ferguson watched Piazza play and gave him pointers at Veterans Stadium in Philadelphia. Ferguson reported to Lasorda he saw potential in the young player. With that, Lasorda convinced his director of scouting at that time to give Piazza a chance in the upcoming draft.
Still, Piazza was the 1,390th pick in the MLB free-agent draft in 1988, according to ESPN. It took hard work in the minors and a stint playing internationally (per Sports Illustrated) before Piazza would make his 1992 MLB debut in Los Angeles, according to the Baseball Hall of Fame. Referring to Piazza, Hall-of-Fame outfielder Ken Griffey Jr., who was enshrined in Cooperstown the same year as the catcher, said via ESPN: "With Mike, people talk about, 'Oh, he was just a favor to Tommy Lasorda.' Well, he took an opportunity and showed everybody it was not just a favor. He went out there and showed that he can play this game and played at the highest level." In his Cooperstown speech, Piazza said via MLB: "My father's faith in me ... is the single greatest factor in me being inducted in this Hall of Fame."