The Heartbreaking Death Of Tommy Lasorda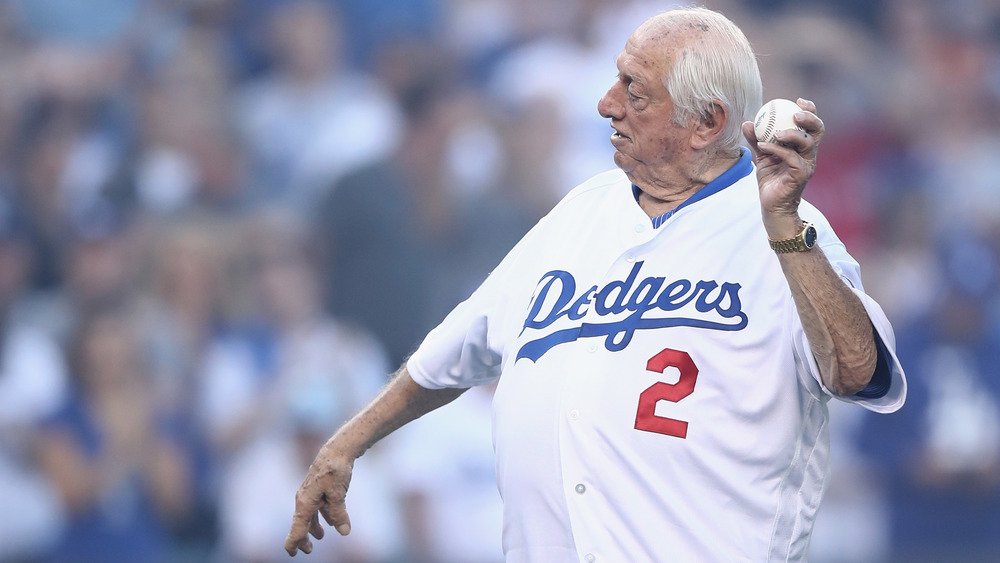 Ezra Shaw/Getty Images
The baseball world suffered a tragic loss on January 7, 2021, when legendary Hall of Famer Tommy Lasorda died at the age of 93. The Los Angeles Dodgers, a franchise with which he spent over seven decades, tweeted the heartbreaking news the next morning. He was rushed to the hospital after a serious cardiopulmonary arrest late the night before, but doctors were unable to resuscitate him and he died less than an hour later.
The team remembered his legacy fondly: "Regarded by many as baseball's most popular ambassador, Lasorda spent 71 seasons in the Dodger organization with Dodger Blue running through his veins... Lasorda's wish to see another Dodgers World Championship was fulfilled last October, when he traveled to Arlington, Texas to witness the Dodgers 3-1 victory over the Tampa Bay Rays in Game 6 of the World Series."
According to the MLB, Lasorda began to experience health problems just after that historic victory. He was hospitalized in November and had only returned home from that stay just two days before going into cardiac arrest.
By his own admission, he was such a Dodger through and through that he wouldn't even wear red. "My clothes are blue, the Dodger color," he told The New York Times. "I won't wear red. Cut my veins, and I bleed Dodger blue. If trouble comes, I pray to that big Dodger in the sky." That big Dodger in the sky finally called his blue-blooded son home.
Tommy Lasorda's start in the major leagues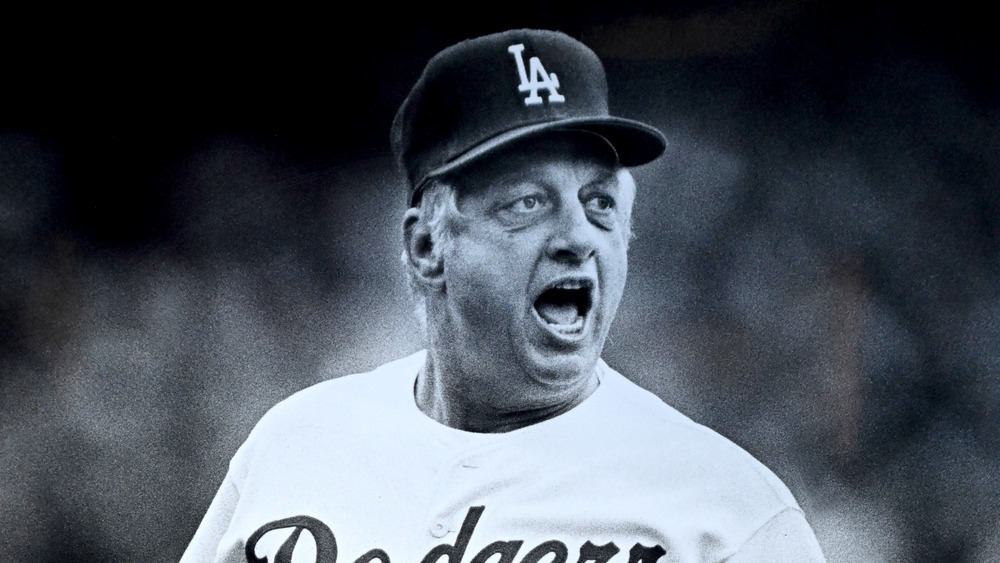 Jayne Kamin-oncea/Getty Images
While Lasorda's actual time on the mound wasn't much to write home about (The New York Times called him "a chubby left-handed pitcher" with a "brief and forgettable playing career"), he will be remembered as one of the game's most endearing figures. According to ESPN, he got his start in baseball pitching for the Philadelphia Phillies at just 18 years old. "I did not have a lot of ability, but I'll guarantee you one thing, when I stood on that hill of thrills, I didn't believe that there was any man alive who could hit me," he once said. "And if they did hit me, which they did, I thought it was an accident."
After a brief stint in the military in the 1940s, Lasorda came back to baseball and was signed to the Dodgers' minor league team after the 1948 season. He finally played in the major league with the Dodgers in 1954 and 1955 (still in Brooklyn back then), then pitched a season for the Kansas City Athletics in 1956. He was done pitching by 1960. But he stayed with the Dodgers as a scout, and then from 1965 to 1972 he served as the team's minor league manager. He moved on to the team's third-base coach, and when Hall of Fame manager Walter Alston retired from the game in 1976, Lasorda took over. This is when he really hit his stride.
Tommy Lasorda's storied history of success with the Dodgers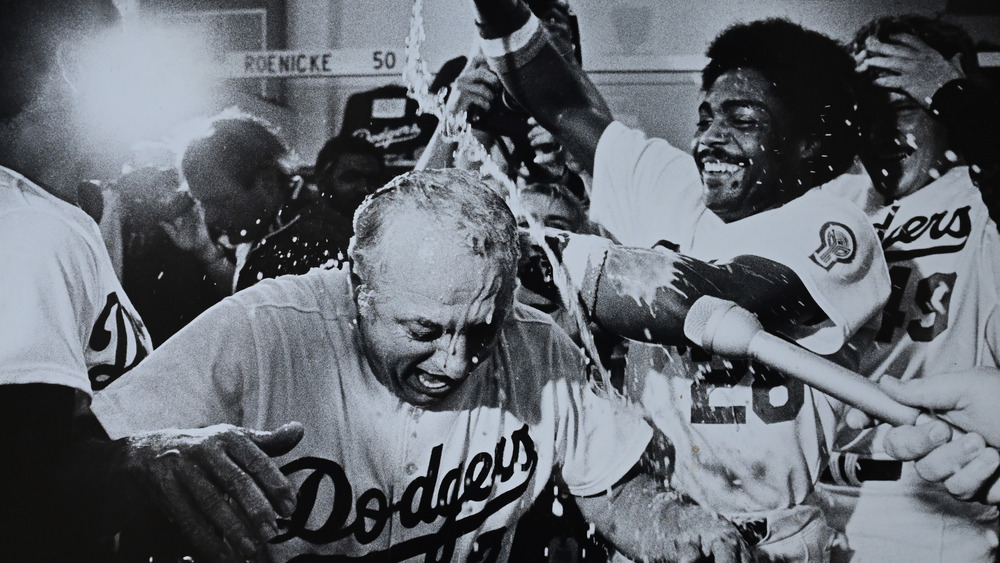 Jayne Kamin-oncea/Getty Images
As manager, Lasorda took the Dodgers to some pretty epic victories almost right out of the gate. The team took the National League title in 1977 and 1978, but lost the World Series both years to the New York Yankees. He led the team to the world championship in 1981, finally triumphing over the Yankees in a six-game World Series. Lasorda and the Dodgers took the title again in 1988. He worked as the Dodgers' manager for 20 seasons, finally retiring in 1996 due to health issues. But he wasn't done with baseball yet. He still worked with the Dodgers in other ways and was the manager of the gold medal-winning U.S. baseball team that beat Cuba in the 2000 Olympics in Sydney, Australia.
A staple in Major League Baseball for the last seven decades, Lasorda will be sadly missed. "His passion, success, charisma and sense of humor turned him into an international celebrity, a stature that he used to grow our sport," said MLB commissioner Rob Manfred, who added that Lasorda made baseball "a stronger, more diverse, and better game." Broadcaster Vin Scully, who commentated Dodgers games for 67 years, remembered him for both his "competitive spirit, his determination, and above all, this boundless energy and self-belief. His heart was bigger than his talent and there were no foul lines for his enthusiasm." The world of baseball is definitely a little darker the day after the loss of Tommy Lasorda.