Who Was Adolph Ochs, The Man Behind The New Year's Eve Ball?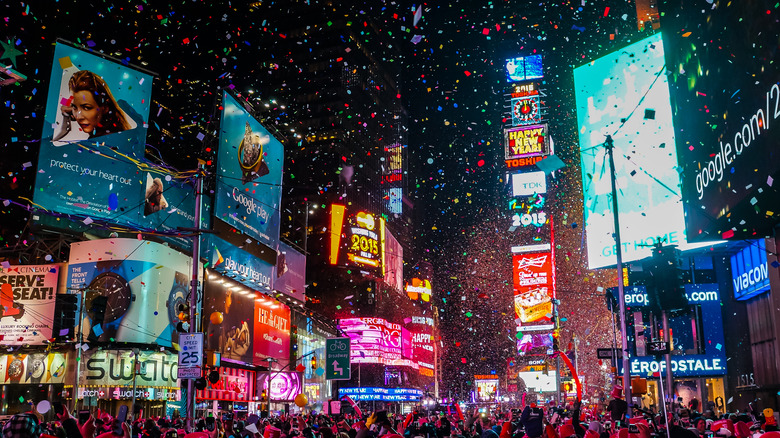 Simon Dux Media/Shutterstock
Every New Year's Eve, an estimated one million people brave New York's cold temperatures to witness the iconic ball drop in Times Square (via the Times Herald-Record). With that said, people have gathered in Times Square to ring in the new year since 1904. However, the ball drop emerged in 1907. Since then, this event has occurred annually, except during World War II in 1942 and 1943. As The New York Times explains, both of these traditions are all thanks to a man named Adolph Ochs. Britannica writes that Ochs was born in 1858 in Cincinnati, Ohio to Jewish immigrant parents.
Per The Jewish Virtual Library, Ochs was raised in Tennessee and dropped out of school when he was just 11 years old. Ochs subsequently began working as a printer's assistant at the Knoxville Chronicle. Britannica adds that he later worked for Louisville, Kentucky's Courier-Journal. Needless to say, Ochs became well acquainted with the newspaper industry, and by the age of 20, he became publisher of the Chattanooga Times, per Immigrant Entrepreneurship.
Adolph Ochs saved The New York Times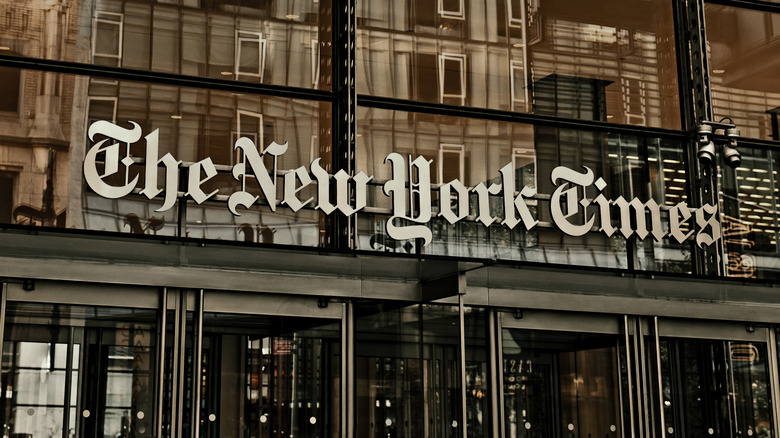 Bogdan Vacarciuc V/Shutterstock
The Jewish Virtual Library writes that the Chattanooga Times flourished under Adolph Ochs' leadership. He opted to distance his paper from yellow journalism and the lurid stories they produced. Ochs noted that the Chattanooga Times was "clean, dignified and trustworthy." Britannica reports that Ochs continued to build his press empire. He later founded and served as chairman for the Southern Associated Press from 1891 to 1894. However, Immigrant Entrepreneurship states that Ochs wanted to branch out from the South. In March 1896, he was informed that The New York Times, which was on the verge of shuttering, was up for sale.
Ochs was first asked by the owners of The New York Times to take over the paper for a yearly salary of $50,000. Instead, Ochs believed that he could transform the Times only if he owned it. Thus, he became a majority stockholder and borrowed $75,000 to invest in the paper. Per Britannica, Ochs changed the Times' slogan to "All the News That's Fit to Print." This was a vow to avoid sensational and scandalous stories.
The New York Times states that by 1902, Ochs decided to move the paper's headquarters to Downtown on Longacre Square. In honor of this move, Ochs asked for the city to rename Longacre Square to Times Square.
He used New Year's Eve to celebrate The New York Times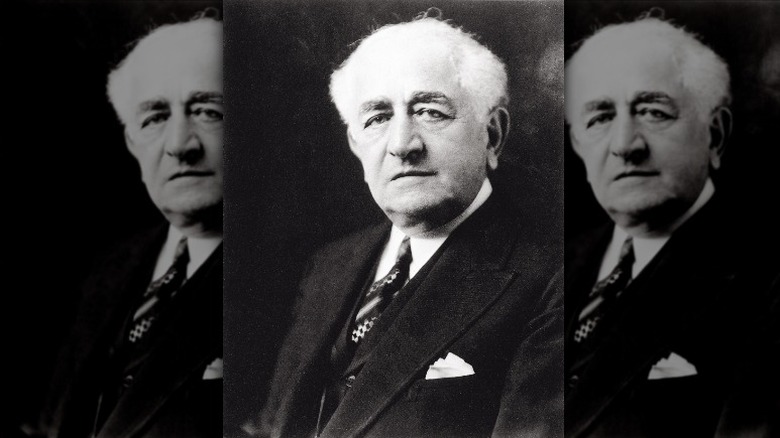 Brandstaetter Images/Getty Images
The New York Times reports that on New Year's Eve, 1904, Adolph Ochs celebrated the publication's new building, and the newly named Times Square, by hosting a flashy fireworks show. Inside Edition writes that the newspaper's new headquarters was housed in what was then the second tallest skyscraper in Manhattan on 42nd and Broadway. Per Times Square, Ochs held a street festival before setting off the fireworks at midnight. It's estimated that 200,000 people attended the event. From then on, Times Square became the designated location in New York City to celebrate New Year's Eve. However, The New Yorker notes that by 1907, the fireworks had been banned.
Ochs, however, was not deterred by this in the slightest. According to CNN, his celebration for 1908 would go on without pyrotechnics with the help of a metalworker named Jacob Starr. Ochs hired Starr to create an impressive display featuring a New Year's Eve ball that would drop at midnight. Reader's Digest explains that Ochs was inspired by a feature at the Western Union Telegraph building, which dropped a ball daily at noon.
Tama Starr, Jacob Starr's granddaughter, told CNN, "The idea was to ... have it illuminated with the brand-new electricity that had just come up to the neighborhood." She added, "And it was lowered by hand ... starting at one minute to midnight, and that was the way it was done for many years." Although The New York Times moved its headquarters in 1913, the New Year's Eve celebrations continue to this day (via The New Yorker). Adolph Ochs died in April 1935, at the age of 77.