Pelé's Final Soccer Match Truly Demonstrated His Love For The Sport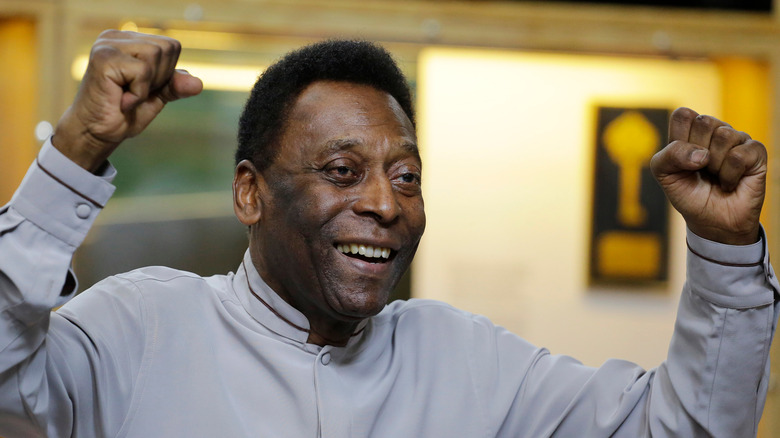 Nelson Antoine/Shutterstock
Brazilian soccer legend, Edson Arantes do Nascimento (better known as Pelé), died on December 29, 2022, at the age of 82, according to The New York Times. Known as "the Global Face of Soccer," Pelé's death was confirmed by his manager, Joe Fraga. Based on Reuters reporting, Pelé died in a Brazilian hospital. Colon cancer contributed to his death. After retiring and then un-retiring twice by 1974, Pelé came back to play three seasons in the U.S. He retired for good in 1977, per Britannica. Details from Pelé's final game reveal just how much soccer meant to the star athlete (via History).
The three-time World Cup champion was a national hero in Brazil, where he won several league titles. Pelé also found success as a player in the U.S., most notably with the New York Cosmos. In his career, Pelé scored nearly 1,300 goals, 77 for the Brazilian national team, and he played in roughly 1,400 matches. In addition to on-field accomplishments, Pelé was an international ambassador for the sport. His final exhibition game with the Cosmos was played at Giants Stadium in New Jersey, and three words he said to the crowd in his farewell speech are immortalized in sports history (via NYT).
Muhammed Ali and Mick Jagger attended Pelé's final match
There were several VIPS in attendance, including Henry Kissinger, boxer Muhammed Ali, and Mick Jagger, who were on hand to watch Pelé play his final exhibition game, played in honor of the Brazilian forward, according to 1977 reporting from The New York Times. Pelé played the whole game and was responsible for tying the score at the end of the first half (via Britannica). The Cosmos played against the Brazilian club Santos, a team for which Pelé played early on in his career.
Pelé played one half for each team, as PBS NewsHour writes, And in his final exhibition game, Pelé scored just that one goal, according to The Times — try as his teammates might to set the famous athlete up for success. Cosmos won the match 2 to 1. At the conclusion of the game, the tributes in honor of Pelé began in earnest. Those included embraces from other players on both teams, an appearance by Pelé's family, and a victory lap around the field. Pelé was then carried off the pitch on the shoulders of two Cosmos goalkeepers.
Pelé had a message of love at his final match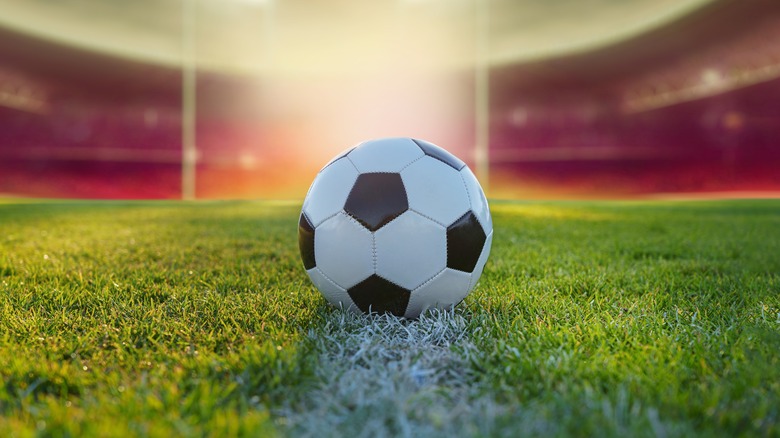 Igor Link/Shutterstock
More than anything, what's perhaps most remembered about Pelé's final exhibition game as a professional (he would go on to make further exhibition appearances in retirement) is what he told the crowd, according to The New York Times. Pelé was handed a mic to speak, at which time he thanked the crowd and called his final exhibition match at Giant Stadium the greatest moment in his life. He also urged the audience and other teammates to work hard for future generations.
Emotions then overcame the star forward, as he said, "Love is more important than what we can take in life. Everything pass [sic]. Please say with me [sic], three times — love! love! love!" — three words the crowd then repeated. After the game Pelé also said, "I die a little bit today ... Now I am born again to another life. You see, I stop playing soccer because I want to stop, and that is important."
In his lifetime, Pelé — also a musician — advocated for education, and in 1995, Pelé was appointed Brazil's minister for sport, as The Times elsewhere notes. According to Entertainment Weekly, he is survived by seven children from two marriages. He was married to Marcia Cibele Aoki when he died.