Vivienne Westwood's Controversial 1989 Magazine Appearance As Margaret Thatcher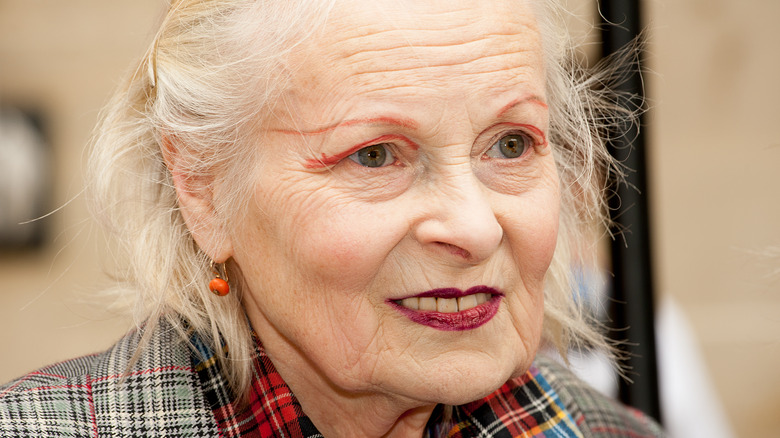 John Gomez/Shutterstock
Influential punk fashion designer Vivienne Westwood died peacefully on December 29, 2022 surrounded by family at her home in London, according to CNN. Known as the "the high priestess of punk" and "Queen of Extreme," the death of the one-time associate of punk music mogul Malcolm McLaren and the seminal punk band the Sex Pistols was confirmed by a statement from Westwood's company. No specific cause of death was given. She was 81.
In her decades-long career, which began in the mid-1960s, Westwood's vision defined punk rock aesthetics in both fashion and design. In doing so, she brought punk rock from the streets of London, starting at Westwood's and McLaren's boutique clothing store in the '70s called SEX, to the high-fashion runways of Milan and Paris, as NPR reports. Throughout it all, Westwood remained controversial — never more so than in 1989 when she appeared in a popular British lifestyle magazine called "Tatler" convincingly styled as Margaret Thatcher.
The cover was in protest to Thatcher's policies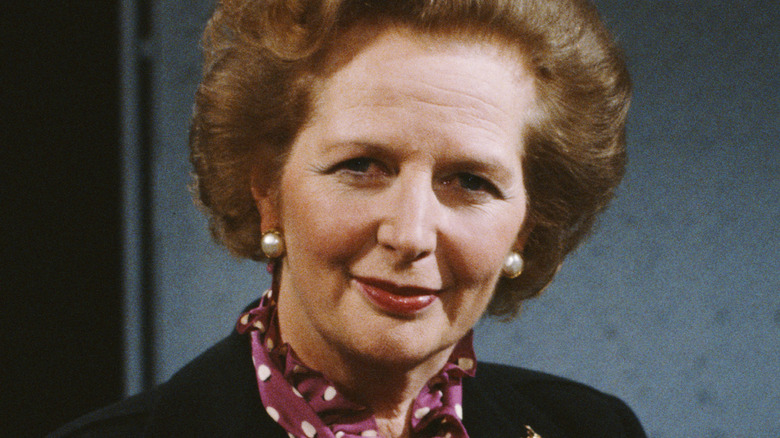 Tim Roney/Getty Images
As BBC News writes, like many who grew up in the punk era, Westwood opposed Margaret Thatcher's conservative politics during her time as Prime Minister from 1979 through 1990 (per Britannica). That said, she did like Thatcher's fashion sense, and when the opportunity came to lampoon the politician on the cover of "Tatler" magazine in 1989, the punk designer couldn't resist. The end result is an uncanny likeness. In 2010, Westwood remembered the incident in her memoir "Get a Life! The Diaries of Vivienne Westwood" (via Dazed Digital). 
In her book, Westwood called Thatcher a hypocrite and her economic policies a pyramid scheme. Per Dazed Digital, Westwood also wrote that if she was an actual prime minister she'd use her power to better fund British education, " ... Education is the thing that could really enrich our country and surely all those extra teachers would help the circulation of money and wealth. You need heart and head to have vision and that's why I call her a hypocrite: she did not care and used her status as a woman to pretend she did," Westwood's book read.
The dress was real and intended for Margaret Thatcher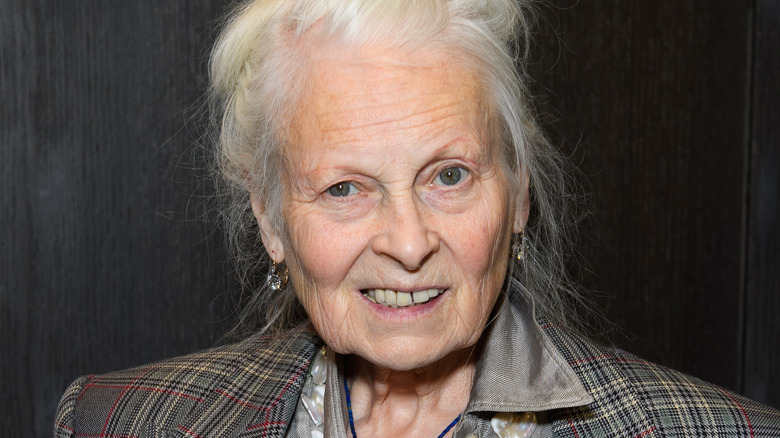 Joe Maher/Getty Images
Also, according to Westwood, the dress she wore on the cover was an actual dress for Thatcher made by the British clothing company Aquascutum, but the politician had canceled the order, according to Dazed Digital. Across the bottom of the "Tatler" cover in signature cut-and-paste punk rock-style newsprint, it read, "This lady was once a punk." Once the controversial "Tatler" cover was released, it was blown up on billboards during London fashion week.
Shortly after that, the editor of "Tatler" lost her job, though Westwood was unsure if the cover and her firing were related. On her career as a provocateur, such as the "Tatler" stunt, Westwood reportedly told Jon Savage in his definitive book "England's Dreaming: The Sex Pistols and Punk Rock" (via CNN): "I have an in-built perversity ... a kind of in-built clock which always reacts against anything orthodox." Surviving Westwood are her two children and her husband, Andreas Kronthaler, according to Rolling Stone.