The Sex Pistols' Tragic Real-Life Story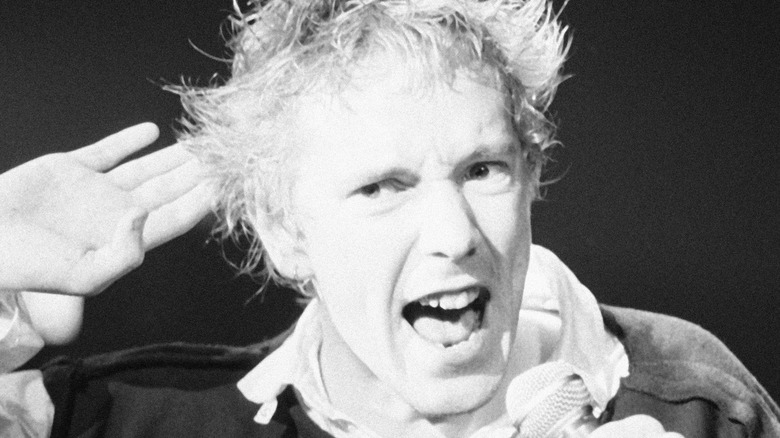 Express/Getty Images
In mid-1970s Great Britain, punk rock spoke to the frustrations and rage of mostly working-class adolescents and young adults, frustrations and rage the punks of that moment wore on their proverbial sleeves. This was apparent in their fashion, in their politics, and in the music to which they listened — breakneck songs played at harsh volumes by do-it-yourself players who might have only picked up their instruments a week before someone booked them for a basement gig or pushed "Record" on the tape deck.
Into this scene stepped the Sex Pistols — drummer Paul Cook, guitarist Steve Jones, bassist Sid Vicious, and the singer known as Johnny Rotten. The band's music was a scabrous racket whose lyrics dealt with upending authority and good taste in all its forms; it was music to cause outrage, every blessed minute of it. "God save the Queen," Rotten sang, "and her fascist regime." But while the band was sowing chaos and thumbing their noses at censors, there was darkness afoot within the group itself. Drugs were a major factor, as was a personal animosity that developed between band members. After the band broke up, less than a year after most people had first heard of them, a deeper darkness descended, and lives were lost in its wake. This is the tragedy behind one of rock 'n' roll's most incendiary musical forces — the Sex Pistols.
The Sex Pistols' huge rise and calamitous fall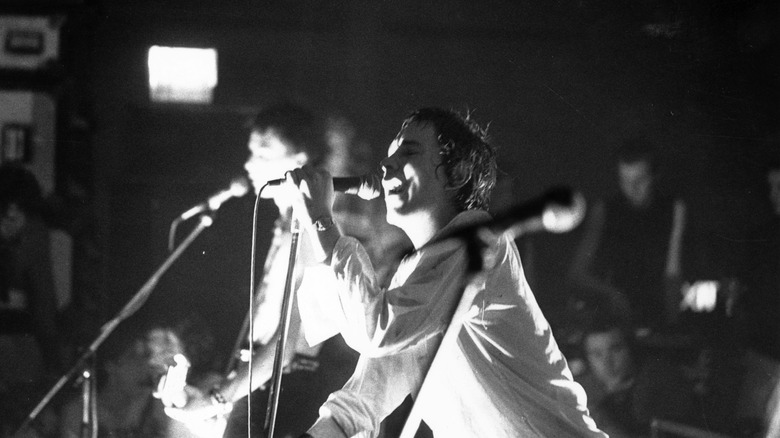 Evening Standard/Getty Images
The Sex Pistols were born the day in 1975 that John Lydon walked into the band's rehearsal space wearing a Pink Floyd T-shirt with the words "I Hate" written above the logo, and walked out of the rehearsal space as Johnny Rotten. For the next three years, the Pistols would tear through stages at colleges, art schools, and other establishments. Steve Jones summed up the band's philosophy when he told a reporter, "Actually, we're not into music. We're into chaos."
Sid Vicious joined the Sex Pistols in 1977, replacing Glen Matlock not because Sid could play bass (he couldn't), but because he looked the part of a punk. The band's single "God Save the Queen" was banned by the BBC but went to the top of the British singles chart anyway. In late October of that year they released their only studio album, "Never Mind the Bollocks, Here's the Sex Pistols," which Rolling Stone then called "just about the most exciting rock 'n' roll record of the '70s." Several major retailers in the U.K. refused to stock the record; nevertheless, it went into the British album chart at No. 1. In January 1978, the Pistols began a 12-date U.S. tour, but the group broke up after the final show in San Francisco, torn apart by in-fighting and drug use. At the show's conclusion, Rotten asked the audience, "Ever get the feeling you've been cheated?" He then dropped his microphone and left the stage.
Johnny Rotten had health issues as a child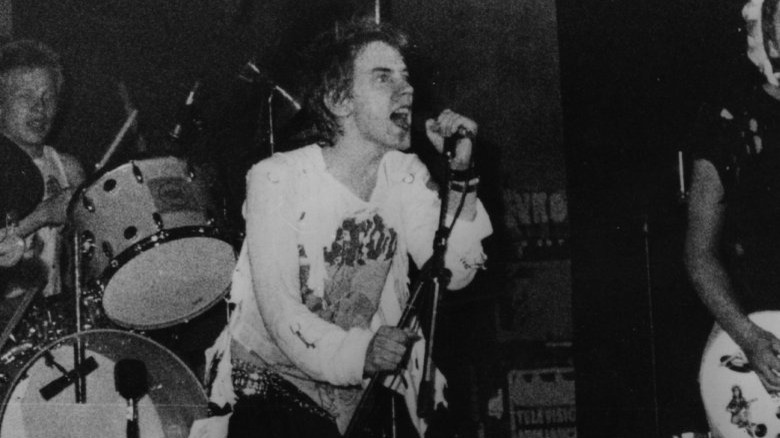 Getty Images
Raised in poverty, John Lydon lived with his family in a run-down apartment in North London, surrounded by vagrants and filth. In his memoir, "Anger Is an Energy: My Life Uncensored," Lydon remembered being 7 years old: "I'd make paper boats and float them in our backyard, so I'd touch the water, then I'd touch my mouth." Little did he know he was sharing his yard (and apartment building) with disease-carrying rats; he came down with meningitis as a result, suffering headaches, dizziness and hallucinations before falling into a coma that by his recollection lasted seven months. When he awoke, Lydon had to endure painful spinal fluid drains up to three times a day.
The drains caused a curvature of his spine, affecting his posture, and to this day, he cannot stand completely straight. His time in the hospital also affected his eyesight; forced to wear glasses he could not physically abide after a while, he developed a farsightedness that caused him to glare in order to focus on nearby objects. It was a bad situation, to be sure, but fitting for the man who would grow up to be Johnny Rotten, perpetually glaring at everyone. Meningitis also affected his memory. It took some time for him to recognize and trust his parents, even after going home. "I was," he wrote, "in a constant state of agitation and panic."
Nancy Spungen had a difficult life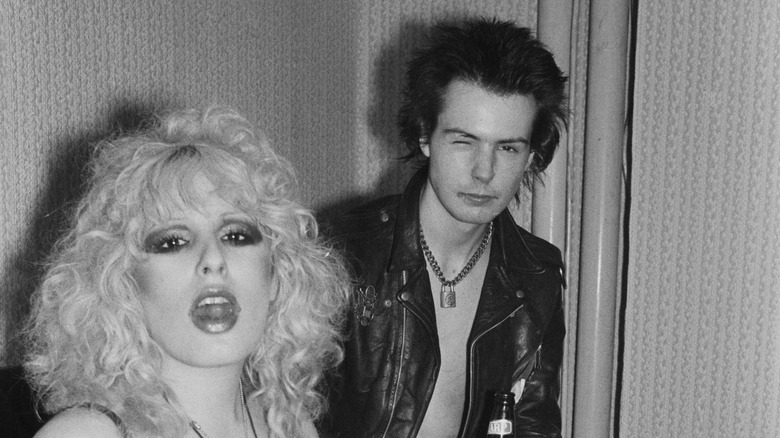 Mike Lawn/Getty Images
Sid Vicious' girlfriend Nancy Spungen was a Philadelphia native who arrived on the New York punk scene at age 17 and soon garnered a reputation as an extraordinarily dangerous character, in a culture full of dangerous characters. Immediately upon arrival, according to New York Magazine, she began abusing drugs, sleeping with musicians, and exhibiting violent tendencies. These were extensions of her harrowing childhood, when she was diagnosed with schizophrenia, placed in a boarding school for children with special needs, and committed to a mental institution. Her mother Deborah's memoir, "And I Don't Want to Live This Life: A Mother's Story of Her Daughter's Murder," contains reminiscences of Spungen's disturbing behavior as a child, from attempting to harm the family's pet, to physical attacks on family members, to a spate of drug overdoses.
Eventually, Spungen ventured out to London where she met and became attached to Sid Vicious, just as the Sex Pistols were closing in on their historic flame-out. The rest of the band detested her, banning her from their ill-fated U.S. tour in 1978. In his memoir "No Irish, No Blacks, No Dogs," Johnny Rotten called her "a very self-destructive human being who was determined to take as many people down with her as possible." The tour ended with the Pistols breaking up, which allowed Sid and Nancy to head off together as they pleased.
If you or anyone you know is struggling with addiction issues, help is available. Visit the Substance Abuse and Mental Health Services Administration website or contact SAMHSA's National Helpline at 1-800-662-HELP (4357).
Sid accused of killing Nancy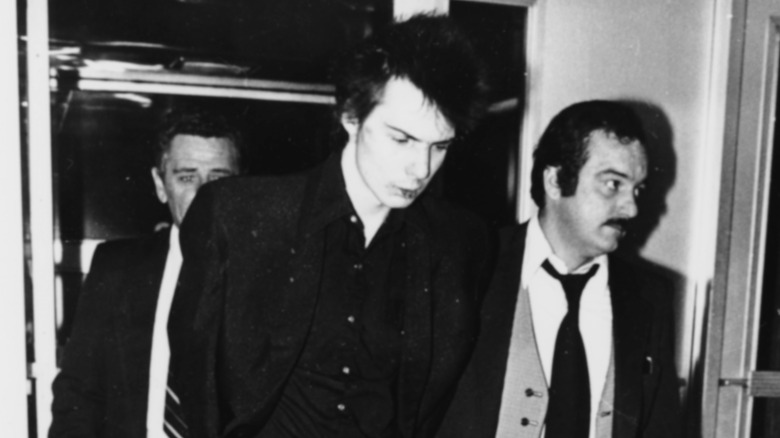 Keystone/Getty Images
Sid Vicious and Nancy Spungen returned to England, where Vicious attempted to start a solo career, with Spungen now acting as his manager, or at least telling people she was. Things didn't go well, so the pair decamped for New York in August 1978, moving into the Chelsea Hotel, the last stop for troubled people of all stripes. Returning to the city on the arm of a Sex Pistol was something Spungen lorded over her old New York punk cronies, who hadn't much liked her to begin with. "Some people were outraged by it," photographer Eileen Polk told New York Magazine. "They just couldn't believe that she had succeeded in her quest."
Life for the punk couple was anything but idyllic. Their drug intake, for one, had spiraled out of control. Guitarist Richard Lloyd told New York Magazine, "To hang out with Nancy and Sid was to make a grievous mistake for your own health." At the Chelsea on the night of October 11, witnesses saw Vicious take as many as 30 tablets of the sedative Tuinal and pass out, according to Rolling Stone. Spungen was last seen at 2:30 a.m., asking one of Vicious' friends to go out and get drugs. At 10:00 a.m., Vicious called the front desk, saying he'd awoken and found Spungen dead on the floor of their bathroom, stabbed in the abdomen. That afternoon, he was arrested for her murder; he confessed to the crime, but later recanted.
Sid ODs and dies while awaiting trial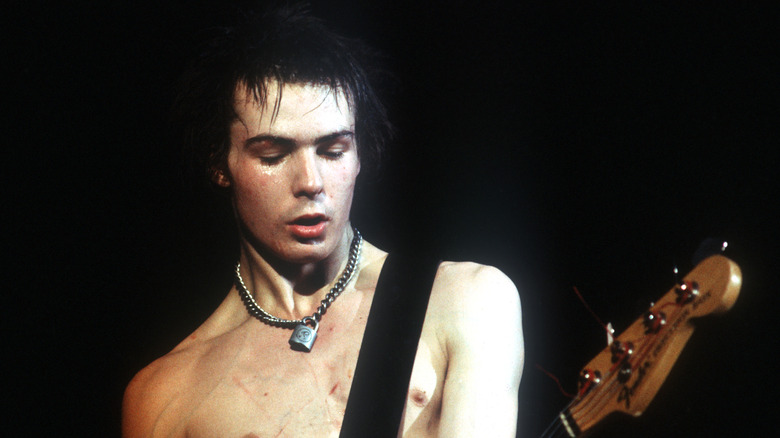 Michael Ochs Archives/Getty Images
In early December 1978, Sid Vicious, out on bail awaiting trial for Nancy Spungen's murder, was sent to Rikers Island prison after being arrested for assaulting a man in a bar fight. While at Rikers, he went through detox and rehabilitation, and upon completing rehab in February 1979, he was once again released on bail. According to The Independent, his mother, Anne Beverley (who herself had a drug habit), threw Vicious a party at his new girlfriend Michelle Robinson's apartment to celebrate his release. Eileen Polk was there and remembered, "It got late and the guys with drugs showed up, and the rest is history."
"History" has shown that Vicious was found dead by Beverley and Robinson around noon the next day, according to Rolling Stone. He was lying face up in bed, with Robinson sleeping next to him. The New York Daily News reported at the time that Vicious had injected drugs in a bathroom during the party, and quoted the medical examiner on the scene as saying "individuals who have been detoxified are vulnerable to overdoses if they go back to taking drugs in the same quantity as before." There were some, however, who thought the overdose was a suicide, the result of a pact between Vicious and Spungen. No real evidence of any such bargain has ever been revealed.
If you or anyone you know is struggling with addiction issues, help is available. Visit the Substance Abuse and Mental Health Services Administration website or contact SAMHSA's National Helpline at 1-800-662-HELP (4357).
​Rumors abound about Nancy's murder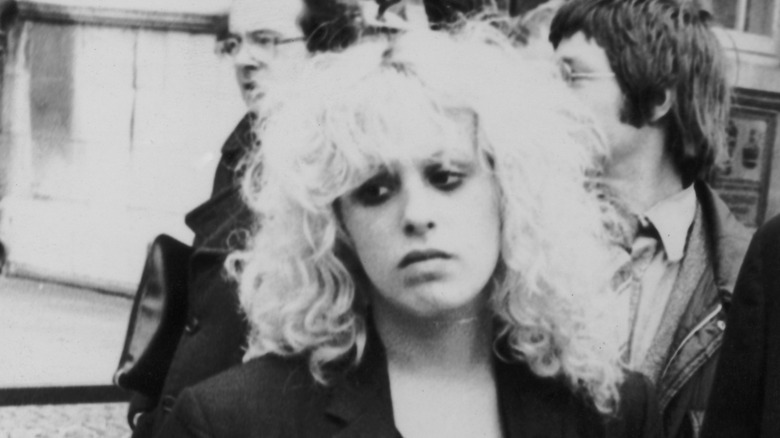 Express/Getty Images
Some who knew Sid Vicious and Nancy Spungen find it inconceivable that he would kill her. "He was just too much in love with her," photographer Dennis Morris told The Telegraph. For years, rumors surfaced about who other than Vicious might have been responsible. Rolling Stone cited punk author Phil Strongman in reporting that the actor and drug dealer known as Rockets Redglare might have been responsible. Vicious had received a royalty payment for $25,000 from his record company, and, according to Strongman, the room at the Chelsea had cash all over it. 
In the rumor, Redglare, seeing Vicious passed out, decided to help himself to some of the money, and Spungen caught him and physically attacked him. Redglare allegedly stabbed her in the stomach and left the room. "With no one standing in his way," Strongman wrote, "Redglare took everything but pocket change and left behind what he believed to be two corpses." Months later, Redglare allegedly confessed to the murder at the punk club CBGB, even producing "a handful of [Spungen's] blood-stained dollars to prove it."
Of course, the story is merely a rumor, fodder for conversations and more hearsay, and also for additional theories that pop up from time to time. D Generation bassist and current internet DJ Howie Pyro has said he thinks Spungen might have accidentally killed herself, trying to get Vicious' attention. In this version, the unconscious Vicious was not roused by her attempt, and she bled to death in the bathroom.
Steve Jones hits rock bottom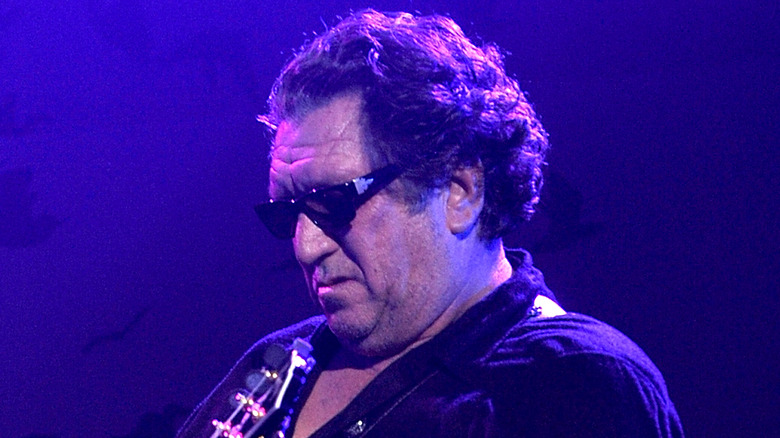 Getty Images
Guitarist Steve Jones believes he was always predisposed to alcoholism and drug addiction, the things that almost took his life as a younger man. "There were quite a few big drinkers among the men in my family," he wrote in his memoir "Lonely Boy: Tales from a Sex Pistol," "and I just had that obsessive-compulsive gene from Day One." Of course, the drug that essentially broke the Sex Pistols was heroin; Sid Vicious was hooked, and so was Jones. Even after Vicious died, Jones continued using. "I didn't think, 'Oh, I better not do this, because look what happened to Sid,'" he told Rolling Stone, "because I just don't think like that."
Jones blames himself for the Pistols' breakup — he thinks the band acted too hastily in parting ways. He told Rolling Stone that, with hindsight, he thinks they should have gone back to London, taken a rest, and given the whole thing another shot. He said in another interview that he was miserable with the band but was having a better time with drugs and partying. It was a lifestyle that would eventually cause him to bottom out, personally and professionally. "I'd pretty much lost everything," he said of his lowest point.
Sid's mother confesses, then dies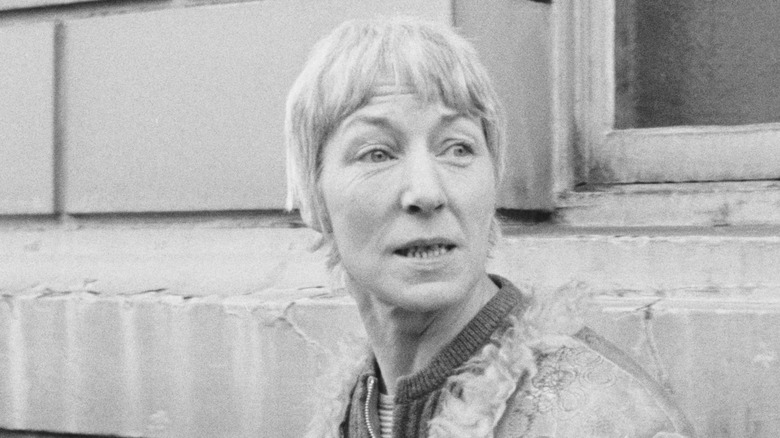 Getty Images
Sid Vicious' mother, Anne Beverley, was found dead of a drug overdose in her home in England in 1996. According to MTV, authorities were summoned to her home after several of her friends contacted them, having received letters from Beverley saying she planned to commit suicide. Those friends also believe Beverley was driven to depression by the surviving Sex Pistols' decision to go on a reunion tour, something she felt Vicious would have objected to.
In the decade following her apparent suicide, Beverley was the subject of many a tabloid rumor pointing the finger at her for her son's own overdose death. Writer Alan Parker seemed to confirm this, saying on the Canadian documentary series Final 24 that Beverley told him that she herself had administered the fatal dose of heroin to Vicious "to prevent him from going to prison," even though his lawyers felt they had a solid defense. "She filled the syringe and she injected him," Parker said in the film. "She knew exactly what to put inside that syringe, that basically would have been enough drugs to kill two people." While only Vicious, Beverley, and Michelle Robinson know what went on in the apartment, two of them are dead and one does not speak to the press, making Vicious' death a mystery whose solution died with his mother.
If you or anyone you know is having suicidal thoughts, please call the National Suicide Prevention Lifeline​ at​ 1-800-273-TALK (8255)​.
Writer tries to clear Sid's name in film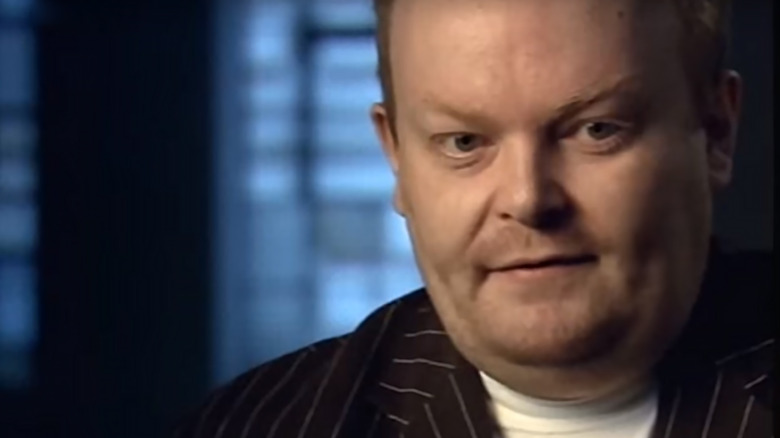 YouTube
Alan Parker has written extensively about Sid Vicious and believes the bassist was innocent of Nancy Spungen's murder. Parker was behind the film "Who Killed Nancy?" in which he poses a new idea — that Spungen was killed by a drug addict named Michael who lived on the sixth floor of the Chelsea and who visited the couple the night Spungen was murdered. According to Parker, Michael was later seen with a wad of cash tied up with one of Spungen's hair ties.
Parker conducted 182 interviews in researching the murder for the film and gained access to the original police file on the case. "The [police] file isn't as thick as what people believe it to be," Parker said in an interview. "At the end of the day, it was a badly investigated case ... If anything annoys me on that police report it's the names that are blacked out. If we could see those names, then yeah, but everyone knew Michael and said he was a piece of sh*t." In Vicious' defense, Parker also cites Vicious' level of intoxication and his state of unconsciousness, as well as the fact that six additional sets of fingerprints of people who were known to the police were found in the couple's room at the Chelsea, but none of those people were ever interviewed.
What are they doing now?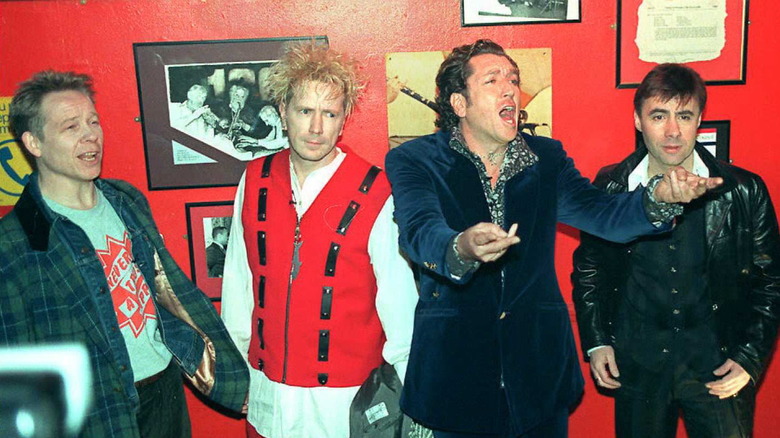 Getty Images
The Sex Pistols surprised many people when the surviving members (and original bassist Glen Matlock) reunited for a six-month tour in 1996. The Filthy Lucre Tour ran 78 dates around the world, and one show was recorded for a live album. The band played shows infrequently through 2008 and has not reunited since. Steve Jones is a radio announcer five days a week in Los Angeles, hosting an open-format show called "Jonesy's Jukebox" "where the only rule is doing whatever Jones wants." Paul Cook keeps busy as a session musician, as well as by recording and occasionally touring with two bands — the somewhat-reunited Professionals (a post-Pistols band he and Jones formed, though Jones is no longer involved with the group) and Manraze, a band he formed with Def Leppard guitarist Phil Collen. Glen Matlock likewise records and plays with two bands, Glen Matlock and the Philistines and The International Swingers.
John Lydon will occasionally re-form his post-Pistols band Public Image Ltd., which he staffs with a changing lineup of musicians to support his voice and songs. He has also authored several books, most recently "Mr. Rotten's Songbook," a signed, limited-edition collection of all his song lyrics. Lydon was also certainly the voice of the band when they responded to their induction into the Rock and Roll Hall of Fame by boycotting the ceremony. "We're not coming," he said in the band's statement. "We're not your monkeys."
John Lydon was nearly on Pan Am Flight 103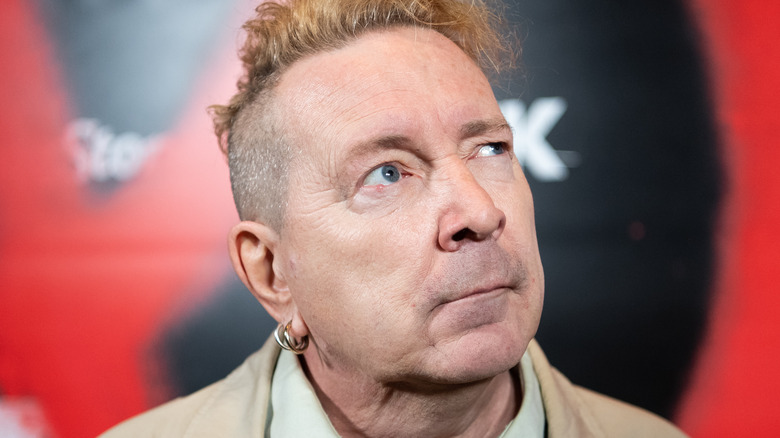 Emma Mcintyre/Getty Images
On December 21, 1988, according to The Mirror, Pan Am Flight 103 departed from Heathrow Airport outside London for New York. Shockingly and tragically, the plane never arrived in the U.S. — an explosive device planted in a cargo hold exploded mid-flight, sending the fiery aircraft crashing to the ground in the town of Lockerbie, Scotland. Everyone on board — 243 passengers and 16 crew members — died, along with 11 residents of Lockerbie.
A number of well-known international celebrities, including a punk rock legend, were nearly among the deceased. According to interviews in the 2018 documentary "Lockerbie: The Unheard Voices" (via The Mirror), "Sex and the City" star Kim Cattrall cancelled her ticket on Flight 103 in favor of a later trip, and classic Motown act the Four Tops missed their flight because their taping time for the British TV show "Top of the Pops" changed. Sex Pistols frontman John Lydon also had a spot on Flight 103, along with his wife. On the day of the trip, however, Lydon's spouse took too long to get ready. "She just couldn't get the luggage together in time, so we canceled the flight," he explained.
Steve Jones opened up about childhood abuse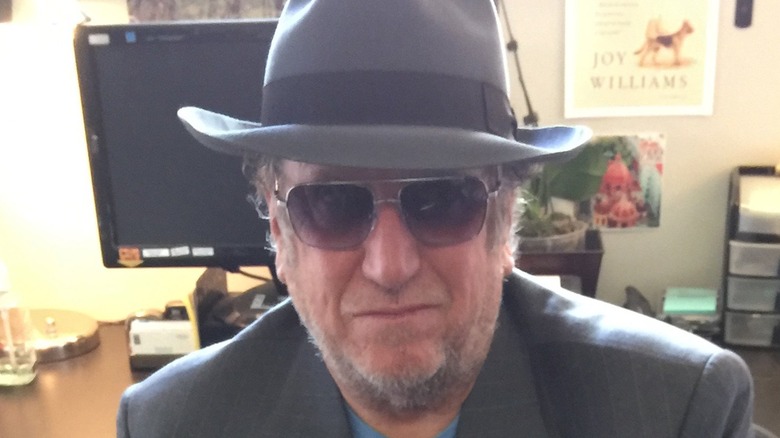 Jim Steinfeldt/Getty Images
Original Sex Pistols guitarist Steve Jones released his autobiography, "Lonely Boy" in 2016, according to The Daily Mail. Inside, Jones discussed at length his issues with love, relationships, and the sexual expression thereof. Into his 60s, he felt that he had trouble keeping good, caring romances alive for too long, and that the root of those problems, and habitual promiscuity, was an assault he suffered at the age of 10.
Jones told The Mirror's "Sunday People" that his stepfather abused him in the bedroom of his family's home in West London. "I never told anyone about it for years and it feels strange putting this in a book even now," he said. "But knowing the damage, the confusion I felt, makes me want to let anyone who's been in a similar situation know they're not alone." In his teenage years, Jones reports sexual relationships with both men and women, and he explains that he was undone over the assault. "It did enough to send me spinning. Looking back, that's why I've never been able to settle with anyone and why I've ended up a sex addict."
If you or anyone you know has been a victim of sexual assault, help is available. Visit the Rape, Abuse & Incest National Network website or contact RAINN's National Helpline at 1-800-656-HOPE (4673).
The Sex Pistols stirred up trouble with an appearance on the U.K.'s Today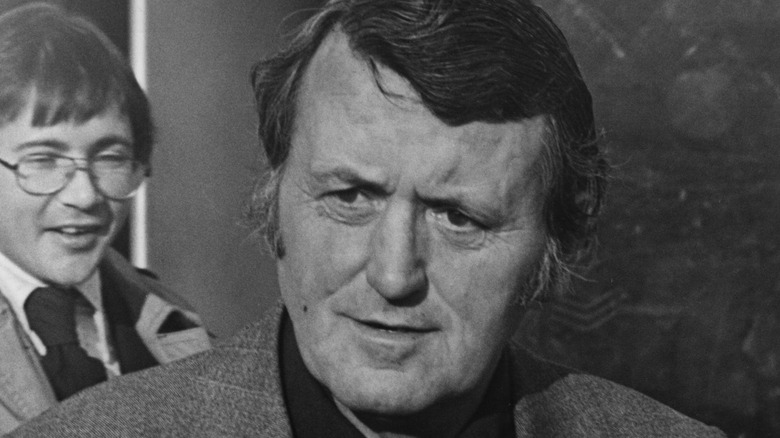 David Ashdown/Getty Images
They may have proven their punk rock bonafides with a gleefully snotty, rude, anti-authoritarian and profanity-laden appearance on "The Bill Grundy Show," but there were certainly ramifications. According to AllMusic, Sex Pistols manager Malcolm McLaren got the band a deal with dominant U.K. record label EMI in 1976, and they quickly recorded their first single, "Anarchy in the U.K." To promote the song, EMI booked the Sex Pistols on "Today," a lighthearted Thames Television hosted by journalist Bill Grundy. The Sex Pistols were a last-minute get, according to The Independent, filling in for Queen, who canceled not long before the broadcast.
Grundy and the band had a few drinks before the show, and according to The Guardian, the host introduced the group on air by claiming they were "more drunk than I am," although he'd later deny inebriation. As the episode wore on, the appearance fell apart. Grundy flirted with one of the band's fans in attendance (Siouxsie Sioux, later of Siouxsie and the Banshees) and baited musicians into doing something controversial. "Go on, you've only got another five seconds, say something outrageous," he quipped. Indeed, John Lydon and his bandmates swore profusely, and guitarist Steve Jones laid into Grundy, responding to the verbal attacks by calling the host a "dirty old man" and a "f****** rotter." For his behavior, Grundy earned a two-week suspension and then lost his job entirely.