A Look At Barbara Walters' Friendship With Woody Allen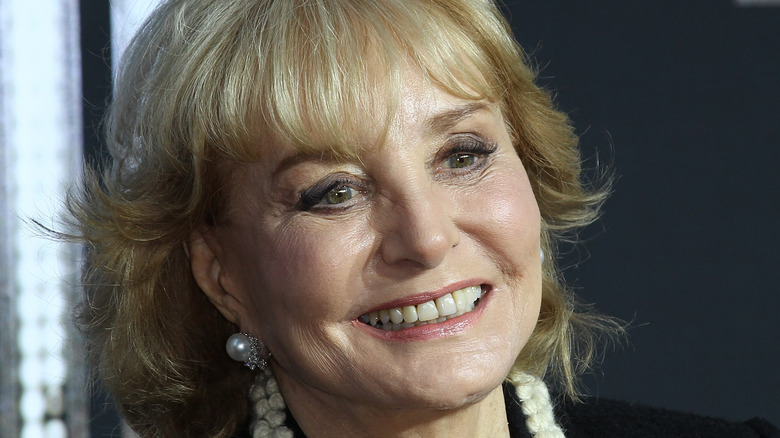 Neilson Barnard/Getty Images
Veteran TV journalist Barbara Walters, who died in late December 2022 at the age of 93, mixed with a lot of famous people throughout her long career as a broadcaster. This occurred most notably in her "Barbara Walters Specials," a well-regarded series of televised celebrity interviews, according to Variety. Though the two never sat down for a TV chat, one well-known person Walters was reportedly close with was Woody Allen, and that reportedly remained true even after the comedian, writer, and film director fell from grace in the aftermath of sexual abuse allegations from Dylan Farrow, Allen's co-adopted daughter with his former partner, Mia Farrow (via Esquire).
In 2014, when an open letter from Dylan was published in The New York Times outlining her accusations against Allen, Walters defended her friend on her long-running daytime TV talk show "The View," as TIME reports. A short time later, the career of the broadcast TV journalist was fêted at a Four Seasons restaurant in New York in honor of her retirement, and Allen, a famously reclusive celebrity, showed up and returned the favor, based on Vanity Fair reporting.
Walters called Allen a loving and caring father on 'The View'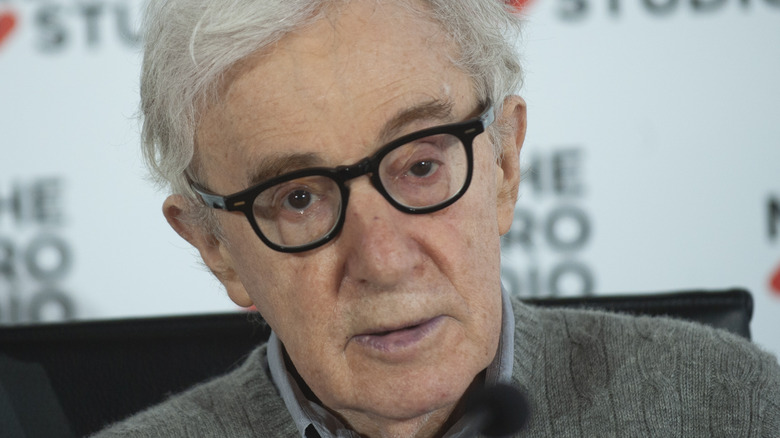 Gari Garaialde/Getty Images
In the 2014 episode of "The View," in which Walters' spoke out in defense of Woody Allen, Walters mentioned she'd spent time with Allen, his daughters, and his wife Soon-Yi Previn (who is Mia Farrow's adopted daughter). Allen never adopted Previn, but they met while she was still a teenager. A relationship between Allen and Previn began while the "Annie Hall" director was romantically linked with Mia Farrow.
At that time, Walters reportedly told her co-host, Sherri Shepherd (via The Hollywood Reporter), "I have rarely seen a father as sensitive, as loving and as caring as Woody is and Soon-Yi to these two girls. I don't know about Dylan. I can only tell you what I have seen now." To which Shepherd responded (per The Hollywood Reporter), "We've heard so many cases of people going, 'He was the most wonderful person in the world. I would have never thought he would've been responsible [for something like sex abuse]," Shepherd said. "Many things go on behind closed doors."
Without Walters, TV journalism will 'suffer,' Allen said
At the Walters' tribute in 2014, a reporter from the online news outlet The Wrap reportedly spoke with Allen, at which time he said without Walters, TV news and the news media would suffer but be fine (via Vanity Fair). Referring to Walters, broadcast journalism, Allen said, was a tough, gritty profession, but in his words, a great one. "Journalists have always been heroes to me. I was almost going to be one myself when I was younger," Allen said.
Walters' defense of Woody Allen cost her a lot in the court of public opinion and on social media, as TIME reports. As TIME elsewhere notes, Allen denied Dylan's allegations in her open letter published in The New York Times and called what she wrote untrue and disgraceful. No sex abuse charges related to Dylan's accusations were ever filed, according to CNN. Walters' heated 2014 exchange with her co-host Sherri Shepherd about Woody Allen on "The View" is posted on The Hollywood Reporter.
If you or someone you know may be the victim of child abuse, please contact the Childhelp National Child Abuse Hotline at 1-800-4-A-Child (1-800-422-4453) or contact their live chat services.