How Many Emmys Did Barbara Walters Have?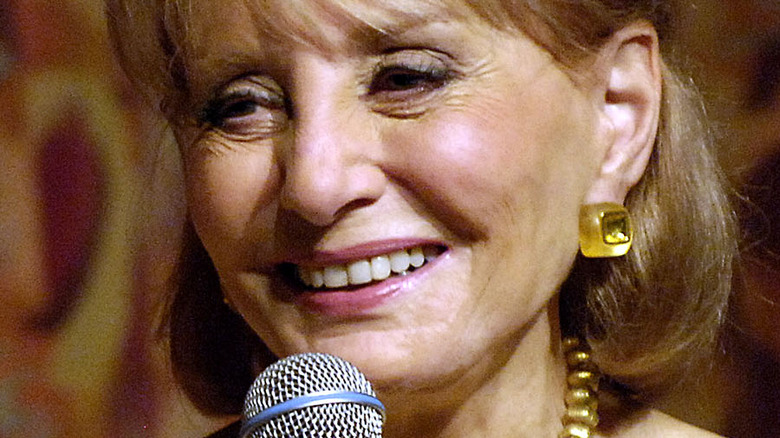 Toby Canham/Getty Images
Esteemed TV journalist Barbara Walters died Friday, December 30, at the age of 93, per The New York Times. No exact cause of death was given, but, according to a statement from her representative, Cindi Berger, Walters died "peacefully in her home surrounded by loved ones."
Walters began her on-camera career in 1964 on NBC's "Today" show, per the Times, and by doing so, she opened the doors for female journalists for generations to come. She officially became co-host of "Today" in 1974, breaking another barrier, and then made a switch two years later to ABC, where she would blaze another trail.
Decades later, Walters would create her long-running daytime talk show "The View." In her career, she also hosted a number of highly popular celebrity TV interview specials called the "Barbara Walters Specials," offering candid interviews with celebrities, politicians, and other notable individuals, per the Television Academy Foundation.
In accordance with a career as long and well-regarded as Walters had, she received many awards for her work and for her contributions to TV journalism. That list included a number of Emmy Award nominations, among TV's highest honors — but just how many Emmys did Barbara Walters win?
Walters received a lifetime achievement award in 2000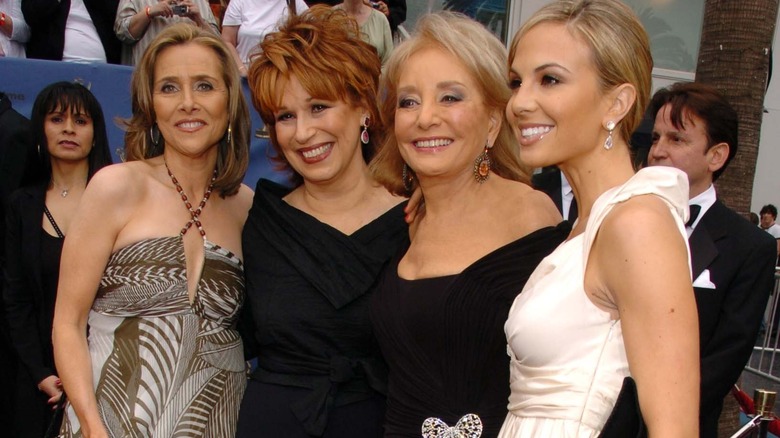 s_bukley/Shutterstock
When Barbara Walters left NBC for ABC in 1976, she became co-anchor of "ABC Evening News" with Harry Reasoner, per the Times, making more history. Walters also became the highest-paid journalist at the time, receiving a then-unprecedented five-year contract worth $5 million. In 1979, she began co-hosting the primetime newsmagazine program "20/20," which reunited her with former "Today" co-host Hugh Downs; she would host the show until 2004 (per Entertainment Weekly).
In the midst of this, Walters would launch "The View" in 1997, which many credit with changing daytime television as we know it (via Time). She would retire from the industry in 2014, per the Television Academy.
Primetime Emmy wins aside, in 2000, Walters received the Lifetime Achievement Award at the Daytime Emmys for her contributions to television, per Variety. In presenting the award to Walters, Oprah Winfrey said (via ABC News), "Had there not been Barbara Walters, surely all of the other women who have followed in her footsteps, including myself, could not stand where we stand and do what we do in this industry today."
In total, per EW, Walters received 33 Daytime Emmy award nominations and won three (1975, 2003, and 2009).
Walters received 12 Primetime Emmy nominations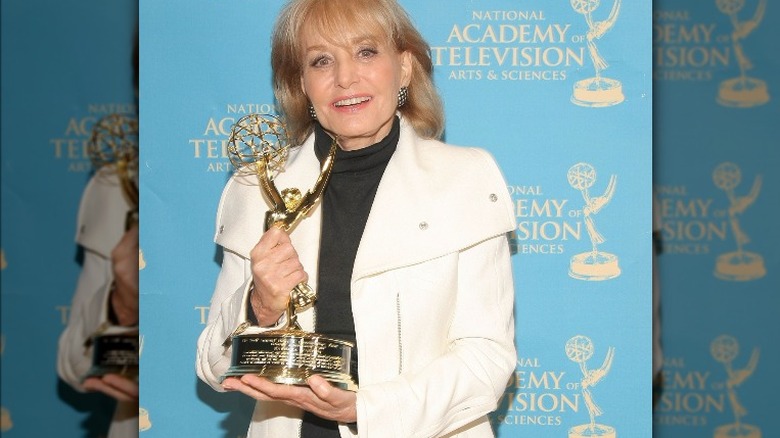 Michael Loccisano/Getty Images
What might come as a surprise to some, though, despite her broad esteem in the broadcast news industry, Barbara Walters won only one Emmy out of 12 nominations, per the Television Academy (the Television Academy did induct Walters into the Television Academy Hall of Fame in 1989, an honorary Emmy win). The first year Walters was nominated for a competitive Primetime Emmy award came in 1983, which she won. From that point forward, she was consistently nominated for her "Barbara Walters Specials," all for ABC. "Outstanding Informational Series" was the category all her future nominations would fall in.
Notably, in 1991, Walters was nominated for an Emmy for a "Barbara Walters Special" with Whoopi Goldberg, her future co-host on "The View." At the 2000 Daytime Emmy Awards ceremony in which Walters received her lifetime achievement award, she said (via ABC News), "I have been blessed with a life I never expected, and helping me up the steps of the ladder over the years have been hundreds of people."
In 2014, ABC News Headquarters in New York was renamed "The Barbara Walters Building," at which time Walters said, " ... I hope that I played a small role in paving the way for so many of you fabulous women" (via Axios).