How Barbara Walters Landed Her First On-Air Job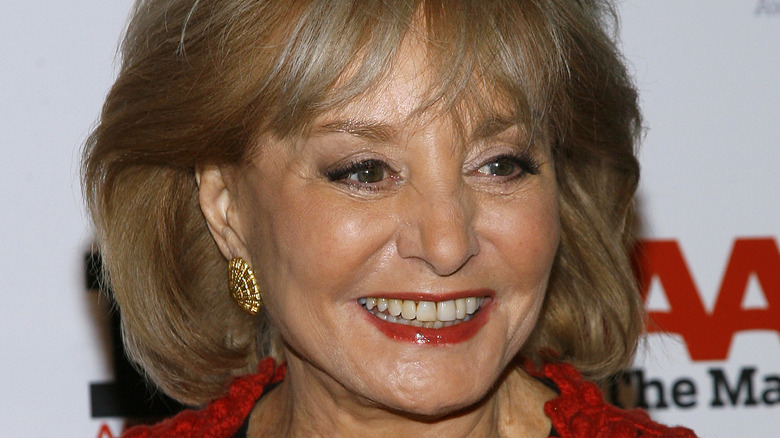 stocklight/Shutterstock
Barbara Walters, an icon in the world of television news and role model to generations of female journalists, died on December 30, 2022 at the age of 93. There are many that don't remember a time before Barbara Walters was gracing the small screen, making her delivery and powerful interviews staples in many American households. Whether she was presenting a feature story on "20/20" or, later in life, providing commentary on current events as a co-host on "The View" (per IMDb), there is no doubt that the gap left by the death of this influential personality will be hard to fill.
While many might assume that Walters went to journalism school and cut her teeth as a reporter for a local news affiliate somewhere, her rise to the lexicon of American television news was not exactly a traditional route that many of her contemporaries took. Here is a closer look into Barbara Walters' early career, including how she landed her first on-air job.
The beginnings of a television icon
On September 25, 1929, Barbara Walters was born in Boston, Massachusetts, to Lou and Dena Walters (per Biography). Her childhood was anything but stable, living between New York and Florida. Her father garnered both fortune and financial hardship as he founded many different nightclubs, with The New York Times noting that he was responsible for the Latin Quarter clubs located in Miami, New York, and Boston. From a young age, Walters noticed that her parents had a tempestuous relationship, though they remained married for 60 years. She wrote in her autobiography (via The New York Times), "I was old enough to recognize how other families lived, and they were not like mine."
Her grade school education was just as transient as her home life. She attended private schools in New York but was enrolled in the public school system in Miami, Fla., where she graduated from Miami Beach High School (per Biography). Walters attended Sarah Lawrence College, located in Bronxville, New York, and graduated with an English degree in 1951 (per The New York Times). The ambitious Walters initially worked in publicity and then as a television writer. According to ABC News, in 1961, she took a job as a writer for NBC's "Today" show; a job that would change the trajectory of her career.
Breaking the glass ceiling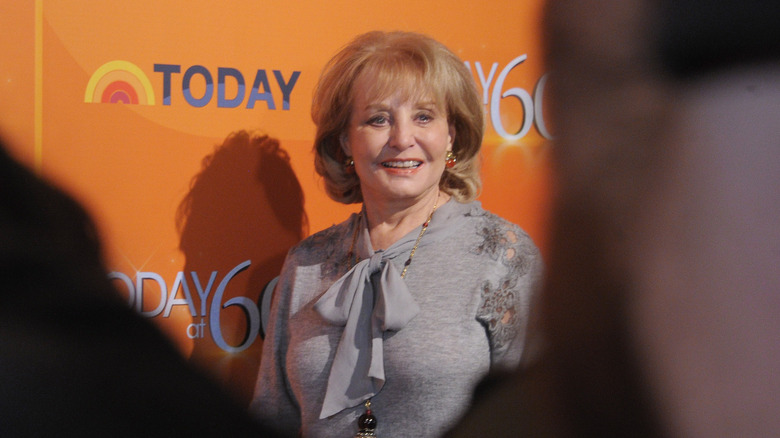 Michael Loccisano/Getty Images
Barbara Walter's initial job for the "Today" show was to be a writer for what The New York Times dubbed "an on-camera 'girl,'" noting that this person was generally either an actress or model. This led to opportunities to sometimes appear in front of the camera, including (per The New York Times) covering First Lady Jackie Kennedy's trip to India and Pakistan in 1962. However, Walters' appearances on "Today" were sporadic at best. 
Starting in 1962, Broadway and movie actress Maureen O'Sullivan was part of the panel for the "Today" show, joining full-time in 1964 (per TV Guide). O'Sullivan's full-time stint on the show was short-lived and, after she left that same year, Walters was brought in to replace her. Though she was a full-time member of the show, Walters hadn't yet achieved the status of co-anchor. She later described (via The New York Times) that "Today" host Frank McGee did not want viewers to see Walters as equal to him, having clauses written that he would ask the first three questions to any guest on set. When McGee died in 1974, Walters was elevated to co-anchor status, moving on from "Today" to ABC News, she made history as the first female anchor at an evening national news broadcast (per The New York Times). And the rest, as they say, is television history.