Details Revealed In Takeoff's Coroner Report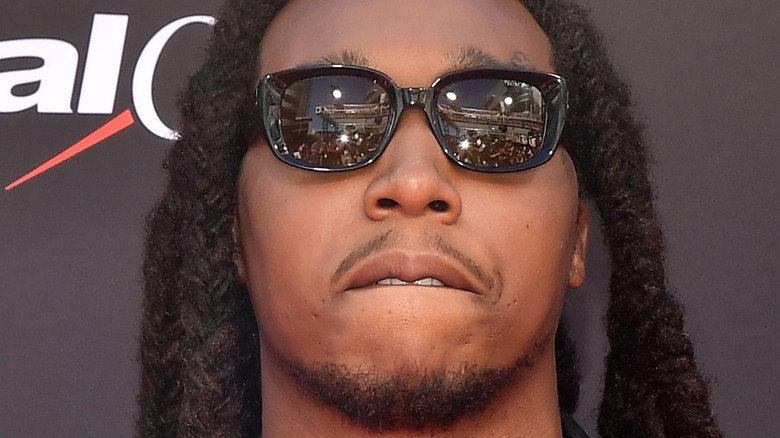 Matt Winkelmeyer/Getty Images
As the youngest member of the rap trio Migos, Kirshnik Khari Ball, also known as Takeoff, developed a brief but illustrious career in the music industry (via AllMusic). TMZ explains that Migos consisted of Takeoff, his uncle Quavo, and his cousin, Offset. According to the Library of Congress, the group was formed in 2008 in Lawrenceville, Georgia. Within a few years, Migos' music topped the charts. 11 Alive writes that their hit singles include "Versace " and "Bad and Boujee." In 2018, Takeoff dropped a solo album titled "The Last Rocket" but continued to make music with Migos and Quavo.
In October 2022, Takeoff and Quavo released "Only Built for Infinity Links." Shortly after, on November 1, 2022, TMZ reported that Takeoff had been shot dead at a bowling alley in Houston, Texas. Hours earlier, Takeoff had posted a snippet on Instagram of his and Quavo's new music video for their song "Messy." Prior to his death, CNN notes that Takeoff had acknowledged that being in the spotlight made him susceptible to being watched by individuals that have "bad intentions and don't want the best for you."
Per Chron, Takeoff, Quavo, and several other people were attending a private party at 810 Billiards & Bowling in Downtown Houston when an argument broke out over a dice game. Shots were fired, killing the 28-year-old rapper. Houston Police Chief Troy Finner explained (via AP News) that Takeoff was "well respected" and that there was "no reason to believe he was involved in anything criminal at the time."
Takeoff's fatal injuries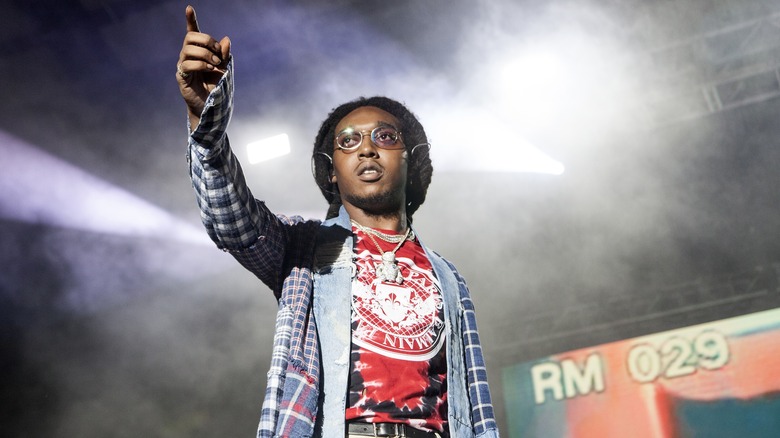 Jeff Hahne/Getty Images
AP News reports that at least two guns were fired during the altercation that ultimately killed Takeoff. Per CNN, a 23-year-old man and a 24-year-old woman were also shot but survived. In the moments after the shooting, video footage showed Quavo kneeling next to Takeoff (via TMZ). Tragically, Takeoff was pronounced dead at the scene. An autopsy report conducted by the Harris County Institute of Forensic Sciences in Houston was released a day after the incident. According to AP News, the coroner concluded that Takeoff had died from "penetrating gunshot wounds of head and torso into arm."
WSB-TV adds that he died outside of the bowling alley. According to NME, Takeoff's death was ruled as a homicide. However, the publication states that this is only a preliminary autopsy — Takeoff's complete autopsy has yet to be released. Upon his death, Migos' label, Quality Control, released a statement that said (via Page Six), "Senseless violence and a stray bullet has taken another life from this world and we are devastated." Quality Control added that Takeoff's death was a "monumental loss."
Variety states that several fellow hip-hop artists paid tribute to Takeoff on social media. This included Quavo, who released a lengthy message on Instagram praising his nephew. He stated, "You are OUR angel, watching me and watching us this whole time in living form making sure EVERYONE FELT UR LOVE AND HUGS while u here and u made our dreams come true." Meanwhile, NME writes that it was unclear who exactly had shot Takeoff, prompting the police to ask the public for help.
A suspect is arrested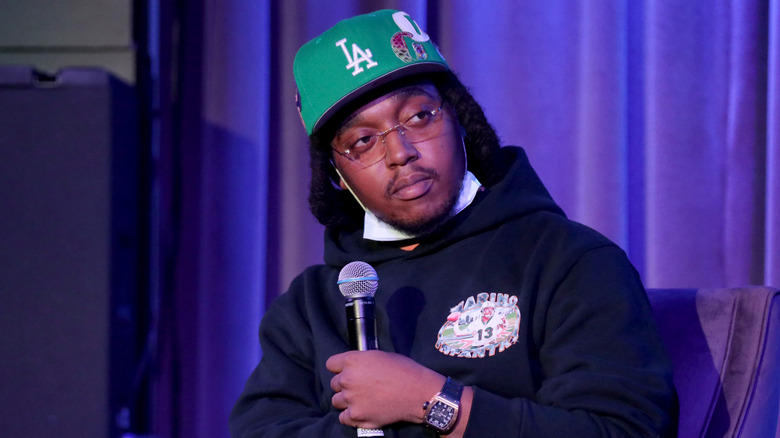 Rebecca Sapp/Getty Images
According to Insider, Takeoff's murder comes after the deaths of other hip-hop artists who, like Takeoff, lost their lives to gun violence. This includes Nipsey Hussle, Young Dolph, and Pop Smoke. With that said, the Houston Police Department noted that witnesses who were at the bowling alley when Takeoff was shot did not want to come forward (per NME). Page Six reported that it took a month after Takeoff's death for a suspect, 33-year-old Patrick Xavier Clark, to be arrested. Per ABC13, surveillance video showed Clark holding a gun and wine bottle at the scene of the crime.
ABC13 states that it's alleged that Clark fired the shots that killed Takeoff. Moreover, Clark had allegedly searched himself on the internet regarding Takeoff's murder. The police used the fingerprints on the wine bottle to identify him. As for a motive, HPD Homicide Division Sgt. Michael Burrow explained that Takeoff was simply at the wrong place at the wrong time (Fox 5 Atlanta).
He stated (via Fox 5 Atlanta), "There was a lucrative dice game that went on at the event. There was an argument that happened afterward outside the bowling alley, which led to the shooting." He added, "I can tell you that Takeoff was not involved in playing in the dice game, he was not involved in the argument that happened outside. He was not armed." At the time of this publication, it's unknown if Takeoff knew Clark. Clark, per CBS Austin, claims that he was not involved in the hip-hop star's death.