What Happened To The Original Members Of Three 6 Mafia?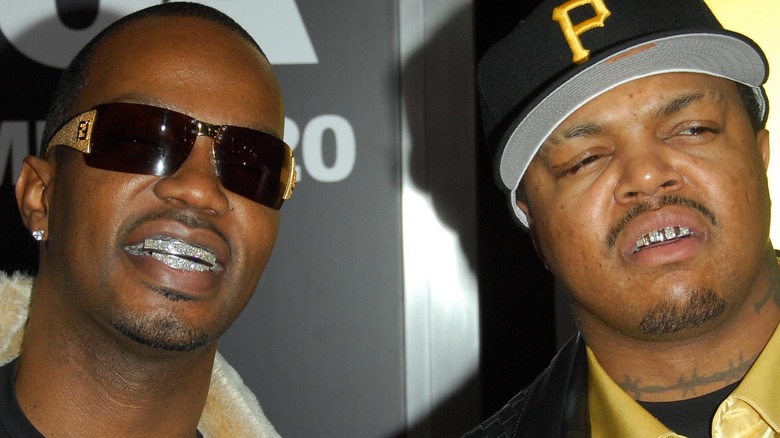 s_bukley/Shutterstock
Rapper Lola Mitchell, better known as "Gangsta Boo" from the influential Tennessee rap act Three 6 Mafia, died on January 1, 2023, as reported by NPR. She was 43 years old. However, no official cause of death was given when Boo's death was announced. A statement from the Mitchell family read, "The family is asking for your continued prayers and privacy as we process the loss of our loved one." With the death of Gangsta Boo, here's an update on where the other five original members of Three 6 Mafia are today.
According to the Memphis Music Hall of Fame, in 1995, long-time Memphis rap and hip-hop musicians Paul "DJ Paul" Beauregard (pictured, right), Ricky "Lord Famous" Dunigan, and Jordan "Juicy J" Houston (pictured, left) combined forces with Gangsta Boo, Darnell "Crunchy Black" Carlton, and Robert "Koopsta Knicca" Cooper. The group went on to release a string of hit albums and win an Oscar for its song, "It's Hard Out Here for a Pimp," from the 2006 film "Hustle & Flow," (per Variety). In doing so, Three 6 Mafia defined southern hip-hop for a generation (via AllMusic). 
Gangsta Boo left the group in 2000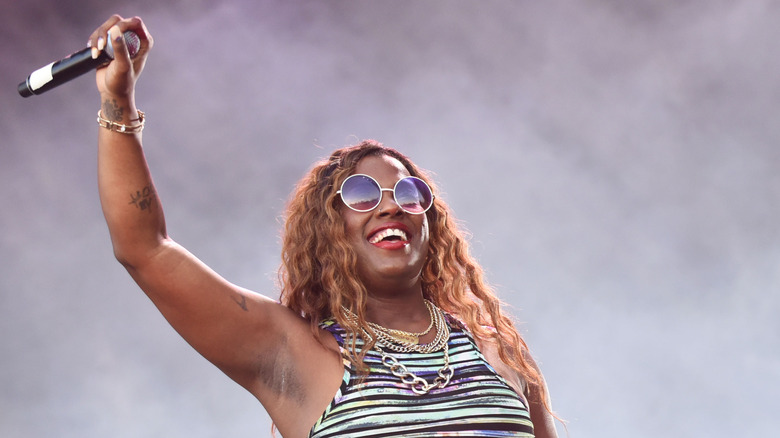 Chris Mckay/Getty Images
As the Memphis Music Hall of Fame explains, Gangsta Boo (pictured) left Three 6 Mafia in 2000 to pursue solo projects. Boo released a number of records under her stage name both before and after her departure from the group (via AllMusic). At that time, Boo was briefly replaced in the lineup with Chastity "La Chat" Daniels. On Three 6 Mafia's last full-length, "Laws of Power," only Juicy J and DJ Paul, who were also co-founders of the Hypnotize Minds record label, remained in the lineup. That same year, Three 6 Mafia was inducted into the Memphis Music Hall of Fame, according to Complex.
Also in 2012, Juicy J produced hits on his own, like "Bandz a Make Her Dance" with rappers Lil Wayne and 2 Chainz. J stayed active as a solo artist both before and after Three 6 Mafia went on hiatus. His last full-length under his own name, "Stoner's Night," came out in 2022. With the Mafia on a break, DJ Paul also diversified his business interests with DJ Paul's BBQ Rub and Sauce, via that product's website. In 2015, Koopsta Knicca, who at that time had also gone solo, died at the age of 40 in Memphis from what was reported as a massive stroke, according to Rolling Stone. Lord Infamous, also a solo artist, died in 2013 from a heart attack at the age of 40, also per Rolling Stone.
Some remaining Three 6 Mafia members reunited in 2019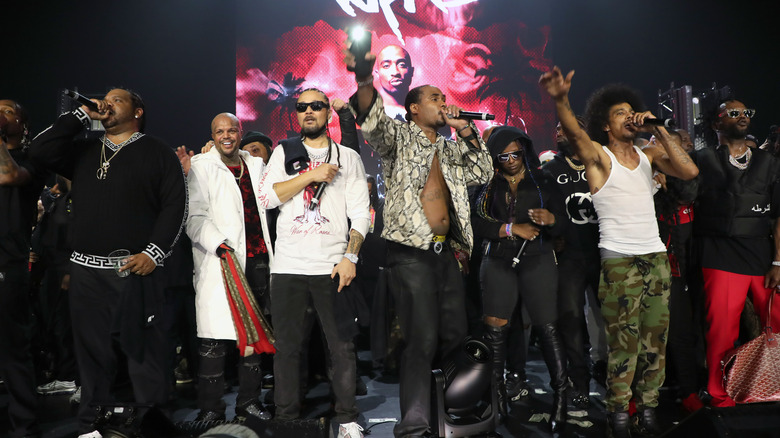 Jerritt Clark/Getty Images
In 2015, Crunchy Black was arrested for drug possession in Las Vegas, per Billboard. By 2019, the living original Three 6 Mafia members, including Crunchy Black, Gangsta Boo, and La Chat announced they were back together. A new Three 6 Mafia album was also possibly in the works, according to XXL Magazine. The group as it was performed a few concerts in 2019, after which time a full-scale tour was set to take place in 2020. Those shows were canceled on account of the COVID-19 pandemic (via Boplex.com). 
One year later, Three 6 Mafia, including Gangsta Boo, appeared on "Verzuz," a web-based series of rap battles launched during the pandemic. In that episode, a fight broke out between Three 6 Mafia and Bizzy Bone, from Bone Thugs-n-Harmony, according to HipHopDX. (Three 6 Mafia and Bone Thugs are pictured above on "Verzuz.") Around that same time, Paul addressed his group's legacy when he told HipHopDX, "At the end of day, everybody loves Three 6 Mafia. We literally changed the sound of music." After Boo's death  — who later on in her career changed her stage name to Lady Boo — DJ Paul, Juicy J, and others from throughout the hip-hop community shared their condolences on social media (via Complex).