The Truth About DJ Paul And His Arm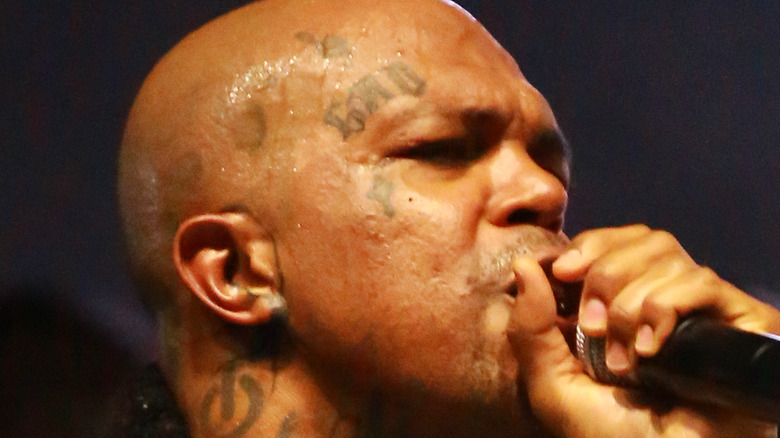 Shutterstock
DJ Paul, along with rapper Juicy J, founded and leads the Academy Award-winning hip-hop group Three 6 Mafia, who won the Oscar for Best Original Song in 2005 for their track "It's Hard Out Here For A Pimp," from the movie "Hustle & Flow." He also consistently wears a cast on his right arm, which is smaller than his left arm — in fact, DJ Paul reportedly refers to his right arm as his "baby arm." What's the deal with his limb difference?
Per Distractify, DJ Paul (Paul Beauregard) was born with Erb's palsy, which according to Cerebral Palsy Guide is "also known as a brachial plexus injury" and "often occurs during abnormal or difficult childbirth." The condition is caused by an infant's neck being stretched in a way during childbirth that results in damage to the brachial plexus, which is "a network of nerves that run down the spine and give feeling to the nerves in the arm." It occurs in about one out of 1,000 babies, and can be temporary or permanent.
Erb's palsy is reponsible for DJ Paul's limb difference
Ethan Miller/Getty Images
There are other types of brachial plexus injury, but the condition is known as "Erb's palsy" when "the paralysis affects voluntary movement in the upper arm and range of motion in the lower arm," according to Cerebral Palsy Guide. The nerve damage can lead to the affected arm growing more slowly than the other arm, per the American Academy of Orthopedic Surgeons, which seems to be the case with DJ Paul.
This makes the DJ's award-winning work — with the Three 6 Mafia as well as other acts, not to mention his 2011 win on the VH-1 cooking competition show "Famous Foods" — all the more impressive, as Reality Tea reports. Also impressive is Paul's work ethic. According to Earn The Necklace, he sleeps an average of just three hours a night, saying, "I feel like if I'm not working, then I'm losing and I'm not really giving my life what I should be giving."