Nile Rodgers' Award-Winning Music Career And Life Of Political Activism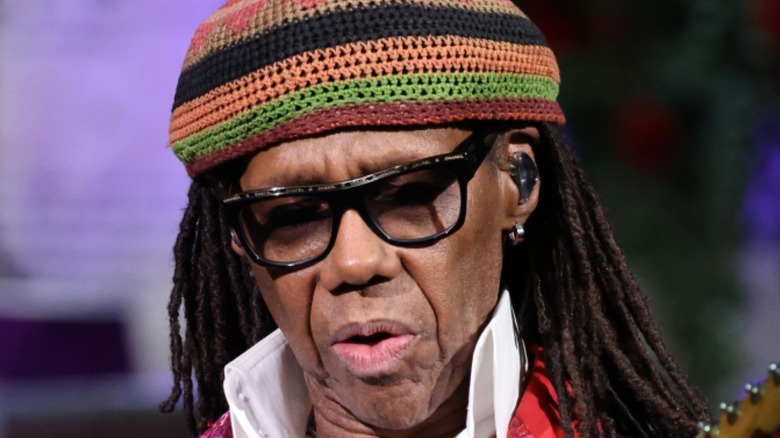 Jmenternational/Getty Images
When it comes to a musician's resume, it's hard to imagine one more complete than the one built by Nile Rodgers over the last 50 years. Rodgers began his storied career as a session musician, touring with "Sesame Street" shows before forming the Big Apple Band with bass player Bernard Edwards (via Barrypopik). The funk band underwent a name change in 1977, transitioning to the disco craze that was sweeping the U.S. (per Interview Magazine). Behind Rodgers and Edwards, Chic pumped out hit single after hit single that were staples of the club scene for several years and still send waves of nostalgia up the spines of listeners to this day. The club scene in that era reverberated with the heavy bass lines and catchy hooks of "Good Times," "Le Freak," and "I Want Your Love" becoming anthems of an era deep in the throes of "Saturday Night Fever" and Studio 54.
Rodgers became much more than an accomplished musician. He emerged as one of the most prolific music producers from the 1970s forward, putting together albums for the likes of Sister Sledge, Madonna, David Bowie, and the B-52s. His value as a producer is still sought after today, as he used his skills to work behind the scenes on albums for Adam Lambert, Christina Aguilera, and Daft Punk.
The three-time Grammy Award winner (via Grammys) has roots in political activism that began in his native New York City. As a person of color who felt marginalized in a culture that was quickly changing around him, Rodgers joined up with a chapter of the Black Panthers as a teen.
Nile Rodgers and the Black Panthers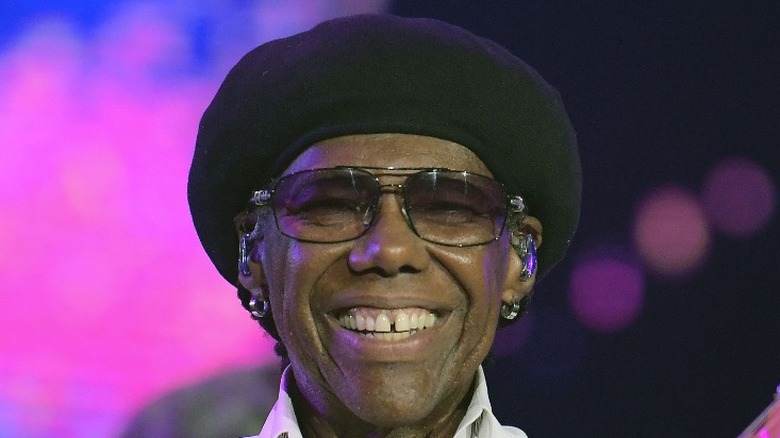 A.PAES/Shutterstock
By the time Nile Rodgers was 16, the Civil Rights movement and the war in Vietnam were in full swing. Both events had cut divisions down generational lines, with many of America's youth fighting uphill battles for changing the culture to be one of equality and justice for all. Interview Magazine reports that Rodgers fell into a group of Lower Manhattan Black Panthers that he described as a "wacky group of intellectuals." The famed musician and producer noted that there were so many movements going on all at once and that music became intertwined in the social and political landscapes.
In an interview with "Inside Edition," Rodgers revealed that he and his peers were impacted by the racial injustices and inequalities that pervaded their everyday lives. The war in Vietnam validated their thoughts on how people of color were treated as second-class citizens. He stated, "As we became a teen, especially people of color and poor people, were instantly just shipped off to Vietnam. So I was in a number of organizations that were antiwar."
When Rodgers made his way to Los Angeles, he admits that he became a "hippie" of the time. Speaking with Interview Magazine, Rodgers told of how he began to experiment with psychedelics, even taking LSD with the late Timothy Leary. Rodgers credits that experience with changing his outlook on life in only a short period.
Rodgers is still active in social issues today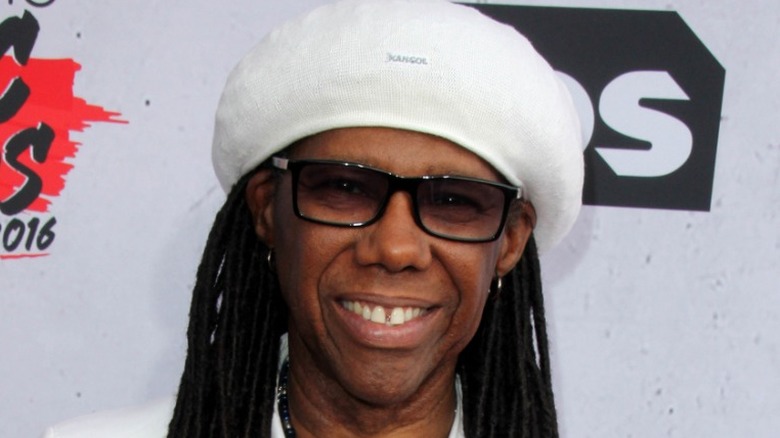 Kathy Hutchins/Shutterstock
As "Inside Edition" points out, the Black Panther movement was rooted in 1966 Oakland, California, and was centered on working to better the Black community. The group followed a doctrine that called for the end of police brutality toward members of the Black community. Black Panthers demanded peace for Black Americans, but also advocated for structural changes that would lead to fair housing, better educational opportunities, and peace.
The Black Panthers were labeled a communist organization by the FBI. The Panthers organized and led police watching patrols in predominantly Black neighborhoods, with many of the members openly carrying firearms. But Nile Rodgers said the heart and soul of the movement were much more than that: "Real Panther life is painting a person's house, taking their laundry, getting groceries, feeding kids. That's real Panther life."
Rodger's activism continues to this day. He founded the We Are Family Foundation in 2008 with the mission to "create programs that promote cultural diversity" and assist youth who have visions to make positive change (via the We Are Family Foundation website). An extension of this foundation is the Youth To The Front Fund, which gives aid to youth leaders of organizations that fight racial injustices and promote total equality (per PR Newswire).