The Gruesome On-Field Accident That Tragically Altered Red Sox Legend Tony Conigliaro's Life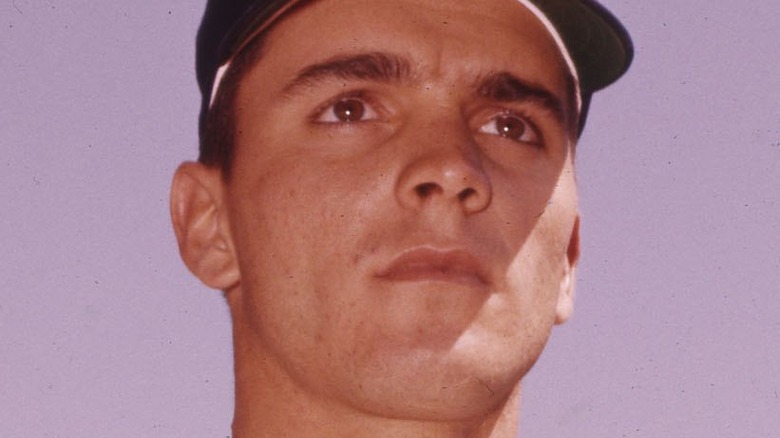 Transcendental Graphics/Getty Images
Although catastrophic injuries are most often associated with full-contact sports like football, all team sports carry with them some risk. That's even true of Major League Baseball, in which fastball pitches in particular travel in excess of 90 mph (via Popular Science) and on-field collisions happen frequently, as Bleacher Report illustrates. One such example took place in the late '60s when Red Sox right-fielder Tony Conigliaro stepped up to the plate to face off against right-handed pitcher Jack Hamilton of the California Angels, now the Los Angeles Angels, as Bleacher Report elsewhere notes.
What happened next in that fateful Conigliaro at-bat changed the fortunes of the rising Red Sox star, who while still a young player showed promise to match or exceed the career stats of legends in the game like Mickey Mantle and Frank Robinson. To that point, Conigliaro was the youngest player in the American League to hit 100 home runs, as The New York Times reports. Today, Conigliaro is most known for what happened on the diamond that day and the life-changing injury he sustained. 
Hamilton threw a high fastball
It was in the fourth inning of the Angels-Red Sox game in 1967 at Fenway Park when Tony Conigliaro, nicknamed Tony C., came to the plate against Frank Hamilton, who had recently been traded to the Angels from the Mets. In his stance, Conigliaro was known to crowd the plate (via ESPN), and although he wore a non-league-mandated hard plastic helmet, safety precautions in the Major Leagues were not what they are today, as The New York Times writes. Conigliaro's career had been affected by injury before: In the '64 season, a broken arm derailed his chance for Rookie of the Year honors.
In 1987, Hamilton recalled the fateful at-bat two decades earlier, telling the Associated Press (via ESPN), "​​It was a high fastball. [Conigliaro] didn't move at all. He didn't even flinch, jerk his head or anything. It was hard to sit there and take a pitch like that." Fan interference had caused a game delay before Conigliaro's at-bat, and the Red Sox outfielder feared Hamilton's arm had stiffened. Via ESPN, Conigliaro told Sports Illustrated in 1970 that those were the last thoughts he had before the ball hit him (per ESPN). "The ball came sailing right toward my chin," Conigliaro recalled. "Normally a hitter can jerk his head back a fraction and the ball will buzz by. But this pitch seemed to follow me in."
Angels' catcher, Buck Rodgers, ushered Hamilton away from home plate
Once Frank Hamilton's pitch struck Tony Conigliaro, he fell to the ground and remained motionless. Hamilton rushed to home plate to check on him, but Angels catcher Buck Rodgers urged Hamilton to stay away to spare him the gruesome sight. Conigliaro was severely bleeding — the pitch had broken Conigliaro's left cheekbone and damaged his left retina, according to Bleacher Report. His eyesight would never fully recover. Out the entirety of the '68 season, Conigliaro attempted a comeback in the MLB, but his game was greatly affected by the eye injury and never matched his former glory — nor did he ever live up to his potential.
There were some bright spots in Conigliaro's playing career after the Hamilton injury: He won Comeback Player of the Year in 1969 from The Sporting News, and in 1970, the Hutch Award, also given to comeback players, per Baseball Almanac. Conigliaro retired in 1971 and unsuccessfully tried to return to the game in 1975 with the Red Sox. After eight years spent in a coma following a heart attack, Conigliaro died in 1990. Recalling the Conigliaro injury in 1987, Hamilton, who died in 2018, said (via The New York Times) "I know in my heart I wasn't trying to hit him ... I never hit a guy that hard in my life. He went right down."