The Truly Horrific Crime Scene Of Renee Hartevelt, Cannibal Killer Issei Sagawa's Only Victim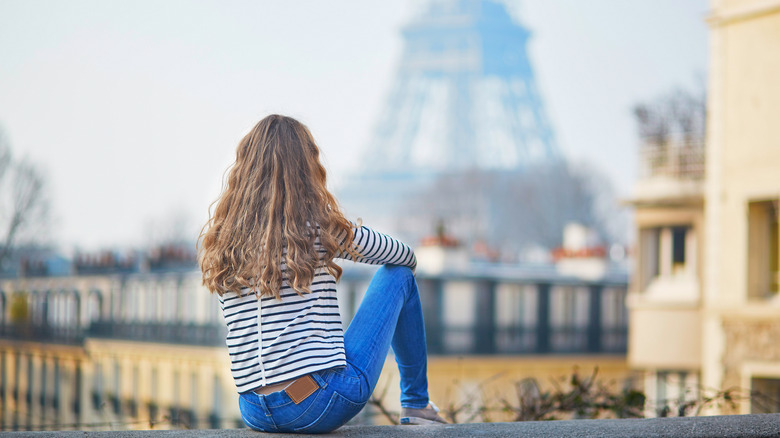 Ekaterina Pokrovsky/Shutterstock
The following article includes descriptions of cannibalism.
Issei Sagawa is known as the "Paris Cannibal" (via The Japan Times) and the "Kobe Cannibal" (via Newsweek) with good reason. Per The U.S. Sun, the Japanese native fantasized about eating people as a child. He later recalled being captivated by the classic fairytale, "Hansel and Gretel." In a 2009 interview with VICE, Sagawa admitted that as he grew older, "tall, healthy-looking Western women became the trigger for my cannibalistic fantasies." Eventually, Sagawa gave in to his desires. In 1977, he moved to Paris to attend Sorbonne University. Sagawa solicited sex workers intending to kill and eat them.
However, he could not go through with this plan (per VICE). In Paris, Sagawa met fellow Sorbonne student Renee Hartevelt in May 1981, according to Japan Today. The New Criminologist states that Sagawa was instantly smitten with the young Dutch woman. Sagawa befriended Hartevelt and asked her to tutor him in German. She agreed, and the lessons took place at Sagawa's apartment. But Sagawa never intended to learn German; he was on a quest to kill and eat Hartevelt. 
Sagawa planned to shoot Hartevelt on multiple occasions but couldn't bring himself to pull the trigger. Then on June 11, 1981, Sagawa worked up the nerve to shoot Hartevelt from behind. She was reading and was unaware of her impending death when he shot her in the neck. Sagawa told VICE, "For a split second I thought about calling an ambulance, but then I thought, "Hang on, don't be stupid. You've been dreaming about this for 32 years and now it's actually happening!"
Issei Sagawa ate parts of Renee Hartevelt over the course of a few days
Kathleen Svensson /Getty Images
Issei Sagawa wasted no time feasting on Renee Hartevelt's body, per the New Criminologist. He grabbed a knife from the kitchen and carved her body. In 2009, Sagawa told VICE, "The first thing I did was cut into her buttock. No matter how deep I cut, all I saw was the fat beneath the skin. It looked like corn, and it took awhile to actually reach the red meat. The moment I saw the meat, I tore a chunk off with my fingers and threw it into my mouth. It was truly a historical moment for me." Sagawa then sexually assaulted Hartevelt's corpse.
According to the New Criminologist, Sagawa placed the body in the bathtub and cut off Hartevelt's legs, arms, and head. He kept the water running to ensure the blood's disposal. In addition, he froze pieces of her thighs and buttocks. The Guardian states that Sagawa consumed various amounts of her flesh for the next two days, including her breasts, lips, and calves. Some of it he cooked in a frying pan. However, Sagawa knew he needed to get rid of the decomposing body. He bought two suitcases and stuffed Hartevelt's remains inside. Sagawa took a taxi to Paris' Bois de Boulogne Park and dumped the remains.
Sagawa, however, was spotted by witnesses, VICE wrote. Furthermore, the suitcases were bloody (per The U.S. Sun). The police quickly tracked down Sagawa and found Hartevelt's flesh in the kitchen and the refrigerator of his apartment.
Issei Sagawa never faced justice
Issei Sagawa quickly came clean to the police. He stated (via VICE), "I killed her to eat her flesh." Newsweek reports that Sagawa was arrested but was deemed unfit to stand trial; Psychologists concluded that he was legally insane. In 1984, Sagawa was deported to Japan (per The Japan Times). Although the Japanese authorities attempted to try Sagawa for murder, this never happened. The French authorities refused to provide Japan with Sagawa's case files. As a result, Issei Sagawa got off scot-free for murdering Hartevelt, having sex with her corpse, and cannibalizing her.
Instead, Sagawa became a celebrity-like figure in Japan, per Yahoo News. He made pornographic films and art. He also wrote a graphic memoir about killing Hartevelt titled "In the fog." Sagawa later reminisced about his crimes in a 2001 interview with The Guardian. He said, "When you fall in love, you really want to kiss her. It's just the same, I just wanted to taste her. I'm a cannibal. It's an obsession."
Sagawa later told VICE he had little remorse for his crimes and explained, "To this day, I still think, "If only she had let me taste her, just a little bit..." If we had spent another evening having dinner and chatting about our families, I never would have been able to kill her." In the same interview, Sagawa admitted that he still yearned for human flesh. Issei Sagawa died in December 2022 at 73 (via The Japan Times).