The Untold Truth Of The Masters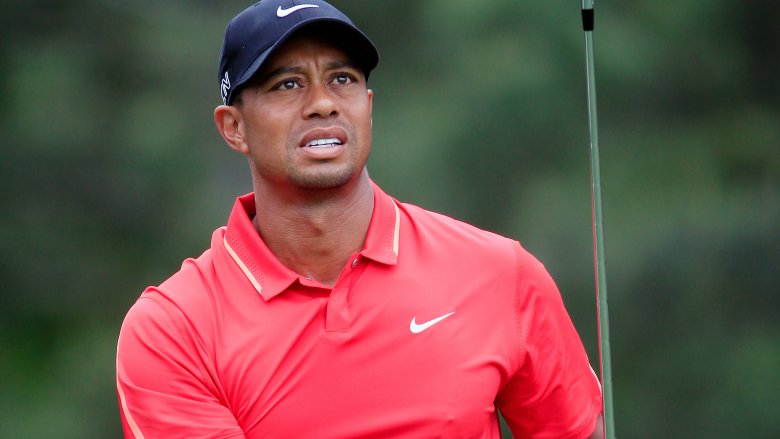 Getty Images
Hello, friends. Even if you don't give a hoot about golf, you probably know of the Masters. The beauty, grace, and pageantry — they're difficult to pull off without coming off as over-the-top corny, yet the good folks at Augusta National manage to do just that. Every year in April is appointment viewing (or appointment sneaking a look at the live coverage on the official website when your boss isn't looking) for golf fans.
How did we get where we are today? How did the third-largest city in the eighth-largest state end up having the premiere golf tournament in the world? If you think you know the story of Augusta National, you probably don't. It hasn't been a layup hole to get where they are today, but somehow Augusta National has made it out of some very tough (and very public) lies. Let's take a look at the Masters, from Tea Olive to Holly.
Out of the rough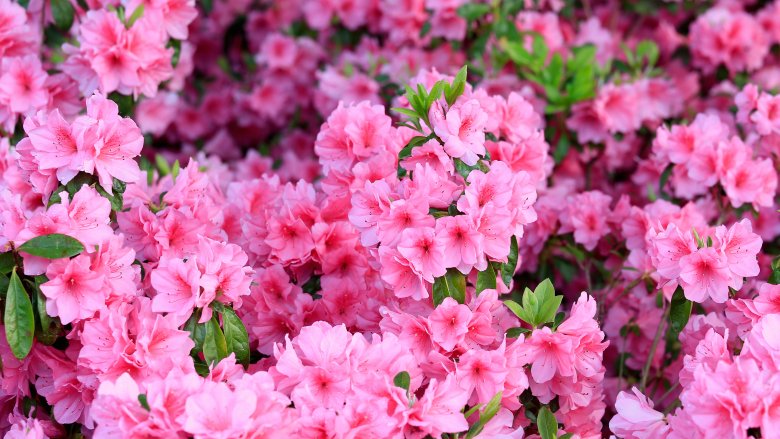 Getty Images
Azaleas used to be big business in the South. They still are the default go-to plant when you think "Southern living," and it stands to reason that nurseries were abundant at one time. One such nursery, known for those beautiful pink buds, stood on a nice patch of land in Augusta, Georgia. According to Active, Fruitland Nursery claimed to be the largest nursery in the South. That's a real nice piece of property ... the kind that could fit a golf course.
Golf in America in the early days of the game meant only one name: Bobby Jones. Despite the fact that he never turned pro — keeping his amateur status his entire career — no one could come close to matching his game. Jones was thinking of designing a golf course, more specifically a country club of exclusivity and grandeur. All he needed was someone with deep pockets who shared his passion for the game. Investment banker Clifford Roberts fit the bill, and the two purchased Fruitland in 1931. When Jones saw the land, he said, "Perfect! And to think this land has been lying here all these years, waiting for someone to come along and lay a golf course on it." The club formally opened in January 1933, and a year later what we now call the Masters began, with co-founder Bobby Jones playing and the main draw.
Looks good in green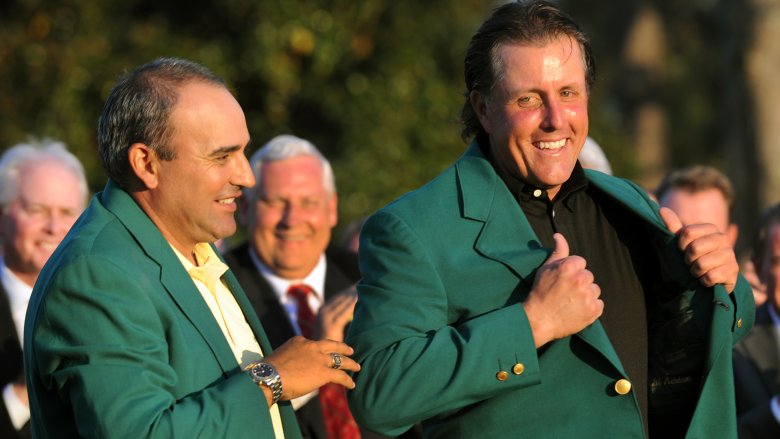 Getty Images
Busting your clubs for four days against the most difficult competition imaginable and getting a jacket that makes you look like a colorblind garcon may be the lamest award in pro sports. Each winner of the Masters is presented with a green jacket, presented by the previous year's winner. However, the prize is more symbolic of the ultimate exclusivity Masters winners share. According to Golf Monthly, co-founder Bobby Jones attended the Royal Liverpool in England and noticed club captains all wore matching jackets at a dinner to signify their position at the club. Jones brought that idea to Augusta National, so that during the Masters, club members would wear green jackets to stand out in the crowd. The exclusive green jacket extended to winners in 1949, with Sam Snead taking home the first green jacket as a non-member. 
There is a catch, however. The winner only keeps the jacket for a year. They can wear it anywhere in that time but must return it to the club by the next Masters. The only jacket not returned was Gary Player's. Player, the first international winner, took his 1961 jacket home to South Africa and accidentally kept it. The club struck a deal with Player, telling him he could keep it there as long as he didn't ever wear it in public.
Hard-to-see TV
Despite all the hype and beauty there is to Augusta National, it's kinda hard to watch on TV, especially the early rounds. Usually, a sport is at the behest of its network. Augusta National is the complete opposite of that and controls every single aspect of its coverage. Not every shot at this year's (or any years) Masters will be televised. The Masters TV coverage is limited, by design. Golf Digest says Augusta National and CBS have signed a one-year deal every year since 1956! The first two rounds of the Masters were not televised until 1995, and are now limited to a mere 2.5 hours a day. ESPN picked up coverage of the first two rounds in 2008, but conspicuously left its best known face, Chris Berman, off the coverage. All the rumors point to Augusta National telling the Worldwide Leader to keep Berman back back back in Bristol.
Golf Digest estimated the Masters turned a $29 million profit in 2015. That number could be a lot higher if the club gave up some power, but that probably won't happen. Tournaments are run with limited commercial interruption, leaving millions of dollars on the table. But you won't find any golf fans complaining about that.
The price is not bad
Getty Images
Compared to other major sporting events, tickets to the Masters aren't very expensive. They're only $75 a day for the practice rounds — and a few years back the entire weekend set you back only $325; that's less than half the price of the cheapest Super Bowl LII ticket. But in addition to a little cash, you also have to be the luckiest person on Earth to pick up a Masters ticket. Just about everyone registers online to enter a lottery to buy a ticket. The number of tickets available is limited to a relatively small number. If you don't get the chance to buy a ticket legitimately, there's always the scalper route, where prices can run from $1,500 to $12,000, but in 2018 Augusta National sent notices to some ticket holders who'd resold their tickets that their passes were invalidated and they were blacklisted from buying tickets for life. Risky business!
It's the most difficult ticket to get in all of sports, but if you do ever get the opportunity to buy a ticket, it's yours for life — you can purchase it every year after that. If you skip a year, you're out — your tickets go into that super-limited lottery for another lucky bum to have the opportunity to buy them.
Par for the course?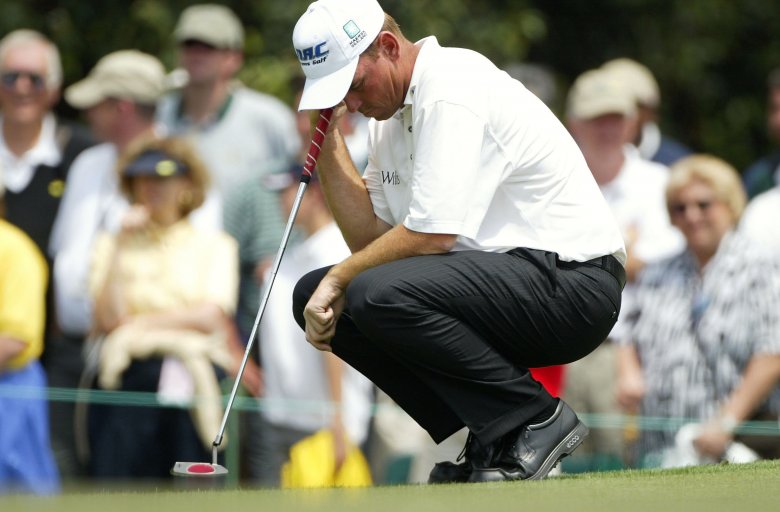 Getty Images
Let's do this the easy way: You know how in school you had that cool teacher that would curve your grade on a test? Golf has that too, but it's called a handicap. Sometimes you just get a straight-up curve, but other times the test is so tough the teacher curves the grade based on the highest score in the class. Think of that really tough test like a really tough golf course. Course rating (for the pros) and slope rating (for the joes) tell you what your real handicap is for that course. Almost every course out there has a course rating and a slope rating, but the Masters doesn't.
Augusta National has politely declined an official rating, stating, "Our members already know each other's games." That wasn't good enough for the inventor of the slope rating, Dean Knuth. In 2010, Knuth rated the course on the sly, walking along with the regular patrons at a Masters, counting steps golfers took from the rough to the course to attempt an accurate measurement. So, how hard is Augusta National? Somewhere in the rocket science-taught-backward range. The average score for a pro would be around 76 — that's 4 over par. As for the weekend hackers? Forget it — you'd be lucky to break 100.
Tiger-proofing
Everything in the world of golf changed after Tiger Woods decimated the competition at the 1997 Masters and made Augusta National look like a putt-putt course. After that win, Jack Nicklaus — a six-time winner, told the New York Times that Tiger would win more than his six and Arnold Palmer's four green jackets combined. The good ole boys down in Augusta weren't going to sit back and let Tiger and his new brand of long drives and soft touch tear up the most famous fairways out there. They did the only logical thing; they Tiger-proofed the course.
Tiger-proofing generally means lengthening a course. And it's true that Augusta National is now 500 yards longer than Tiger's 1997 run, but it's also loaded with a lot of trees, which makes it difficult for the long hitters to take shortcuts to the green. Lots of other courses have Tiger-proofed as well. The true effect hasn't been to make it tougher for the long hitters, but rather to take out the shorter hitters. As Bleacher Report points out, the fellas who lack distance can't even compete on courses where guys like Rory McIlroy are knocking it almost 350 yards off the tee. And that Tiger-proofing at Augusta? Woods still won twice afterward.
The true groundbreaker
Lee Elder had a great 1974 tour season — with a victory and three top 10 finishes. That all qualified him to earn an invite to compete in the 1975 Masters. That's how it works, right? You play well, and you get to go. Thing is, Lee Elder is black.
That might not seem like a big deal today, but when you look at the history of Augusta National, it sure was. They didn't invite their first black member to join until 1990, there was a time when all caddies were black by rule, and Augusta Chairman Clifford Roberts once claimed, "As long as I'm alive, the golfers will be white, and caddies will be black."
Well, Charlie Sifford was the first black golfer to earn a PGA tour card in 1961, Lee Elder was the first to earn an invite to the Masters, in 1975, and Roberts did live to see both of those events. The BBC reported that Elder received death threats before the tournament, but that didn't deter him. Once inside, Elder said he got nothing but support from the Augusta faithful: "Every green I walked up on, the applause was tremendous." Elder could tell stories from the tour that'd curl your hair, but Augusta National welcomed him with open arms in 1975. He missed the cut but returned five more times, with a best finish of 17th place in 1979.
Clifford the big ole racist
You might know the name Bobby Jones, but unless you're a pretty big golf fan "Clifford Roberts" probably won't ring a bell. You can make the case that Roberts is responsible for everything the Masters is today by molding the tournament and the club to fit his wants. He designed the first tournament using Bobby Jones to draw both golfers and fans. The best way to describe Roberts is "complicated." A Machiavellian perfectionist with his own demons, he had a number of odd quirks. No bark was allowed on the firewood, and he liked his office stupid hot to the point of uncomfortable. His lasting legacy is his most infamous quote about black golfers.
Ill health (cancer and a stroke) followed Roberts' final years. In September 1977, Roberts walked out to the par 3 course, near the former cabin of President Eisenhower, put a .38 revolver to his head, and pulled the trigger. Sadly, his parents had both committed suicide as well. Even in death his perfectionist nature ruled — he did the deed around 3 a.m., which assured that the morning crew would find his body and quickly remove it without interrupting the day's rounds. He even had a new haircut and new pajamas on under his trenchcoat.
A creek runs through it
In 1734, an Irishman named John Rae settled in Augusta and picked up a nice piece of property with some water, and promptly slapped his name on the cute little creek it had. All these years later, Rae's Creek has been the downfall of many young and old golfers — and almost a president. The mud sucked Dwight Eisenhower in knee-deep, and Ike had to be pulled out by Secret Service, according to the Daytona Beach News Journal.
The creek obviously predates the course, and is more than just a golf ball depository for frustrated pros. Even without Augusta National, Rae's Creek has an incredible feature — a pre-Civil War era aqueduct not too far from the course. So the beauty and majesty of Augusta National extends beyond the course, and the creek knows no prejudices. About 5 miles from the beauty that inspires hushed voices and flowery prose sits a trailer park with beer bottles and cigarette butts. It's a nice reminder that outside the facade and the green jackets, life still flows in all its reality.