The Tragic 1929 Death Of The Father Of Texas Blues, Blind Lemon Jefferson
Blind Lemon Jefferson isn't particularly well known in Dallas these days, according to an article in the Black Music Research Journal. One hundred years ago, however, he was the town's most popular street performer and a trendsetter in the Texas blues scene. His influence was wide-reaching and long-standing. Besides fellow blues artists, his songs have been covered by the likes of Bob Dylan, Elvis Presley, and The Beatles, among many others (via Encyclopedia). Since 1980, he's been a member of the Blues Hall of Fame, per the Texas State Historical Association.
Jefferson's guitar-playing techniques were innovative for the time, and his two-octave vocal range was striking, according to the Texas State Historical Association. He tapped into dance trends of the era, one reason his music was popular. Among his best-known compositions are "Black Snake Moan," "Matchbox Blues," "Mosquito Blues," and "See That My Grave Is Kept Clean" (via Britannica). He also recorded spirituals under a different name. He died young, however, and the facts about his death have always been murky.
Jefferson's unusual life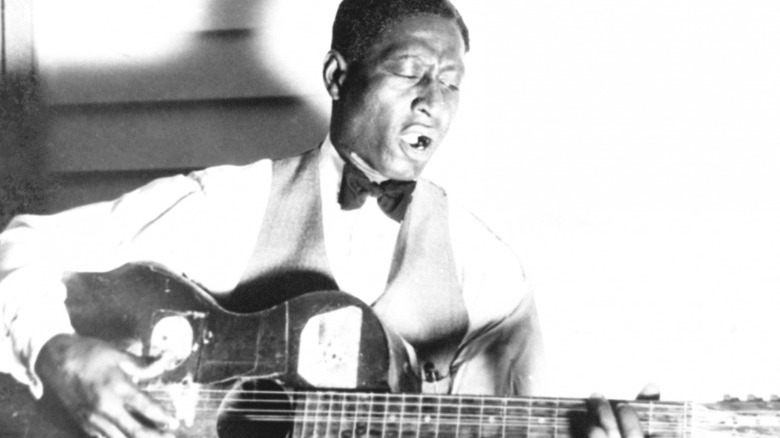 Michael Ochs Archives/Getty
Jefferson's early life is almost as obscure as his death. He was probably born between 1893 and 1897 in Coutchman, Texas, a bit east of Waco (via Texas State Historical Association). His given name was probably Lemmon Jefferson. He's believed to have been blind from birth, and he turned to music because he could neither go to school nor work on his family's farm.
Around 1912, as a teenager, Jefferson went to Dallas for the first time. He sang and played slide guitar on the streets in Dallas' Deep Ellum neighborhood. According to Encyclopedia, he was limited to this area because white people, jealous of his popularity as a street performer, didn't want him playing downtown. In Dallas, he met Huddie "Leadbelly" Ledbetter, a fellow musician (pictured). They began performing together, traveling between Texas towns by train. Per Britannica, Jefferson played in brothels and saloons as well as on the street. The Black Music Research Journal notes that he also played more respectable venues: private parties, country dances, and church services.
In the 1920s, Jefferson got married and was discovered by talent scouts. He made his first recording for Paramount in 1926, and it sold well nationwide, according to the Texas State Historical Association. Over the next three years, he made 110 recordings and continued to enjoy commercial success, though his popularity faded somewhat with time (via Black Music Research Journal).
Jefferson's mysterious death
Jefferson died in December 1929 in Chicago. That much is certain. However, the exact circumstances of his death are now shrouded in myth. Even among those who knew him, the story is conflicting. It doesn't help that there's no official record of his death, and thus no official pronouncement on the cause, according to the Black Music Research Journal.
One story is that Jefferson died in a snowstorm as he tried to make his way to his Chicago hotel. The person who'd promised to pick him up from the train station had never come. In the snow, it was harder to hear, and Jefferson became disoriented and never made it to his destination.
Two different residents of Wortham, Texas, where Jefferson lived for years, suggested foul play was involved. One, Hobart Carter, said Jefferson "got amongst the wrong bunch" (via Black Music Research Journal). At the time, the Wortham newspaper only reported that he'd died of a heart attack, and this is the most commonly given reason. His producers, Mayo Williams and Arthur Laibly, said Jefferson had his heart attack in a car and was abandoned by his chauffeur. Jefferson then died of exposure, because of the cold.
His body was brought back to Wortham and buried in an unmarked grave. Nearly 70 years later, the town put up a headstone, engraved with Jefferson's lyrics: "Lord, it's one kind favor I'll ask of you. See that my grave is kept clean" (via Texas State Historical Association).