A Town In Washington Was Once Sold To A Couple On eBay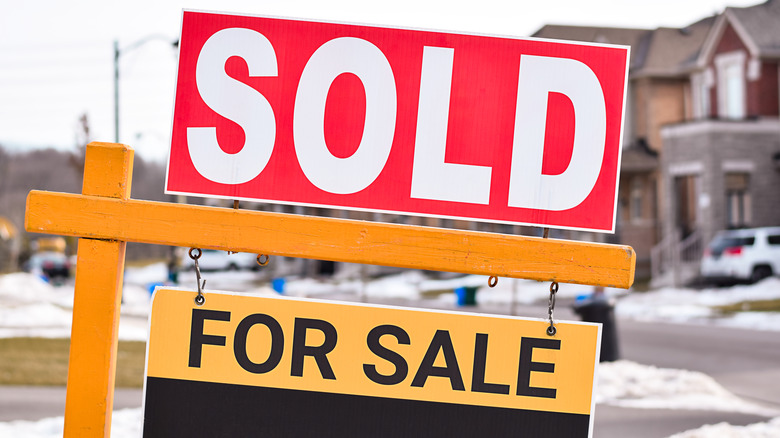 Juliealexk/Getty Images
There are many things one can purchase on the internet, and with bidding sites like eBay, the sky is the limit on how large or unusual items up for sale may be, as one couple discovered when they bought an entire town. The town of Wauconda sits in Okanogan County, Washington, and has little more than a restaurant, general store, gas station, post office, and a four-bedroom home, according to Smart Cities Dive. However, the size of Wauconda doesn't do anything to negate its charm.
In 2007, Daphne Fletcher purchased the town for $180,810 from the previous owners, who were looking to retire (per Seattle Times). Like many people, Fletcher had experience with selling things online. When she was ready to put the town of Wauconda back on the market, she did so in a rather unorthodox fashion by listing it on eBay for $200. As it turns out, it's perfectly acceptable to list a property for sale on eBay. However, eBay policy states that there are some stipulations: "eBay property listings are not legally binding offers to buy and sell a property. Instead, they are simply a way for sellers to advertise their property and meet potential buyers." Selling an entire town on the internet is no easy feat, but eventually, Fletcher found the perfect buyers, Maddie and Neal Love.
Selling a town on the internet is no walk in the park
According to the Association of Washington Cities, there are around 281 towns and cities in Washington. Of those cities, Maddie and Neal Love fell head over heels for Wauconda's beauty. Before their purchase, Fletcher already listed the town for sale multiple times. The first was in 2008 when Wauconda went on the market for $1.1 million, according to Seattle Times. By the time it was listed again, the Loves were mildly interested in purchasing the small town.
When Fletcher listed the town online, the endeavor gathered attention from around the globe and eventually reached the Loves. Both Maddie and Neal lost their jobs and didn't see their desire to own Wauconda as attainable. However, Fletcher's eBay adventure proved to be more difficult than fruitful. Fletcher received many bids, with a few prospective buyers even making the trek to see the small Pacific Northwest town. However, none of the bidders committed to the purchase (via Seattle Times).
The eBay listing wasn't a total loss as it worked to notify the Loves of the town's availability. When all the bidders either backed out or went silent, the Loves made their move. Not without fear, however, as Maddie said in a quote published by Seattle Times. "We're terrified. Neal almost puked the other night when we signed the paperwork." The couple sold their home, and all of their creature comforts to make their dream a reality.
The Loves fell in love with Wauconda
Maddie and Neal Love purchased the town of Wauconda and all of its history for $360,000 after falling in love with it. The breathtaking scenery and nature that is so prevalent in the Pacific Northwest drew the couple to the town. "You can look up and see the Milky Way. It's God's country. You can hear the coyotes and wolves," Maddie said in a quote published in Seattle Times.
Wauconda is a town rich with history. Where it currently sits is actually its third location. According to Ghost Town USA, Wauconda first came into existence in 1898 when gold was discovered. When that gold started being more difficult to find, the town moved to a new location. After a new highway was built in 1929, the town store and post office were relocated closer to the higher trafficked area. In 1930, Wauconda landed in its final location. Purchasing an entire town isn't something most people can say they've done in their lifetime, though sometimes, as the Loves proved, falling in love with a place is enough to justify a big adventure.