The Tragic 1925 Death Of Baseball Legend Christy Mathewson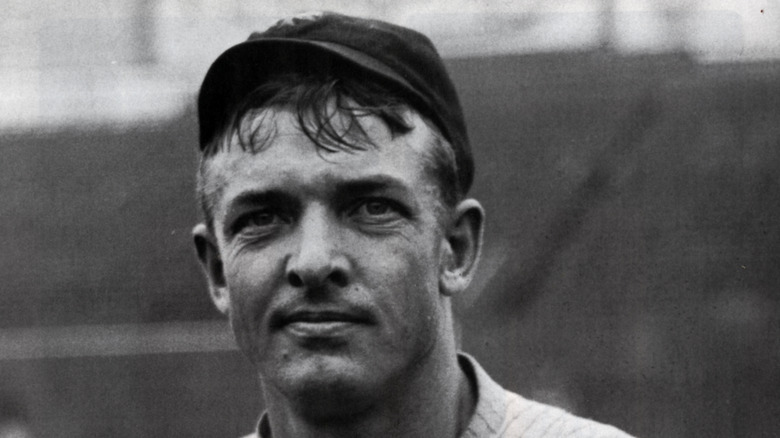 Transcendental Graphics/Getty Images
Christy Mathewson was, as Pennsylvania Heritage reports, a baseball player unlike any other of his time. At a time when the sport was known for hellraising, devil-may-care men like Ty Cobb, Mathewson was an educated, erudite, devout Christian who refused to play on Sunday. So honest was the New York Giants pitcher that on one occasion, he admitted that one of his own players had failed to touch second base while rounding the bases (this was decades before instant replay, obviously), costing his team their shot at the postseason.
Compelled by duty and his desire to do the right thing, Mathewson did as many other men of his time did, and joined the war effort, heading overseas to fight in World War I. That decision cost him his life; or at least, that's the narrative that's been accepted about his death for nearly a century. As the L.A. Times reports, he inhaled poison gas during a training exercise in France, and half a decade later, died of tuberculosis, his lungs weakened from the gas exposure. However, the narrative of the gas exposure leading to his death has been called into question recently, and the two events may be nothing more than just a coincidence.
Mathewson goes to war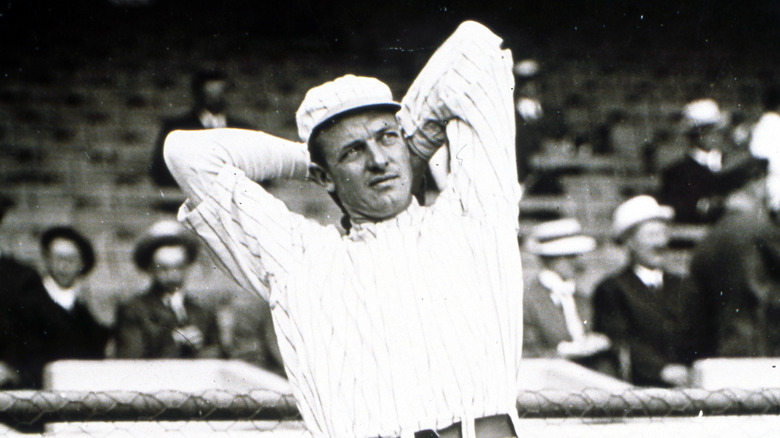 Transcendental Graphics/Getty Images
"Mathewson pitched against Cincinnati yesterday. Another way of putting it is that Cincinnati lost a game of baseball. The first statement means the same as the second," said writer Damon Runyon after yet another loss to Mathewson and his New York Giants (via the Baseball Hall of Fame). So adept was the Pennsylvania-born pitcher at his job that, for a time, it seemed that putting him on the mound was a guaranteed victory. As Baseball-Reference reports, over 17 seasons, he racked up 373 regular-season wins against 188 losses. "He could pitch into a tin cup," said legendary Chicago Cubs second baseman Johnny Evers.
When World War I came calling, lots of baseball players joined the war effort. Mathews was 38 years old by this time, and though well past the age at which he could have been drafted, he still felt he had something to contribute, as Medium reports. At the time, chemical warfare was emerging as a viable threat, and he and other baseball players, Ty Cobb and Branch Rickey included, joined the Chemical Service. He was shipped off to France, where he would train soldiers in their chemical-related duties.
Did gas inhalation contribute to Mathewson's death?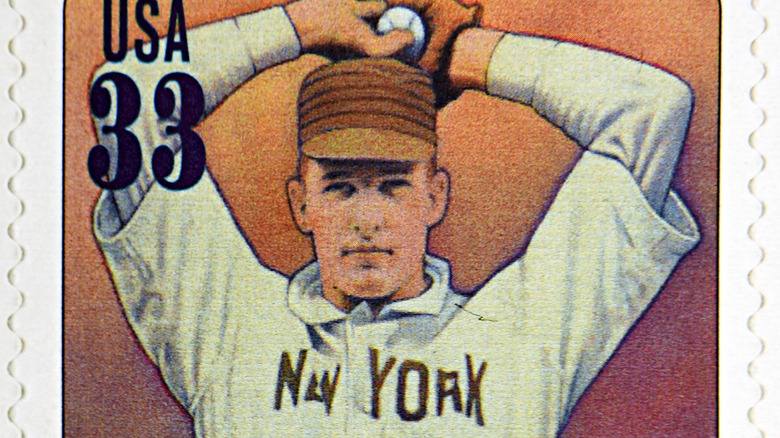 neftali/Shutterstock
Christy Mathewson inhaled poison gas while conducting training exercises in France; that much is true, according to Medium. He also died a few years later of tuberculosis, a disease that affects the lungs, as the L.A. Times reports. That's created the narrative that the former was, at the very least, a factor in the other, as tuberculosis will, of course, be more severe in people with weakened lungs.
The issue is that the two things might very well be coincidence. Matthews himself would say that while in France, he contracted the flu, and that he also got a "whiff" of gas. Similarly, in 1923 he told the Albuquerque Journal that, while in France, he "got a few little sniffs of gas." That article also mentions that it was the opinion of Army doctors that his tuberculosis was the result not of inhaling poison gas, but of having had influenza.
Mathewson died on October 7, 1925, according to Pennsylvania Heritage. Knowing the end was near, he reportedly told his wife, Jane, to "go out and have a good cry. Don't make it a long one. This is something we can't help." To this day, his hometown of Factoryville, Pennsylvania celebrates Christy Mathewson Day.