Who Is Cooper Manning, The Forgotten Manning Brother?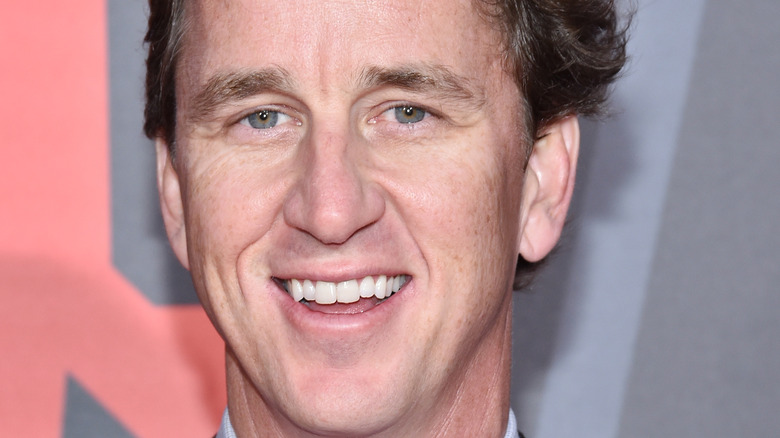 Mike Coppola/Getty Images
Throughout the history of professional sports, there have been multiple occasions where brothers were both playing the same sport at the same time — often on the same field as competitors. For example, in baseball, there were the Alou brothers and the Alomar brothers, among others. In football, one name of a pair of siblings transcends the fact that they were merely two brothers in the same sport; rather, they were part of a legacy going back to their father. Eli and Peyton Manning were two of the best quarterbacks in their day, but they played in the shadow of their dad, Archie Manning, himself a great football player and a member of the New Orleans Saints Hall of Fame.
However, Eli, Peyton, and Archie weren't the only Mannings to make a splash on the football field. A third Manning (or fourth, if you count their dad) also played football, and played it exceptionally well. Cooper Manning was, at one time, on-pace to become a professional football player, and possibly one of the greats — until an illness sidelined his promising career.
A Rare Illness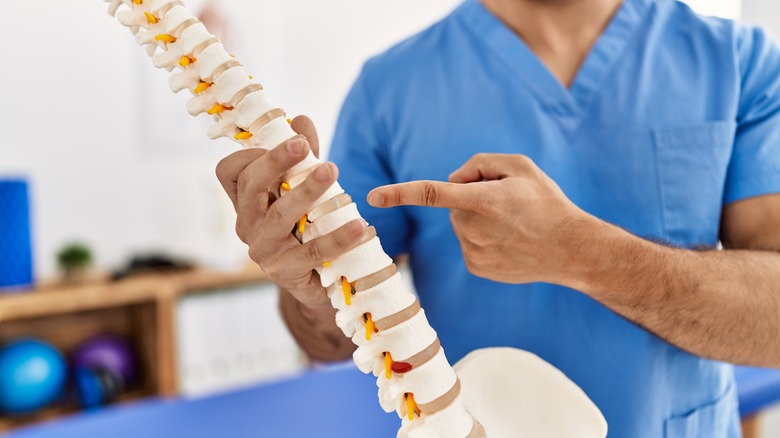 Krakenimages.com/Shutterstock
Cooper Manning's childhood was largely idyllic, growing up in New Orleans with a homecoming queen mother and a professional football player for a father (via USA Today). Perhaps not unexpectedly, he followed in his father's footsteps and was a standout on the high school football field as a wide receiver — catching passes thrown by his quarterback younger brother, Peyton. He then went to Mississippi to play the college game. Unfortunately, around this time, he began feeling numbness in his hands and fingers, and when he got the diagnosis, it was a career-ender. Specifically, he was diagnosed with spinal stenosis. As the Mayo Clinic explains, spinal stenosis results when the space inside the spinal column is too small, putting pressure on the spinal cord and, in turn, causing symptoms such as tingling, numbness, and weakness. Some people have no symptoms, while the symptoms in others can be severe.
That ended his football career forever; he even swore off pickup games. "I don't play that game. I don't think that's a good thing. The only thing that is going to come out of that is feeling sorry for yourself," he said (per USA Today).
A Desk Job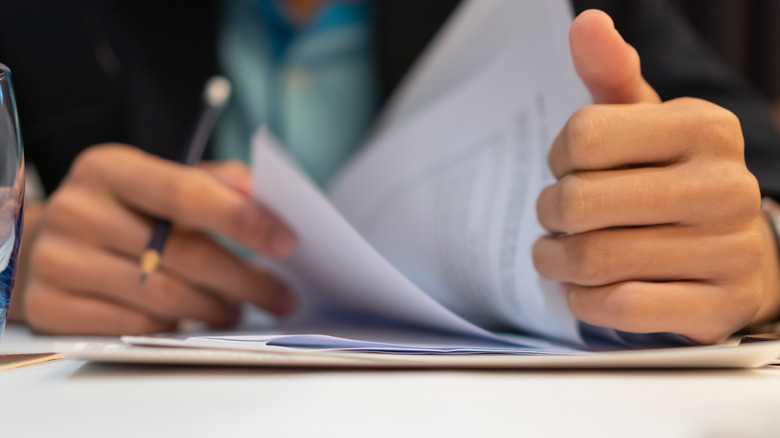 smolaw/Shutterstock
His football career throttled, Cooper Manning traded the gridiron for the cubicle. Specifically, USA Today caught up to him in 2008 at an unidentified New Orleans skyscraper, where he was working as a trader in energy stocks. "I like my gig here. I'm trying to blend in. I'm not doing a very good job this week," he said, the last bit a nod to the fact that Super Bowl XLII was happening that week and his brother, Eli, was going to be on the field.
That was, of course, over a decade ago, so where is Cooper now? As recently as 2014, a Twitter account bearing his name and image (it's unverified, however) seemed to indicate that its owner was working in energy. "NFL sucks ... energy rules," the account wrote in one tweet, "I'm still alive ... If anyone cares anymore. #EnergyRulez," he wrote in another.
While it's unclear whether or not he is still in energy, Cooper is definitely still on the payroll of Caesars Sportsbook. According to a companion USA Today report, the entire Manning family — Archie, Cooper, Peyton, and Eli — have been appearing in ads for the company, including a recent one from 2022.