The Myth Of Wally Pipp And His Replacement Lou Gehrig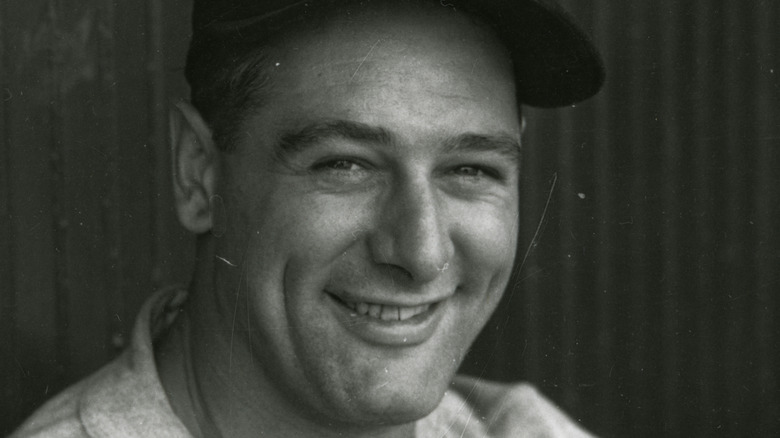 Transcendental Graphics/Getty Images
Despite being a member of the Yankees all the way back in the 1920s and 1930s, Lou Gehrig is still a famous and revered name in American sports. According to the Baseball Hall of Fame, Gehrig scored the most home runs in the American league on three occasions. Though he was obviously a formidable athlete, Gehrig started to notice physical challenges such as loss of strength and coordination. Doctors diagnosed him with amyotrophic lateral sclerosis, a rare progressive disease also known as ALS. Gehrig became such a public face of ALS that "Lou Gehrig's Disease" became a common nickname for ALS. He announced his retirement in 1939. In his farewell speech, he declared himself "the luckiest man on the face of the earth" despite his diagnosis.
Though Gehrig went on to become a household name, the start of his baseball career was partly due to the absence of one of his Yankees teammates. His absence played into his and Gehrig's future reputations. However, the widely accepted story behind how it all transpired is not always accurate, or fair to both players in question.
Lou Gehrig was a sub for Wally Pipp
Photo File/Getty Images
Wally Pipp was a Yankees first baseman in the 1920s, along with Lou Gehrig. In June of 1925, Pipp did not play due to a headache. His replacement for the day was Gehrig, still a rookie. Gehrig had three hits that day and the Yankees won the game. Gehrig's storied career began. The Baseball Hall of Fame calls Pipp's headache "the most famous headache in baseball history."
Pipp inadvertently became part of American slang. Bleacher Report states that if someone "Pipped out" it means that someone did not come to work, but without much of a reason. Pulling a "Wally" is a phrase of similar sentiments: calling in sick, or being lazy. However, Pipp was not nearly the slacker that his reputation grew to suggest. He hit nine home runs and 19 triples in 1924. The events that made Gehrig into a star at the expense of Pipp are not as clear as a simple headache.
Wally Pipp still enjoyed a successful baseball career
Transcendental Graphics/Getty Images
According to Mental Floss, just one missed game due to a headache did not mark the end of Wally Pipp's career. The Yankees were not having a good season, so manager Miller Huggins sent multiple players to the bench — not just Pipp. Soon after Lou Gehrig's strong first performance, a ball hit Pipp in the head and sent him to the hospital. Once he recovered, Gehrig had further solidified himself as a force to be reckoned with. Pipp moved on and played for two different teams before retiring in 1929. He went on to find success in finance, sports broadcasting, and writing.
Overall, Pipp spent 15 seasons as a baseball player, scoring over 100 runs for the Yankees and playing in the World Series three times while with the Bronx Bombers. As for Gehrig, the work ethic for which he became famous led Encyclopedia to declare him one of the best first basemen of all time. He played in 2,130 straight games over 17 seasons (per Baseball Hall of Fame).