Who Was The First Athlete To Appear On A Wheaties Box?
Eric Glenn/Shutterstock
Wheaties may not be the most popular cereal anymore, with the newer and much more sugar-laden cereals like Cinnamon Toast Crunch and Reese's Puffs. Nevertheless, Wheaties has long cemented itself in pop culture. It was the very first cereal from the brand General Mills, which now includes cereals like Trix and Cheerios. Wheaties hit stores in 1924 and gained popularity through radio advertisements in Minnesota. Then the cereal connected itself with sports due to its ad placement on a minor league baseball field, coupled with a new slogan, "Wheaties: The Breakfast of Champions."
According to Smithsonian, General Mills originally put a fictional character on the box named Jack Armstrong and branded him as an "All American Boy" in 1934. The character went on to greater fame as a dramatic radio series — sponsored, of course, by Wheaties.
No famous faces graced the front of the cereal box until Olympian Bob Richards did so in 1958, but some did appear on the back, beginning with someone who aligned with that early baseball affiliation.
Lou Gehrig appeared on the Wheaties box in 1934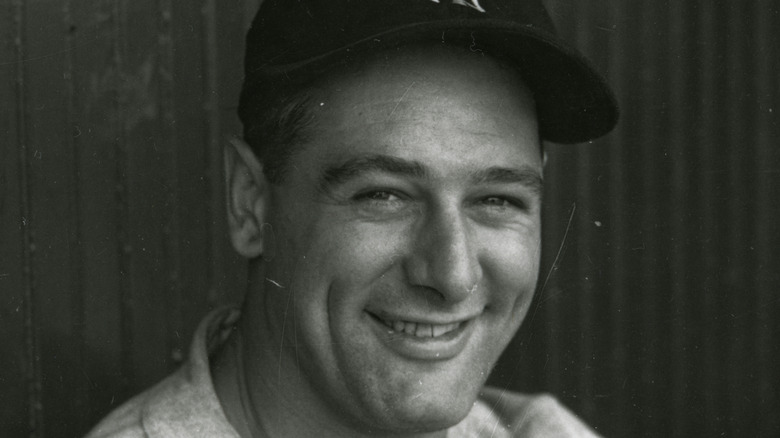 Transcendental Graphics/Getty Images
The first living person to appear on a Wheaties box was Yankees first baseman Lou Gehrig in 1934, says Smithsonian. He began his career with the Yankees in 1925 and quickly became a star player. In the same year in which he appeared on the Wheaties box, he won the triple crown (which is comprised of batting average, homes runs, and runs batted). What gave him the nickname "The Iron Horse" was his determination to play through injuries and illnesses. Such dedication allowed him to set the record for most consecutive baseball games played with 2,130. This record stood until 1995, when Cal Ripken surpassed that number. 
Gehrig was also the first player to have his number retired. For the past eight decades, no other Yankees player can use the jersey number four. Other team sports like basketball and football now do the same for players deemed worthy of it. Apart from being a baseball player whose records stood the test of time, he is also remembered for the debilitating disease that took him out of sports and then took his life.
Lou Gehrig died of ALS just two years after retirement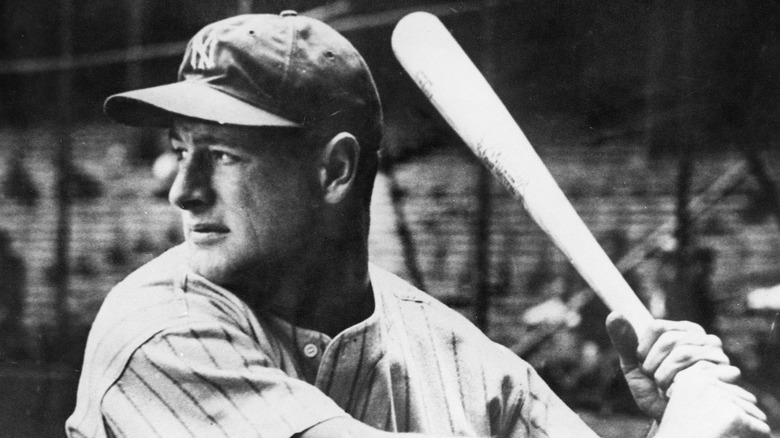 Photo File/Getty Images
Amyotrophic Lateral Sclerosis (ALS) is so often attributed to Lou Gehrig that it is sometimes referred to as Lou Gehrig's disease. Patients with this condition have brain neurons that can no longer send movement signals to the body's muscles. Therefore, the muscles weaken. After Gehrig's physical abilities declined further and further, he voluntarily retired in 1939. In his farewell speech, he called himself "the luckiest man on the face of the earth." He died in 1941. Though there are now more treatments, there is still no cure. The Ice Bucket Challenge that gained popularity in 2014 aimed to raise funds for ALS research.
Another face graced the back of the Wheaties box in 1934: that of Elinor Smith (per Cradle of Aviation). Smith was actually not an athlete like Gehrig, but was the youngest pilot in the world, at just 16 years old. Since 1934, star athletes like Serena Williams, Mary Lou Retton, Michael Jordan, and Tiger Woods have all been on the front of the box. Taylor Gessell from General Mills explained that, "Wheaties has reserved its boxes for champions who use their sports platforms for something greater and inspire others" (per Smithsonian).