How Earth, Wind & Fire Became Symbols Of Black Emancipation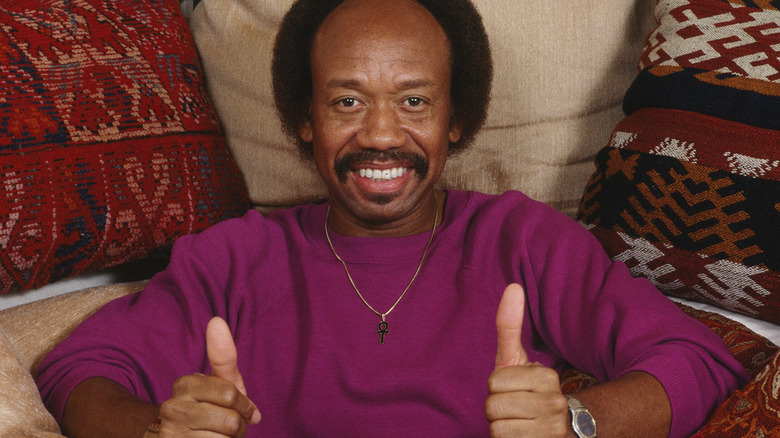 George Rose/Getty Images
The band Earth, Wind & Fire (EWF) were about more than just the good vibes and positive feelings expressed in some of their biggest hits. With an upbeat sound, EWF also represented freedom and liberty to the quickly-growing middle class Black community, according to NPR, writing in 2016 on the occasion of EWF founder Maurice White's death (White is pictured). From the 1970s, EWF were never overtly political, with songs like "Shining Star" and "September" otherwise being infectious disco-funk anthems. Since White died, EWF still tours with an updated lineup (via Britannica).
But as NPR goes on to note, EWF came to symbolize Black emancipation less through the content of their songs, but more through their stage show and aesthetic, as well as the band's choice of instrumentation. The level of success the band enjoyed in the 1970s and today also broke new ground for Black musicians. As The Miami Times writes, White grew up in the Jim Crow-era south, according to his memoir "My Life with Earth, Wind & Fire," written with Herb Powell and published the same year White died. Despite the upbeat sensibility EWF is known for, the Civil Rights struggle and other social and political challenges faced by the Black community were likely never far from White's mind.
In the 1970s, a Black middle class had taken root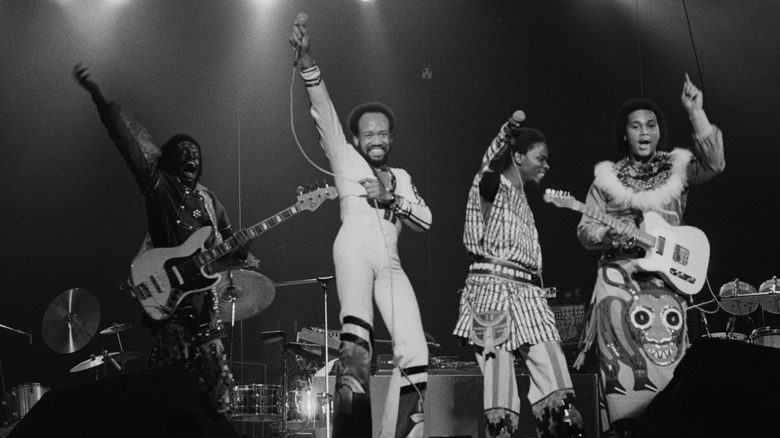 Michael Putland/Getty Images
Though struggles remained, in the 1970s, when EWF first had hits, the Black middle class was growing, and as a result, Afrocentric sounds and styles worked their way into mainstream culture. EWF were no exception, as the 2014 BBC documentary "The Story of Funk: One Nation Under a Groove" (posted on Youtube) explains. Playing upbeat and accessible disco, soul music, r&b, and funk, EWF appealed to those increasingly affluent Black audiences as well as to white audiences as social and cultural segregation became less distinct in some cases.
All that combined to help the six-time Grammy Award-winning group, inducted into the Rock and Roll Hall of Fame in 2000, become one of Colombia Records' best selling groups of all time, according to the Rock and Roll Hall of Fame website. With six consecutive double-platinum albums, Maurice White's band symbolized confidence and positivity for Black people at a time when segments of Black America finally experienced some level of upward mobility. The hope for the future was reflected in the music of EWF, according to African-American music cultural critic Greg Tate, speaking in the 2016 "Story of Funk" documentary.
White integrated Afro-centric sounds and styles into Earth, Wind & Fire's music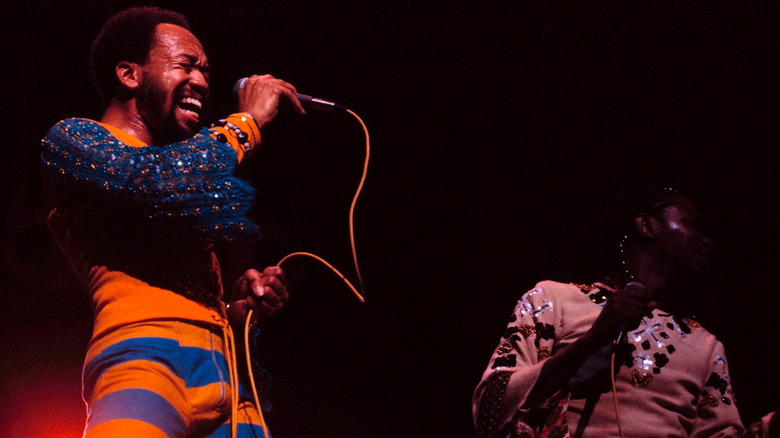 Michael Putland/Getty Images
None of that is to say that EWF simply played a mainstream version of less accessible funk, soul, and r&b popularized by their contemporaries like Sly and the Family Stone and Parliament-Funkadelic. In their look and style, White and his band used many Afro-centric symbols rooted in African spirituality, mysticism and even Egyptology such as the Eye of Horus and the Ankh, both significant in ancient Egyptian cosmology, according to NPR. The band name Earth, Wind & Fire, was taken from band leader Maurice White's astrological sign, Sagittarius, with the primary element fire, and secondary elements earth, and air — changed to wind by White for poetic purposes (via Songfacts).
What's more, White also used uniquely African instruments in his music such as the kalimba, or thumb piano. This happened in parallel to the popularization of Afro-centric styles in popular culture like the Afro hair style, per Buzzfeed News. The importance of EWF in the American Black community was showcased in 2009 when President Barack Obama, America's first Black president, invited the group to perform in the White House East Room for the Governor's Ball. At that time, band member Verdine White, Maurice's brother, said (via Newsweek) "[EWF gave] people a sense of hope," and in 2009, " ... [T]he country caught up to us in a funny kind of way."