David Crosby And Drew Barrymore's Relationship Explained
Astrid Stawiarz/Getty Images
There are a number of musicians who passed away due to drug-related issues, some of which include Janis Joplin, Jimi Hendrix, and Jim Morrison, just to name a few. Just like the aforementioned, legendary musician David Crosby was one of those who struggled with drug use, but he turned his life around, stayed away from hard drugs, and lived until 81 years old. According to Landmark Recovery, Crosby began smoking marijuana in his youth, and he eventually turned to hard drugs like cocaine and heroin. And once he started, he found it difficult to stop even if he wanted to.
"You have to understand that I wanted to quit. But I was so severely addicted that I probably tried to 10 times, and failed," he told The San Diego Union-Tribune. His drug use increased after his girlfriend died in a car accident and he had to identify her body. In the 1980s, Crosby faced charges of drug possession and weapons offenses. He was sentenced to five years in prison but was released after just nine months in a Texas prison. The time he spent incarcerated was tough for the musician, but he was also thankful for it, as it kept him off drugs. In fact, he wrote a message to the judge to thank him for paving the way to sobriety. As reported by The Washington Post, he wrote songs in prison and even played the guitar in a band with his fellow inmates. Crosby was released in 1986, and he continued his clean living even on the outside. It was in 1989 when he met 14-year-old Drew Barrymore.
Drew Barrymore's turbulent childhood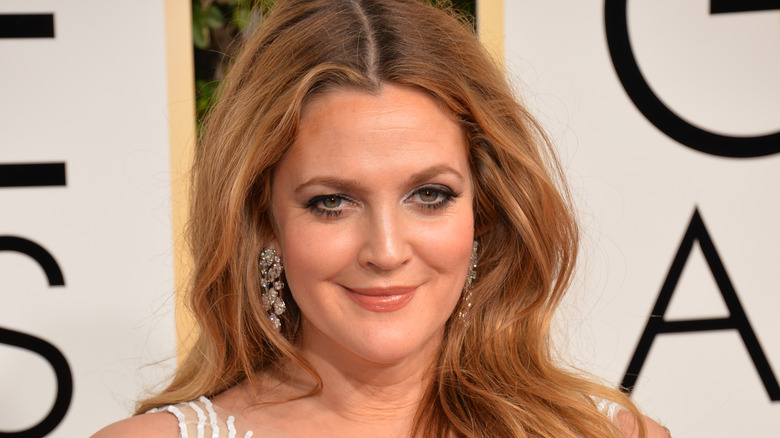 Featureflash Photo Agency/Shutterstock
It's no secret that Drew Barrymore had a turbulent childhood. She comes from a family of entertainers, and she herself became famous at just 6 years old after she starred in Steven Spielberg's "E.T." She dabbled in alcohol and drugs even before reaching her teen years, and she spent plenty of time partying with her mother, Jaid Barrymore, and her friends, as reported by The Guardian. She told the publication that the lowest point in her life was when she was 13 years old and felt alone and angry after her parents separated. Her mother had committed her to a facility where she had to stay for 18 months for treatment.
Barrymore opened up about that time during an interview with Howard Stern, as reported by CNN. The actress revealed that her mother acted more like her friend than a guardian, and it didn't help that she was a rebellious child. She stole her mother's car, skipped school, and was always angry. Barrymore described what the facility was like and said that it wasn't a posh rehabilitation clinic. "You couldn't mess around in there and if you did, you would get thrown either in a padded room or get put in stretcher restraints, and tied up," she told Stern. After several months in the facility, she realized that maybe, that was what she needed in order to fix her life. The experts in the facility then told her that it was best if she filed for emancipation from her mother when she got out, and she took the advice.
David Crosby and his wife took in Drew Barrymore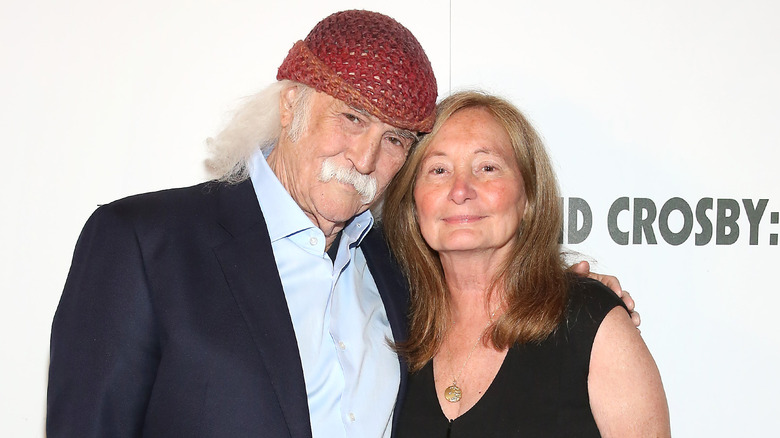 Monica Schipper/Getty Images
David Crosby met Drew Barrymore in a recovery program. Crosby was friends with the person who ran the facility Barrymore was in, and the musician was told that Barrymore's insurance wouldn't be able to cover her remaining time in the treatment center, and she would have to leave. However, she needed guidance and it was best if she didn't live with her mother. Crosby and his wife, Jan Dance, discussed the situation and offered to welcome Barrymore into their home in 1989. In an interview with Howard Stern, Crosby described Barrymore as a nice kid. He acted as her temporary guardian and cared for her, and he even did the task of taking her to school. During that time, Crosby was serious about his own recovery, and he tried his best to be a good influence on the young lady.
In a 1990 interview with People (via Los Angeles Times), Crosby said that he wanted Barrymore to succeed in her recovery. "I felt she had been dealt a short deck, you know, a fifth-generation alcoholic, and I didn't want to see her go down tubes," he said. Barrymore spent a couple of months with Crosby, and she enjoyed it. Although she had strict rules to follow, she told Howard Stern that she had a good time with the musician, especially when he took her with him on tour and she got to see Neil Young, whom she described as the "coolest human being ever."
If you or anyone you know needs help with addiction issues, help is available. Visit the Substance Abuse and Mental Health Services Administration website or contact SAMHSA's National Helpline at 1-800-662-HELP (4357).