The Horrific 2010 Murder Of Nikki Whitehead By Her Own Daughters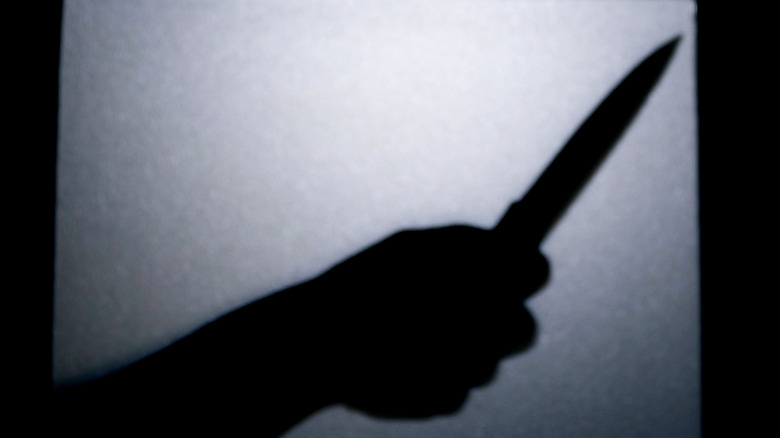 kamontad999/Shutterstock
When Jarmecca Yvonne "Nikki" Whitehead gave birth to her twin girls, Jasmiyah and Tasmiyah Whitehead, in November 1993, she had no idea that they would eventually turn on her (per The Cinemaholic). By all accounts, Nikki's relationship with her daughters was fraught from the beginning. Per The Rockdale Citizen, Nikki was only 18 when the girls were born. She was unready for motherhood and left Jasmiyah and Tasmiyah with their great-grandmother, Della Frazier, for 13 years. However, Nikki took custody of the girls in 2007 and moved them to Conyers, Georgia. Unfortunately, this was not the happy reunion Nikki was hoping for.
According to The Atlanta Journal-Constitution, Nikki and the twins clashed consistently. Nikki's best friend, Yucca Harris, told the publication, "The girls wanted to do what they wanted to do." The Rockdale Citizen reports that Jasmiyah and Tasmiyah rebuffed any of Nikki's attempts to discipline them. Rockdale County District Attorney Richard Reed explained (via ABC News), "There were extreme differences between the mom and the girls, and there was a lot of emotion and a lot of drama and anger that the girls had directed toward their mom."
Jasmiyah and Tasmiyah got into a physical altercation with their mother in 2008, reports The Rockdale Citizen. The girls temporarily went to live with Frazier until a judge ordered them back to their mother's home in January 2010. Nikki Whitehead died shortly after.
Nikki Whitehead was viscously attacked
On January 13, 2010, Jasmiyah and Tasmiyah Whitehead saw a police officer driving by their home and called him over (via The U.S. Sun). The girls were visibly shaken and told the officer that they discovered their mother's slain body in the bathtub after returning home from school (per 11Alive). Chris Moon from the Conyers Police Department later said, "It was the bloodiest scene I think I've ever been to." He added that the home smelled like "copper iron." Jasmiyah and Tasmiyah told the authorities they were shocked at the scene and their mother's murder.
According to The Cinemaholic, Nikki Whitehead suffered multiple stab wounds to her lungs, jugular vein, and spinal cord. 11Alive reports that the latter ultimately killed her. When the authorities spoke to Jasmiyah and Tasmiyah, they found a series of inconsistencies. For example, the twins claimed they had been at school all day. This was deemed untrue. Likewise, both Jasmiyah and Tasmiyah had scratches and bite marks that they attempted to hide from the officers.
ABC News writes that authorities became even more suspicious of the girls when they learned they had a turbulent relationship with Nikki. Jasmiyah and Tasmiyah, however, denied involvement in their mother's killing. At one point, Jasmiyah said (via 11Alive), "The day that you find a murder weapon with my fingerprints on it or something — please do that. Please find a murder weapon and then it will be different. For real."
Jasmiyah and Tasmiyah Whitehead confessed everything
Per The Atlanta Journal-Constitution, the authorities concluded that no one broke into the Whitehead residence and that Nikki Whitehead undoubtedly knew whoever attacked her. The Cinemaholic notes that the authorities tested blood from the crime scene, and it came back as a match for Jasmiyah and Tasmiyah Whitehead. The girl's arrest came in May 2010, ABC News reports. They continued to claim their innocence until 2014. That year, the girls came clean and admitted to killing Nikki. On the morning of the murder, the twins got into a physical dispute with their mother.
11Alive states that Nikki was upset that the girls had woken up late for school. Jasmiyah and Tasmiyah claim that Nikki grabbed a pot from the stove and attempted to hit them with it. The twins got the pot out of her hands, and chaos ensued. They claimed that Nikki grabbed a knife, and Jasmiyah broke a vase over her head. At one point, Tasmiyah began to stab her while Jasmiyah choked her. The twins also bit and punched her. Nikki was still alive when they placed her body in the bathtub.
According to The Cinemaholic, Jasmiyah and Tasmiyah both pled guilty to voluntary manslaughter in 2014 and received a 30-year sentence. They are serving their time at different prisons in Georgia. Although their great-grandmother Della Frazier described them as "loving" (via The Rockdale Citizen), Nikki's friends disagree. They told The Atlanta Journal-Constitution that they were not shocked by the girl's actions.