The Leading Cause Of Death For Pregnant People Is Truly Unsettling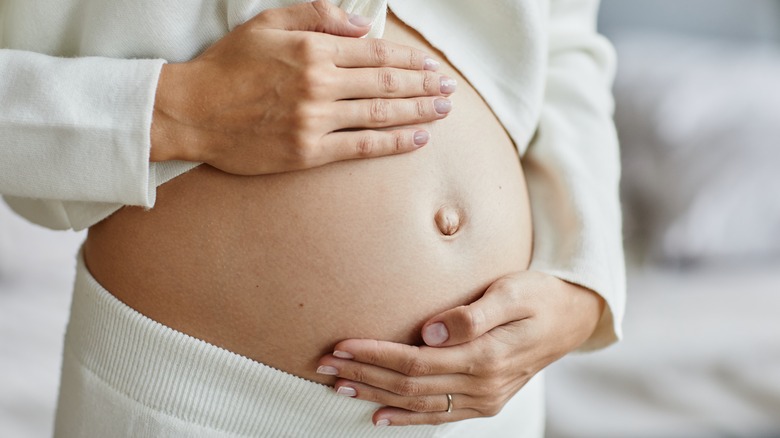 SeventyFour/Shutterstock
Pregnancy can be a joyous time for many, but as the Cleveland Clinic points out, it can also be dangerous. According to the Eunice Kennedy Shriver National Institute of Child Health and Human Development, complications that can arise during pregnancy include hemorrhages, high blood pressure, and more. CNN reported that a 2022 study found that the United States has the highest mortality rate compared to 11 other developed countries, such as Australia and Canada. The same study states that most of these deaths were preventable and that American women were likely to wait to seek medical attention due to the high cost of health care.
Per The New York Times, maternal deaths have continued to rise since 2019. The publication notes that the mortality rate increased to 23.8 deaths per 100,000 live births in 2020. However, a study released in late 2022 in the medical journal The BMJ concluded that the leading cause of death in the United States for pregnant individuals is not clinical; it's homicide. The Harvard T.H. Chan School of Public Health writes that pregnancy-related homicides are a combined result of domestic and gun violence. Researchers were not shocked by this information. A previous study disclosed the use of firearms in 68% of pregnancy-related homicides between 2008 and 2019.
Black women are at higher risk of pregnancy-related homicides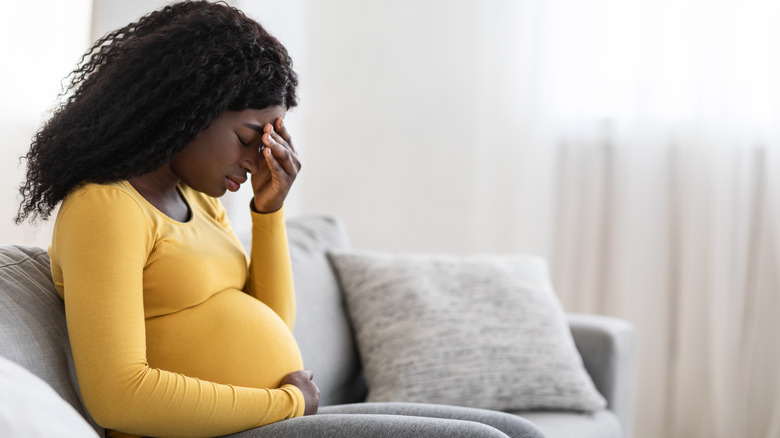 Prostock-studio/Shutterstock
Insider reports that several pregnancy-related homicides have made headlines in recent years, including the case of Britanni Duffy. New York Amsterdam News states that Duffy was three months pregnant when her boyfriend shot and killed her. Tragically, Duffy's murder coincides with The BMJ's verdict that homicide committed by a partner is the leading cause of death in pregnant individuals. CNN adds that the same goes for women in postpartum. Healthline explains that even if domestic violence isn't fatal, it can have long-standing effects on the pregnant individual and their baby. This includes physical complications, depression, and much more.
Per the Harvard T.H. Chan School of Public Health, black women are more likely to be killed before and after pregnancy than white or Hispanic women. Clinically, black women also have a higher mortality rate regarding pregnancy, states The Population Reference Bureau. A study conducted between 2008-2019 found that 40% of pregnancy-related homicide victims were black women (via Healthline). Dr. Veronica Gillispie from the Louisiana pregnancy-associated mortality review told Insider why she believes black women are at a higher risk for pregnancy-related homicides.
She explained (via Insider), "Historical inequities affect social determinants of health, and black and brown people are more likely to live in communities where there's a higher level of violence." According to Healthline, females between the ages of 10-24 are also at a higher risk for pregnancy-related homicide.
Pregnancy-related homicides are preventable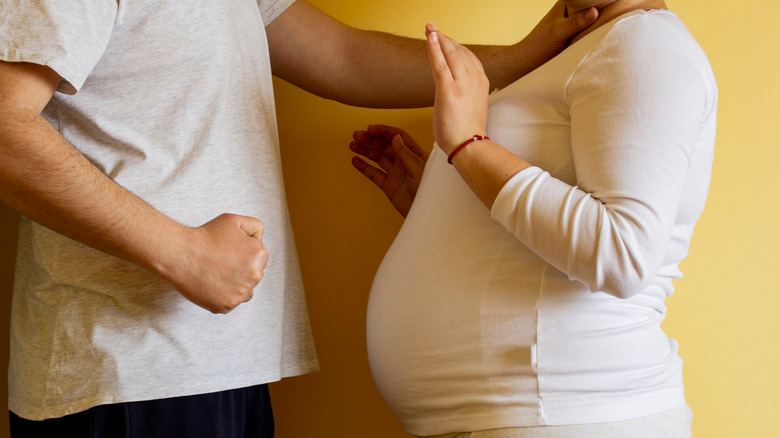 Marija Nedovic/Shutterstock
Insider explains that domestic violence can sadly increase during pregnancy. Beyond firearms, sharp instruments and strangulation are also commonly used in pregnancy-related homicides. CNN reports that legislation regarding women's reproductive health and guns could worsen domestic violence and increase pregnancy-related homicides. OBGYN Dr. Diane Horvath told Insider, "In a time when the ability to have an abortion has been threatened in an unprecedented way in the United States, what's going to happen when people are forced to carry pregnancies that they wouldn't have otherwise continued?" In other words, pregnancy could be a death sentence for some women.
The Harvard T.H. Chan School of Public Health notes that pregnancy-related homicides are preventable. According to Healthline, stricter gun laws and healthcare professionals could decrease the rates of pregnancy-related homicides. Rebecca Lawn from the Harvard T.H. Chan School of Public Health stated (via CNN), "Women are likely to have multiple visits with healthcare professionals during pregnancy, providing opportunities to identify and help women at risk of violence and potentially prevent pregnancy-associated homicides."
Lawn noted that there is a downside to this, saying, "However, recent legislation in the US to restrict women's access to reproductive care and abortion reduces these potential opportunities to help and could place women at further risk of violence." Healthline also suggests that pregnant individuals in domestic violence situations come up with a safety plan if they feel like their life is at risk.
If you or someone you know is dealing with domestic abuse, you can call the National Domestic Violence Hotline at 1−800−799−7233. You can also find more information, resources, and support at their website.