Why George Randolph Scott Is One Of The Most Recognized Faces In Sports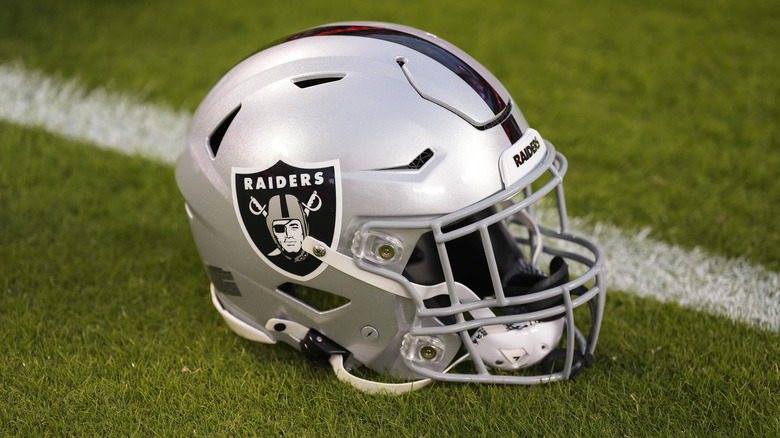 Cooper Neill/Getty Images
According to NFL Football Operations, the Raiders were founded in Oakland, California, in 1960. Just Blog Baby reports that the team's original name was the Oakland Señores. However, the AFL opted to switch the team's name to the Oakland Raiders. Since then, the Raiders have won three Super Bowls (via Britannica) and moved from Oakland to Los Angeles and back. Moreover, NBC Sports states that they are known for their motto, "Just win, baby," which was coined by Raiders coach and owner, Al Davis. In 2020, the Raiders again left Oakland, this time for Las Vegas, Nevada, where they remain at the time of this publication.
Although the team has made specific changes to its logo (per SportsLogos.net), one thing has stood the test of time; their trademark pirate face wearing an eyepatch and a helmet with cutlasses. In fact, a different article from NBC Sports called it the most iconic NFL helmet logo. The publication notes that the team modeled the pirate after George Randolph Scott. Per IMDb, Scott, a North Carolina native, played football in college. Nevertheless, this was not his claim to fame. In 1929, Scott, who went by Randolph Scott, moved to Hollywood to pursue an acting career (via The New York Times).
George Randolph Scott made Westerns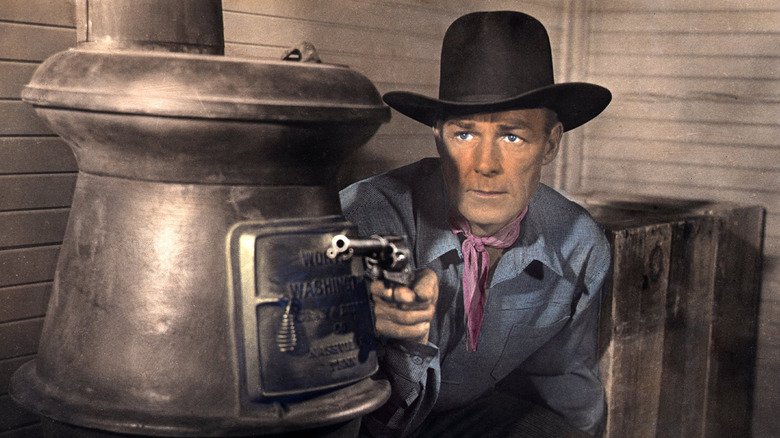 United Archives/Getty Images
TCM reports that George Randolph Scott was nearly 30 when he became an actor. IMDb writes that he met Howard Hughes in California, who provided him with an audition for the 1929 film "Dynamite." Although Scott did not get the role, he had his foot in the door. He subsequently became actor Gary Cooper's dialect coach for "The Virginian." Scott also had a small uncredited role in the film. Meanwhile, he continued to study acting at the Pasadena Playhouse. Shortly after, Scott signed a contract with Paramount Pictures and was on his way to stardom.
According to The New York Times, Scott's acting career flourished in the 1930s due to his roles in western films. He starred in 'The Last of the Mohicans," 'Heritage of the Desert" (via TCM), and "Jesse James," amongst many others. Scott also made musicals with Fred Astaire, such as "Roberta" and "Follow the Fleet." In the 1940s, TCM explains that Scott took on military roles to show his support for World War II. However, after 1947, Scott decided only to make Westerns.
He explained (via The New York Times), "They have been the mainstay of the industry ever since its beginning. And they have been good to me. Westerns are a type of picture which everybody can see and enjoy. Westerns always make money. And they always increase a star's fan following."
It's unknown why the Raiders used his likeness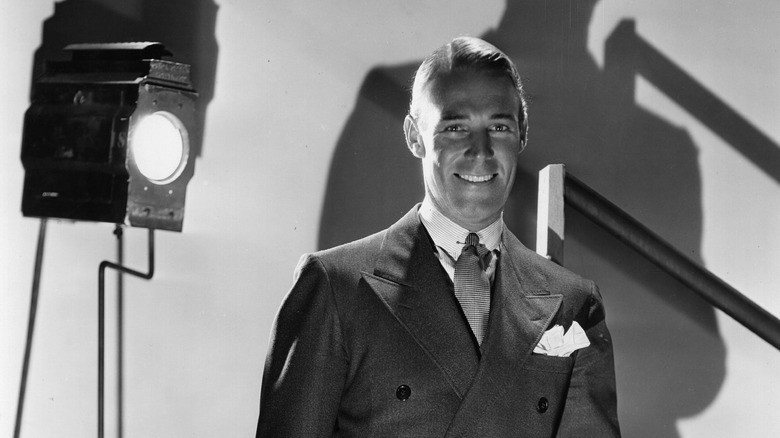 Hulton Archive/Getty Images
Out of the 103 films that George Randolph Scott made in her career, Chron reports that over half of them were Westerns. In 1960, the Oakland Raiders used Scott as the basis for their logo (via SportsLogos.net). The Denver Broncos writes that it's unknown why the team used his likeness. However, TCM explains that Scott portrayed stern, no-nonsense characters. Perhaps the Raiders wanted their logo to embody this ethos. Scott retired from the film industry in 1962. His last film was "Ride the High Country." Despite his notoriety and success, Scott did not enjoy all the aspects of fame.
In 1961, he said (via The New York Times), "Frankly, I don't like publicity.' He continued, "I always remember something that David Belasco said and had incorporated in the contracts of his stars. His theory was, 'Never let yourself be seen in public unless they pay for it.' Despite his retirement, the Las Vegas Review-Journal states that the Raiders chose to keep Scott on their logo when they made modifications in 1963. From 1960 to 1962, the Raiders' team colors were black and gold.
According to Lids, the colors were changed to silver and black when Al Davis became the team's head coach. George Randolph Scott died in March 1987 (via The New York Times). At the time of this publication, his likeness remains on Raiders logos.