Thor's Well, Oregon: The Drainpipe Of The Pacific Ocean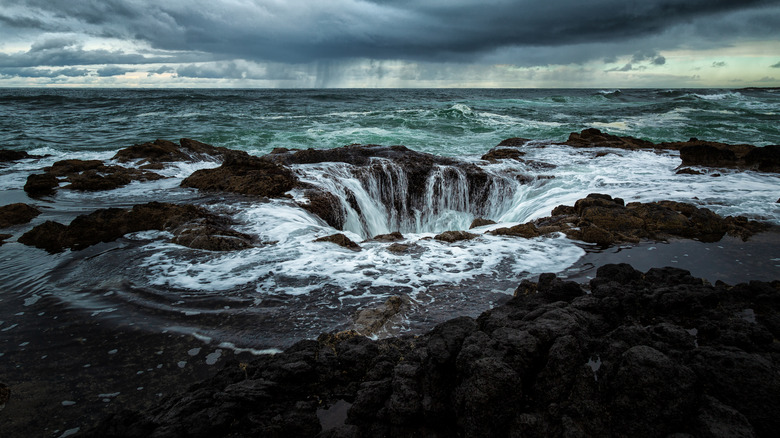 Jeffrey Schwartz/Shutterstock
The Oregon coast is jam-packed with hiking trails, wildlife, wonders, and breathtaking views unlike anywhere else. Many of these natural treasures are easily accessible and attract attention from visitors and locals during every season. Travel along Highway 101, and among the lengthy list of sights, travelers will find Thor's Well located just south of the coastal town, Yachats, within Oregon's Cape Perpetua Scenic area, according to Live Science.
Much of Oregon's coastal sights can be found not along sandy beaches but on the rocky shorelines. That's where the large round hole known as Thor's Well sits, collecting the rushing waters of the Pacific ocean's high tide until it shoots the water out in a wet, salty show (per Oregon Live). Some call this redoubtable beauty the "drainpipe of the Pacific." While others call it a "gate to hell." It would seem, however, that Thor's Well isn't exactly a drainpipe and certainly isn't a gate to hell or a deity as far as anyone knows.
Visitors can get close enough to stand on the well's edge
Bob Pool/Shutterstock
Thor's Well may not have any mysterious history to it, but it was a chance creation of nature. According to Travel Oregon, the well was originally a sea cave. After a period of time and near-constant berating by the harsh ocean waves, the sea cave ceiling eventually collapsed. This opening in the top of the cave is what allows the water to fill the well to its brim during high tide before it blasts skyward with varying force.
The visual experience of Thor's Well can be observed from the highway for those wanting to stay dry. However, those wanting to get a closer look can undoubtedly do so. Onlookers can get a spot right on the well's edge to look at the process from beginning to end. According to Atlas Obscura, the optimal time to arrive for those hoping to witness the event is one hour before high-tide rolls in. The ability to get up close and personal with the well doesn't come without a set of risks, as the beauty of the Oregon coast comes with treacherous waters.
Visitors should be aware of the possible dangers along the Oregon coast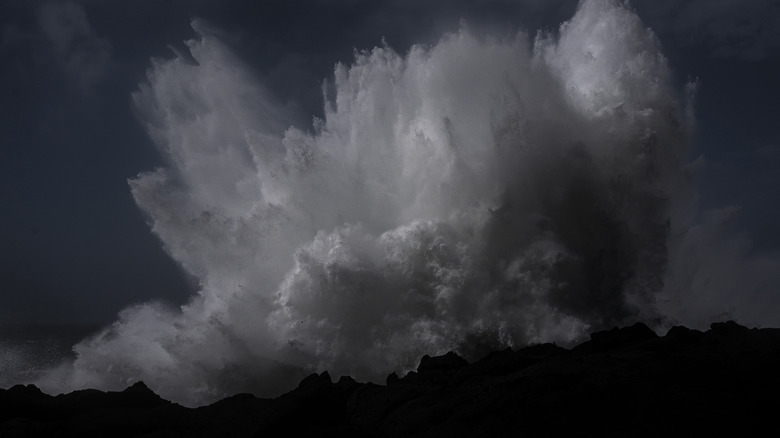 Nathan Howard/Getty Images
The Oregon coast is known for its sneaker waves. Named appropriately, That Oregon Life describes sneaker waves as really big waves that seem to come out of nowhere and have "great force and speed." They have been known to pull people out to sea. Sneaker waves can happen whether the waters look calm or harsh, and while they are unpredictable, most deaths caused by them have occurred from October to April.
Thor's Well is still safe for visitors. However, planning ahead is encouraged. The National Weather Service recommends safety precautions like watching the ocean for 20 minutes upon arriving at a location in order to study its patterns. That Oregon Life encourages visitors to know the times for high tides and low tides, plan for the weather, and be aware of their surroundings. Risks aside, the well remains a hotspot for travelers and photographers wanting to experience the beautiful secrets of Oregon and catch a glimpse of Thor's Well filling up and spraying salty seawater.